Making RIPE more visible, taking part in industry events, keeping up with policy discussions, and preparing for a RIPE Meeting in Rome - as we go into September, the RIPE Chair Team reports on the work ahead in the months to come.
---
With vacation season drawing to a close for many, I hope those of you who took the opportunity to get some down time had a good break and are full of new energy and inspiration. The next few months will, I am sure, be busy for all of us and will require lots of engagement and involvement.
RIPE 87 call for presentations
The RIPE 87 meeting will take place in Rome on 27 November to 1 December 2023. You can find more information about the meeting and the venue of the RIPE 87 website. And - since registration opened just yesterday - you can already go ahead and register!
You'll also find the draft meeting plan on the RIPE 87 site. The more detailed programme and agendas will be published closer to the meeting. We opened the call for presentations directly after RIPE 86 with a deadline of 18 September and already received a good number of proposals, but please do consider submitting if you'd like to come give a talk.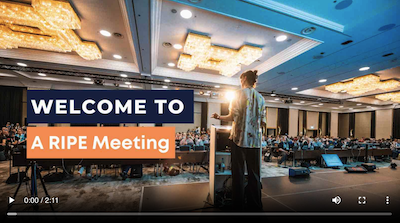 This time around, to give newcomers a better idea of what a RIPE Meeting looks like, an introduction video has been prepared. I think we can all be proud of the friendly and welcoming atmosphere that is captured here and I hope it will help to attract new people to our RIPE Meetings.
RIPE visibility
One of our goals when we started as the RIPE Chair Team was to increase the visibility of RIPE and to make sure it stays relevant. This includes regular updates like this, reorganising and updating information on the RIPE website, providing outreach to students and other new participants, and also documenting our governance structure, traditions and practices.
A while ago, the RIPE NCC started a project to redesign the ripe.net website, which includes both the RIPE NCC and the RIPE community section of the site. This is an excellent opportunity to give the RIPE section a fresh look, better navigation and more visibility. You might have had an opportunity to talk to the web designers at RIPE 86 in Rotterdam who were there to gather input from community members about what they think makes the RIPE community unique and how it should be represented on the ripe.net website.
As part of this process, we're also reviewing the RIPE logo. While the RIPE NCC logo has gone through a number of iterations over the last twenty years or so, the RIPE logo has remained the same since the beginning in 1989. This means that unfortunately over time, the two logos have grown apart. We are now working to bring them closer together again and to show the connection and relation between RIPE and the RIPE NCC while still preserving their separate identity. It's not an easy task, but I believe we are on a good path and we hope to be able to show you the outcomes shortly.
RIPE WG chair training material
Together with the RIPE NCC, we're working on training material for RIPE Working Group chairs - both existing ones and those who might consider standing as candidate but wonder what this role actually entails. The online material will be organised as a number of short modules covering topics like 'What are the responsibilities of a RIPE WG Chair?', 'How do I chair a WG session?', 'What does it mean to build consensus?', and so on. We hope to have most of these modules ready before RIPE 87.
RIPE Policy discussions
Policy proposal 2023-03, "Voluntary Transfer Lock," is now in the Review Phase in the RIPE NCC Services WG. The comments period ended on 31 August.
Policy proposal 2023-01, "Reducing IXP IPv4 assignment default size to a /26," is now in the Concluding Phase You can send in any final comments on the proposal by 8 September.
Policy proposal 2023-02, "Minimum Size for IPv4 Temporary Assignments," has now been fully implemented.
A new proposal has been submitted to the Address Policy WG: 2023-04, "Add AGGREGATED-BY-LIR status for IPv4 PA assignments". The Discussion Phase will end on 3 October.
You can find all current policy proposals on the RIPE website.
NRO NC elections
We've been working on a document describing the election of the Number Registry Organization's Numbers Council (NRO NC) members from the RIPE region in more detail.
You can now find details about the tasks and responsibilities of the NC members on the RIPE website. The election process is described in the draft document The NRO NC Election Process that is currently under review by the community. You can still provide comments until 25 September.
As mentioned in my mail from 1 September, James Kennedy will step down from the NRO NC since he is starting his new job as Chief Registry Officer at the RIPE NCC. During RIPE 87 we will organise elections to fill his seat. A call for candidates has been issued on 4 September.
Industry events
IETF 117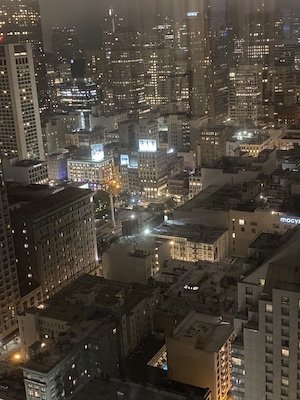 At the end of July, I attended IETF 117 in San Francisco. I know that sounds like it was ages ago, but due to my holidays I didn't have a chance yet to provide a summary. I hope you still find this useful.
The week started as usual on Sunday with a session that focuses mostly on a wide range of operational issues related to topics such as DNS, IPv6, routing, security. You can find the presentation archive of this and previous meetings on the IEPG website.
Apart from having many good side conversations, I also attended a number of sessions, mostly by IRTF research groups:
GAIA RG (Global Access to the Internet for All Research Group)
Hearing about the way small communities in remote parts of the world build networks and provide connectivity, puts things we are dealing with in the more developed world into perspective. There was for instance a presentations about Sherpas in the Himalaya in Nepal who carried roles of fiber cables 7 kms across the mountains in order to connect their villages. Besides the difficult terrain, the community there is also struggling with the climate crisis that is not only destroying their environment but also dries up the income from tourism.

Another inspiring presentation focused on "computing within limits": Do we need to make our networks more efficient and work on "sustainable computing"? Or do we need to concentrate on "computing for sustainability", for instance in areas such as agriculture, transport, power generation and manufacturing? Ultimately, how do we want networks and applications that are put on top of the network infrastructure to look like?

You can find all presentations and recordings on the IETF 117 GAIA website.
HRPC (Human Rights Protocol Considerations Research Group)
The first speaker presented his work on how to measure digital repression. Many countries nowadays find that digital repression and manipulation is a better means to control their citizens and to reduce people's civil rights than for instance openly physical violence.

The second presentation also focused on measurements, a method to measure Internet fragmentation was described. The team's starting point is that "the Internet's core is the connected component of active IP addresses that can reach 50% if each other". Based on that, they measured outages from various vantage points and looked at the differences. You can see some of the results on this website. The speaker concluded by saying that: "...some of us still want to continue to have one Internet and people who are trying to break it even for good reasons should think very hard about doing that. Because it will be awfully hard to fix it."

The final talk presented RFC 9446: Refections on Ten Years Past the Snowden Revelations. It contains four essays by four authors (Bruce Schneier, Stephen Farrell, Farzaneh Badiei, Steve Bellovin). In summary, the authors found that there were definitely improvements that makes the Internet more secure, but there is still a lot of work to do, especially in the area of DNS (open DNS resolvers, encrypting DNS data).

You can find all presentations and recordings on the IETF 117 HRPC website.
Coming events
Over the next few weeks and months, I am planning to attend the following meetings: