Earlier this year, we reached out to you to ask for your input on improving our website. We are excited to share some updates as we go through the process of redesigning www.ripe.net.
---
For over 30 years, www.ripe.net has been a hub for information, resources, and interaction between the RIPE NCC, its members and the RIPE community. Our last redesign took place over 2014-15 and therefore, last year, we committed to improving the website in our Activity Plan and Budget.
As technology and user needs evolve, it is important that our website serves the community and visitors in the best way possible.
To achieve this, the Web Services Team has spent the last year working towards evolving the website to a more accessible, intuitive, and modern online platform.
What changes can you expect?
The redesign is focused on improving the overall user experience. We have been collaborating with a design agency experienced in accessibility and usability best practice to bring a more contemporary look and feel to our site while maintaining consistency in our content.
Our goal is to make navigation more simple, improve accessibility, and to bring the website inline with the design language of our other sites and services, such as RIPE Labs, the LIR Portal, RIPE Atlas, and RIPEstat - many of which have seen redesigns in recent years.
Here's a snapshot of what's changing:
Elevated accessibility and usability
The new design will be fully responsive, ensuring a seamless experience across all devices. We're paying close attention to readability, employing better contrast and adding captions to images. Moreover, we're restructuring our content with semantic markup to enable better comprehension for visitors using assistive technologies.
Navigational improvements without losing familiarity
While the redesign will introduce several enhancements to navigation, we're committed to maintaining a sense of familiarity. The primary menu will largely remain in the same location, however we have made some small changes for clarification. Section-level navigation will still be available on the left as per the current version of the site, but we're including additional features such as "in this page" jump-navigation to aid in browsing longer pieces of content like RIPE documents and policies.
Community involvement and continuous improvement
During the redesign process we have been actively engaging a small group of experienced users for testing and feedback. We plan to present further details of the redesign to the wider community at the upcoming RIPE 87 Meeting, where we hope to gather crucial community feedback. Continual improvements based on community suggestions are part of our roadmap throughout 2024.
Retiring redundant functionality
Using data-driven analysis we have identified a number of features which haven't seen much use or have caused confusion over the last few years, so we will be retiring some of these features with the refresh. One such feature is "My Dashboard" from the homepage – this functionality will not be making its way into the new design. Active users of this feature should take some time now to copy bookmarks to alternative storage systems.
Looking ahead
The launch of the revamped website is scheduled for January 2024, right after the winter break. To offer a glimpse of the forthcoming design, a screenshot is provided below: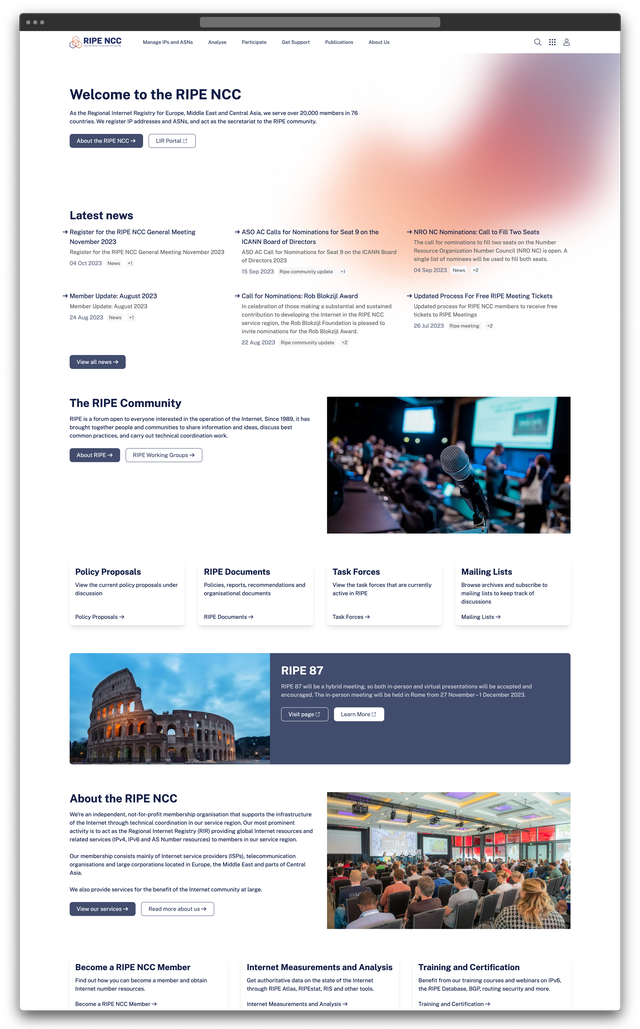 Support and continual improvements
Post-launch, our Web Services and Communications teams will continue refining the look and feel and content of the site. If you encounter any issues or have suggestions, our support team will be available to assist.
We're excited about these changes and believe they'll significantly elevate your browsing experience.