The RIPE NCC is hosting a hackathon focused on developing tools for Internet Exchange Points. Come participate!
---
Results of the hackathon are published in this RIPE Labs article   (updated on 1 November 2016)  
Introduction
This will be the fourth hackathon the RIPE NCC has hosted, and we've learned that these events are a great way to bring together developers, operators and designers to come up with creative new tools and visualisations that benefit the entire Internet community.
This time, we'll be focusing on developing tools related to Internet Exchange Points (IXPs). While the past three hackathons have specifically focused on RIPE Atlas , this hackathon will include other data sources as well, such as the Routing Information Service (RIS) and the PeeringDB .
Join us 22-23 October 2016 in Madrid for the IXP Tools Hackathon!
As has become customary, the hackathon will take place the weekend before the next RIPE Meeting, from 22-23 October in Madrid. RIPE 73 runs from 24-28 October, so the weekend before is a perfect opportunity to bring together community members who are already planning on attending the meeting and to introduce newcomers to the RIPE community. The winning hackathon team will have a chance to present during the RIPE Meeting's Connect Working Group session.
Focus on IXP Tools
Together, we want to use any openly available data to develop useful analytical tools for the benefit of network operators and the IXP community.
Some potential focus areas could include:
Tools that IXPs can use to demonstrate potential performance improvements if operators peer with IXP members
Improving the IXP Country Jedi tool and determining the impact of IXPs on connectivity between networks, depending on whether they peer with one IXP vs. another
Improving the integration of the IXP Manager (an open-source tool) with RIPE Atlas data, which was started at previous RIPE NCC hackathons
Improving work done at previous RIPE NCC hackathons on IXP traceroutes, BGP traceroutes, etc.
Determining the best places for building new IXPs based on exiting measurement data
Anything else you think would help IXPs, operators who want to peer, researchers, etc. – include your idea in your application!
Participants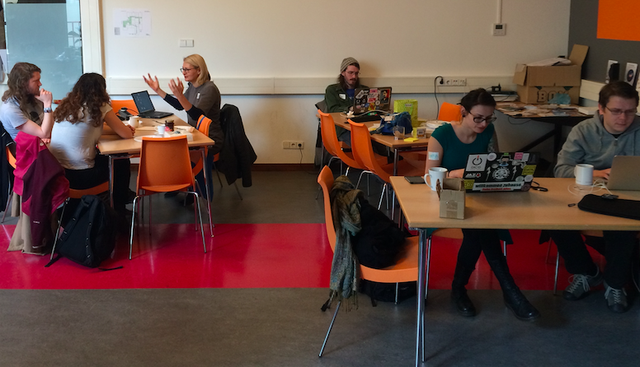 We are specifically looking for:
Developers familiar with Python, PHP, etc.
UX and UI experts
Graphic designers 
Network engineers
People with knowledge of BGP, traceroute, TCP/IP
Colleagues from Internet Exchanges
Network operators who can give feedback about what would be useful to them
You'll have the chance to work alongside RIPE NCC developers, meet others in your field, and exchange knowledge and experience.
Details
Event Date: 22-23 October 2016
Time: Saturday: 9:00-21:00, Sunday: 9:00-21:00 (including social event)

Location: Melia Castilla Hotel , Madrid, Spain

Timeline
The deadline for applications is 15 September . The jury will review the applications and will make final selections about successful participants. All applicants will be informed by 21 September .
Apply
Interested in participating? Apply today! It only takes a few minutes. And please help us spread the word to other developers and and network operators who might be interested.
Funding
Travel funding will be available for 10 participants, in the amount of €500 per person. Applicants will be informed about whether they qualify for funding when they are informed about their applications status on 21 September. The jury will make all final decisions about who receives funding; however, preference will be given to applicants from "least developed countries" , those working for not-for-profits, and those contributing to free and open-source software and projects.
Format and Prizes
Small teams will work with RIPE NCC developers to meet one of two goals:
Work on furthering existing ideas developed at previous hackathons and by the community
Work on developing entirely new tools for use in the IXP community
At the end of the two-day event, we aim to have completed tools or advanced prototypes.
All this work will culminate in short presentations to the jury on Sunday afternoon. Food and drinks will be provided throughout the weekend.
All source code developed during the hackathon will be publicly licensed and available on GitHub, and available for the entire community to use.
Participants will receive the usual "swag": t-shirts, stickers and a few surprises. The winning team's work will be presented at the Connect Working Group session during the RIPE 73 Meeting, and one more person will be selected by the jury to receive a paid trip to either IXP-workshop at the next Euro-IX meeting in Krakow, or to the next hackathon. 
More Information
More information will be available for the hackathon participants on the "information for participants" tab at the application form URL.
For any questions, please contact us at atlas@ripe.net  
Sponsors
The RIPE NCC is grateful for our sponsors' generous support of the IXP Tools Hackathon.
 Comcast Cable is one of the U.S.'s largest high-speed Internet, video, and phone providers  to  residential customers under the Xfinity brand. Comcast's Innovation Fund provides grants for novel technical research as well as development of open source software, and in 2016 is focusing more investment in Internet measurement. Comcast has supported the distribution of hundreds of RIPE Atlas probes in a wide range of networks in North America and hosts two U.S.-based RIPE Atlas anchors. Comcast also sponsors other events that are run "for the good of the Internet", such as IETF meetings and the North America Operators' Group (NANOG). 

 The Internet Society is the trusted independent source for Internet information and thought leadership around the world. It is also the organizational home for the Internet Engineering Task Force (IETF). With its principled vision, substantial technological foundation and its global presence, the Internet Society promotes open dialogue on Internet policy, technology, and future development among users, companies, governments, and other organizations. Working with its members and Chapters around the world, the Internet Society enables the continued evolution and growth of the Internet for everyone.
Supporting Organisation


  Euro-IX is an association of Internet Exchange Points (IXPs), promoting an open interchange of ideas and experiences, gained to mutual advantage of the membership, by offering fora, workshops, tutorials, mailing lists and online resources. 
From Bijal Sanghani, chair-woman of Euro-IX: "We're really excited to be working on the IXP hackathon with the RIPE NCC!
We'd love to see some useful tools being developed that we could share with the community. 
It's a great opportunity to make an idea come to life, with SMEs from the community to help guide you to whats needed."  
About the Organiser
The RIPE NCC is one of five Regional Internet Registries (RIRs) that support the global operation of the Internet. The RIPE NCC is an independent, not-for-profit organisation responsible for distributing and administering Internet number resources for more than 14,000 members in Europe, the Middle East, and parts of Central Asia. We support the global Internet community by providing data, expertise and a neutral platform for the exchange of ideas.