We're very excited to announce an all-new user interface (UI) for RIPE Atlas measurements. Users can now schedule, monitor and manage their own customised measurements more efficiently than ever before, and can now make use of the tagging feature when selecting probes for use in those measurements. Learn more about the new features below, explore the new interface, and let us know what you think.
---
New Measurements UI
We updated the probe pages back in February of this year, and we're happy to announce a similar new interface for the measurements pages that we hope RIPE Atlas users will find easier to use.
We give an overview of some of the new features and improvements here, but please take a look around the new interface yourself to see how it works. It's currently in beta status, and we will keep the old measurements interface available for some time - but in the meantime, we're counting on you to let us know what you like and whether you have any suggestions for further improvement.
The new interface makes it easier to get an overview of all the public measurements that are currently running, along with their status. Users can see their own measurements in a separate tab called "My Measurements". It's also now easy to select a measurement as a "favourite" by clicking on the star icon at the far right of the measurement row, and to hide measurements if you don't want to see them listed. When the page is reloaded, you'll see these measurements listed in the "My Favourite Measurements" and "My Hidden Measurements" tabs.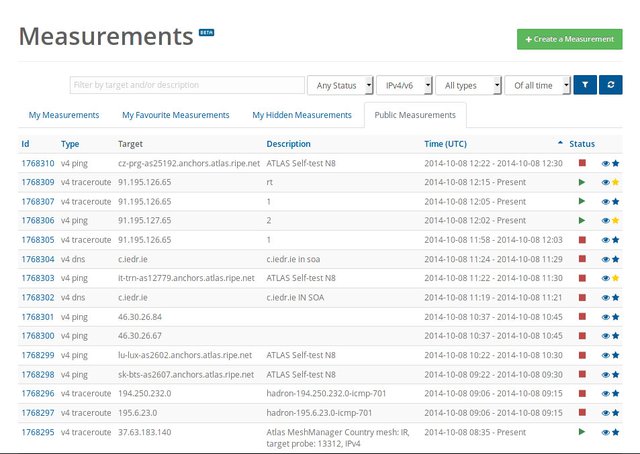 The new UI makes it easier to get an overview of what public measurements are currently running
Get Results from a Previous Public Measurement
It's possible that another RIPE Atlas user has already performed the measurement you're interested in. You can use the query box at the top of the public measurements page to search for all measurements that have been performed for a specific target (IP address, probe/anchor or hostname) and can filter other options, such as type of measurement (ping, traceroute, etc.), whether it's currently running or has already ended, whether it was done over IPv4 and/or IPv6, and when it was performed.
When you click on a measurement's ID (on the left), you'll see a detailed information page that includes the measurement's results.
By searching for previous measurements, you may save yourself valuable credits!
Create a New Measurement
It's also easier to create a new measurement in three quick steps using the new interface.
1. Select the type of measurement you want to create from the four types available and then fill in fields such as the target, description, frequency, etc. When doing this, you'll also see an overview of the daily credits required to perform the measurement as well as the cost over time compared to your daily credit earnings.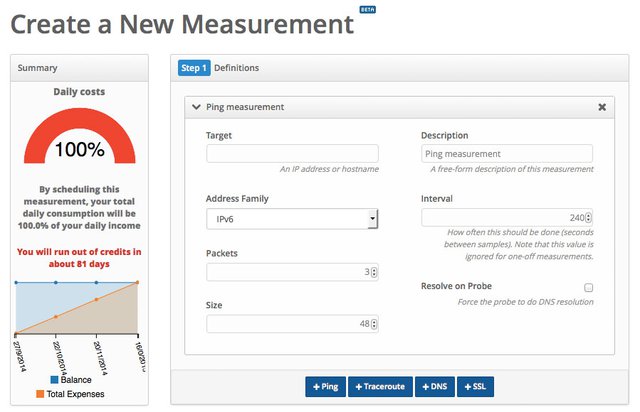 The new interface gives an overview of the measurement's daily costs and credit use over time
2. When creating a new measurement, you'll be prompted to select a (new or existing) set of probes to use in the measurement. Users will be presented with a map where they can select probes based on geographical region, or enter a particular IP prefix, probe ID or ASN. Once you've entered your criteria, you'll be asked how many probes to include, and then whether you want to select these probes based on a specific tag (see more below).
3. Specify the start and stop time for the measurement, and whether this is a one-off measurement.
Selecting Tagged Probes
Earlier this year, we made it possible to add tags to your probes , and last month, we announced that it would soon be possible to use those tags when selecting probes for measurements. We're pleased to announce that this functionality is now available, and encourage all RIPE Atlas probe hosts to tag their probes so that everyone can make the most of this new feature.
There are two types of tags. User tags are added by probe hosts themselves, and can include anything. Some examples might be "home", "data centre", "fibre", "DSL", "cable", "NAT", "No NAT", etc. System tags are added automatically by the RIPE Atlas system, and include whether the probes are working or not over IPv4 and IPv6, their DNS resolution ability, and which generation (version) the probe is.
You can select probes with a specific tag as part of the probe selection process. Once you've entered your criteria (location, IP prefix, probe ID, ASN), and have entered the number of probes you want to use in your measurement, you'll then be prompted about whether you want to select tags with a specific tag. Here, you can enter the tag name, such as "native-ipv6", "data centre", "DSL", etc.
You can now create measurements using probes with a specific tag, such as "native-ipv6"
Measurements API Code
When you use the web interface to create a measurement, you can now click the "Measurement API Compatible Specification" button at the bottom of the page to get the API code to create the measurement, for use in your own scripts.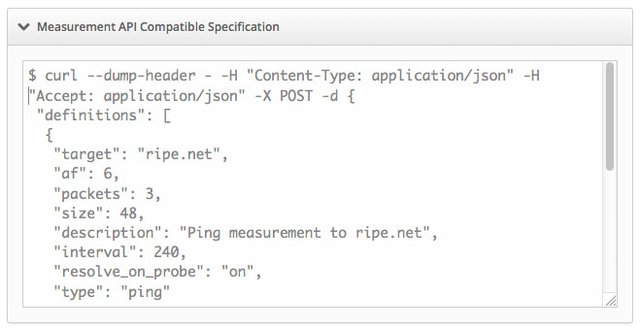 Users can copy the measurement API code when creating new measurements
Deep Linking Now Available
We've made it possible to deep link to specific measurements you've created, which makes it easy to share your measurements with others. Just use https://atlas.ripe.net/measurements/ID#/ (where ID# is the measurement ID).
Timeline for Switching to the New Interface
We plan to keep the old measurements interface running in parallel with the new one for several months, to give you time to get used to the new system and adjust any scripts you may have running that use the old one. The new interface makes the corresponding measurement API code available, and you can learn more about how to use it to create your own scripts for accessing RIPE Atlas measurement data. Therefore, we highly recommend using the measurement API for programmatically scheduling new measurements.
Feedback and Next Steps
You can find out what we've recently done, what's currently being developed and what's coming up in the RIPE Atlas Roadmap , and we're always eager to hear your feedback.
We especially want to hear what you think about the new measurement pages. Either leave a comment at the bottom of this article or send us a message. There are several ways to get in touch with us:
Join the discussion on Twitter: @RIPE_Atlas
We look forward to hearing what you think!