RIPE Atlas had another successful year in 2015, thanks in large part to all our users, hosts, sponsors, ambassadors and other community members. Here we take a look back at some of the achievements we reached together, the new features we implemented, key facts and figures - and offer a sneak peek of what you can expect in 2016.
---
Growth
Active probes increased from 7,500 to 9,200
RIPE Atlas anchors increased from 100 to 164
Active users: 10,000 last year, 5,000 last quarter
Measurements: 150,000 per month on average
Coverage
Countries covered: 181
Originating ASNs covered:
We've noticed a bit of a plateau in terms of the growth in number of connected probes, and this is something we want to focus on and try to remedy in 2016.
Top New Features
There were too many new features added to RIPE Atlas in 2015 to list them all here, and you can read about all of them in more depth in the RIPE Atlas collection on RIPE Labs, but we wanted to highlight some of the biggest and most popular.
CLI toolset  
Some people are just more comfortable on the command-line, which is why we developed a CLI toolset that does almost everything the web interface does. We're still looking for developers who can help us package the toolset for different Linux platforms - please get in touch if you're interested!
HTTP measurements
RIPE Atlas users can perform HTTP measurements towards anchors, which are cooperating measurement targets and already run their own HTTP servers. Other targets of benefit to the Internet community will be considered on a case-by-case basis.
LatencyMON
This visualisation tool allows you to group sets of probes and merge and compare different measurements - even measurements to different targets.  It  uses the RIPE Atlas streaming system to update the charts in real time.
DomainMON
DomainMON is like a "personal" version of DNSMON that you can use to monitor your own name servers - or any others of your choosing. It visualises the results in the same matrix view as DNSMON, giving you a quick overview of the quality of service offered by your name servers.
Sharing your probe
First we allowed probe hosts who are RIPE NCC members to share access to their probe's administration with other members of their LIR. Now any probe host can also share their probe's administration with any other individual(s) of their choosing under the "General" tab on their probe's status page.
"Time Travel"
Travel back in time and access all of the historical data collected by RIPE Atlas, which is visualised for both Internet maps and measurement results.
Whitelisting and blacklisting targets on request
Some users don't mind having a lot of measurement traffic directed at their probes, while some network operators prefer not to have their servers measured at all. These users can now be added to the whitelist or blacklist, respectively. Let us know if you're interested in being added to one of these lists.
Compressed data download available
We enabled gzip compression on all of RIPE Atlas' measurement API calls. As this data is highly repetitive, compressing it results in a reduction of up to 90%.
Use Cases - Some Highlights
A lot of users contributed articles to RIPE Labs detailing how they used RIPE Atlas throughout the year, RIPE NCC analysts explored a number of different themes, and researchers published a number of interesting findings using RIPE Atlas data. Here are some of the highlights.
RIPE Atlas Users
Checking your Internet Connectivity with RIPE Atlas Anchors
DNS Censorship (DNS Lies) As Seen By RIPE Atlas
Scientific Papers
Visualization and Monitoring for the Identification and Analysis of DNS Issues
Quantifying interference between measurements on the RIPE Atlas platform
RIPE NCC Analyses
Measuring Countries and IXPs with RIPE Atlas
Impact of K-root Expansion as Seen by RIPE Atlas
Sponsors
We had nine sponsors in 2015 who collectively contributed €237,500 to RIPE Atlas, and we already have two sponsors for 2016. Thank you so much to all of our sponsors for supporting RIPE Atlas - we couldn't do nearly as much without you!
Community Growth
We also want to thank our 300 active ambassadors, who help us distribute probes, give talks and just generally help spread the word about RIPE Atlas throughout the Internet community and around the world.
Volunteers on GitHub have translated some RIPE Atlas documentation into different languages. Thank you to everyone who contributed! Please feel free to contribute yourself and help make RIPE Atlas accessible to your local community.
We began giving members of other RIRs RIPE Atlas credits in 2015 in order to expand the community, and have been working with them to help us extend the reach of RIPE Atlas and place probes in their different service regions - an initiative we want to continue in 2016.
Outreach
In 2015, 42 articles were published on RIPE Labs about RIPE Atlas, including 34 by RIPE NCC staff and eight by other contributors. We were quite pleased to see this increase compared to 2014, when there were 23 and five, respectively. Do you have an idea for an article? Let us know !
We held the first two RIPE Atlas hackathons in 2015, and were thrilled with the impressive results that came out of both events, one of which focused on data visualisations and took place in Amsterdam in March and the other of which focused on developing tools and took place ahead of R IPE 71 in Bucharest in November. Both events included developers, hackers and designers coming together for several days of intensive brainstorming, coding and collaborating.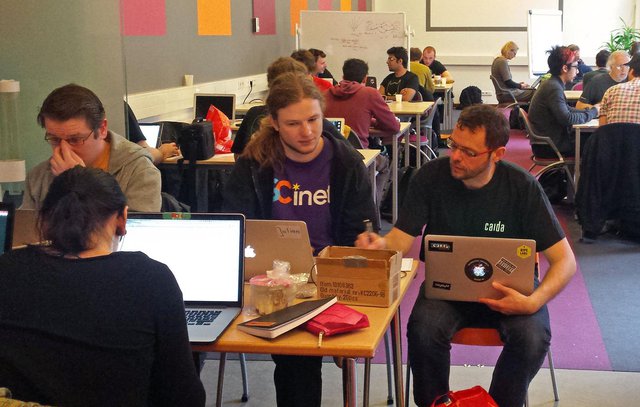 We also plan to hold more hackathons in 2016, so please help us spread the word to any developers or designers you think may be interested! We will hold the hackathons the weekend before the two RIPE Meetings:
21-22 May, Copenhagen
20-21 October, Madrid
We also began offering webinars in 2015 to help those interested in RIPE Atlas data understand how to use it and get the most out of it. You, too, can join one of these one-hour webinars, which are led by RIPE Atlas developers. Learn more about them and find upcoming dates and times.
The September 2015 issue of the IP Journal was dedicated almost exclusively to an epic article that describes all the technical ins and outs of RIPE Atlas in as much detail as you could ever wish to know!
RIPE Atlas reached a new level of stature in 2015 with the addition of its very own place in Wikipedia - check it out , and feel free to add to the page!
Coming Up in 2016
We've got a lot planned for the future, and want to give you a sneak peek at some of things that we'll be delving into in 2016:
Adding more DNSMON zones
Sharing credits with colleagues

Exploring offering

OpenIPMap as a supported service
You'll also notice a newly revamped RIPE Atlas website in the coming weeks. We hope the new design and structure will make it easier to navigate and help new users figure out how to use RIPE Atlas and get the most out of it. Regular users will notice an improved "My Atlas" dashboard view of their probes, measurements, credits and more. We hope you'll like what you see!
You can always learn more about what we're working on and the work we've recently completed in the RIPE Atlas roadmap .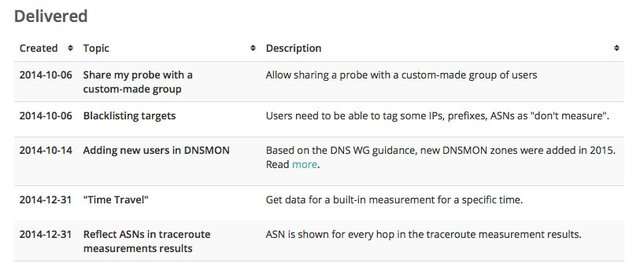 Take Part
There are lots of different ways to get involved with RIPE Atlas: