I attended RIPE 85 as one of a group of people who participated in order to represent Ukraine. After so many pleasant and constructive encounters through the course of the week, and having left the meeting inspired by the good will of the RIPE community, I wanted to share my impressions of the event.
---
This October I had the opportunity to take part in the RIPE 85 Meeting in Belgrade, Serbia. Having returned home to Ukraine, I found time to catch my breath and write down some of my impressions from the meeting. Working on things like this isn't always easy right now - blackouts are a constant problem and continue to interrupt day to day work - but I am glad to finally share my thoughts with the community.
This is the first time I've taken part in a RIPE Meeting, and my first official acquaintance with the RIPE NCC and other parts of the RIPE community. I want to begin by thanking Alexander Semenyaka for making me aware of the opportunity to participate in the RIPE Fellowship programme - which provides assistance to those wishing to attend RIPE Meetings - and the entire team who ensured a comfortable transfer and stay in Belgrade. Also, special thanks to our mentor Alena Muravska, who became our guide to the world of RIPE and the RIPE NCC for me and several other members of the Ukrainian delegation. It was a thoroughly interesting trip that helped us learn a great deal about the way the community interacts and to form many new acquaintances.
Rich communication and offline meetings, which we currently lack so much in Ukraine, were supplemented by a discussion of an important issue for our country and a search for solutions to protect against the illegal and involuntary transfer of IP addresses in the temporarily occupied territories. I am grateful to the Association of Rights Holders and Content Providers for the trust to represent the interests of the members of the association - who are part of the Ukrainian telecom community and part of the RIPE community - on the position of temporarily freezing all transfers on the territory of Ukraine until a more perfect solution is worked out.
Our delegation managed to attract the attention not only of the community, but also the Western European media. Indeed, it is important that people continue to share the outcomes of these conversations. Work on solving this issue does not end with the RIPE Meeting, but will continue in RIPE NCC working groups. And further discussion will also be held in local professional groups - Telecom Ukraine and UCOS.
I would like to note the RIPE NCC's openness and readiness for constructive dialogue in protecting the interests of community members. This is very important to us. Resolving controversial issues is a mutual responsibility and that is why I call on representatives of Ukrainian LIRs, ISPs, and telecom operators to participate in working groups, or to express their position through specialised associations. Difficult questions always have difficult solutions, but the worst thing we can do is to show inaction.
---
It was also extremely pleasant to be invited to join the meeting of NOG organisers in different countries and to share my Ukrainian experience of holding conferences for operators and providers. I am impressed with the interest shown by the participants in our community. And I have good news - we have been promised that the RIPE Meeting following our victory will be held in Ukraine (hopefully in Yalta) and we will be very happy to become the host and open our community and Ukraine to the wider RIPE community.
I was also very happy to meet in person the wonderful guys - Sander Steffann and Jan Žorž - from the Global NOG Alliance. From the first days of the war, they and their colleagues organised the Keep Ukraine Connected project to help Ukrainian ISPs and communication operators. Aid has already been sent and distributed in Ukraine several times, and work on the collection and purchase of equipment continues. Thanks all of you from the entire Ukrainian telecom community!
Thanks also must go to Hans Petter Holen (RIPE NCC Managing Director), Mirjam Kühne (RIPE Chair), and the RIPE NCC Executive Board for the warm welcome and sincerity they showed us.
The RIPE community is actually a powerful community, each member of which has the opportunity to influence the making of important decisions on which the further development of business and the industry depends. I would like to advise and wish all Ukrainian representatives to participate more actively in order to share experiences, find new interesting solutions and popularise their interesting cases and practical advice. There is so very much that we can share.
---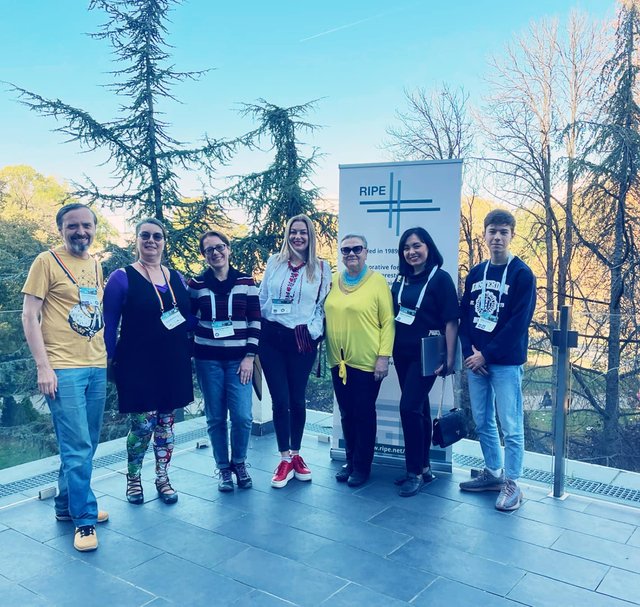 Finally, I am also incredibly grateful to our strong and beautiful representatives of the Ukrainian delegation - Olena Kushnir, Svitlana Tkachenko, and Oksana Prykhodko - with whom we spent an unforgettable four days, full of work and communication. And I was also glad to meet Dmitro Kohmanyuk personally - I shall remember all the funny stories told.
Returning to our Ukrainian everyday life and realities with air alarms, missile terror, the search for generators, writing this text during blackout - I thank every participant of RIPE Meeting 85 for their support, for the beating of hearts with Ukraine and Ukrainians. It is very valuable and important for us today!
We continue our work on the ground and look forward to new meetings!

---
P.S. After our conversation during one of the social events that took place during the meeting, Jim from Scotland will have a special place in mine and Olena Kushnir's hearts forever.