Last year, the RIPE NCC ran a campaign to sponsor a batch of RIPE Atlas anchors. The campaign was well received by the community and helped us deploy anchors in a variety of new locations. So, this year, we're doing it again.
---
Please note that the deadline for applications has been extended to 23 December 2018.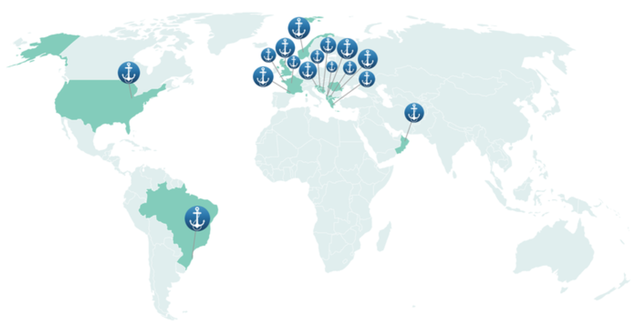 The 2017 campaign to sponsor a set of RIPE Atlas anchors saw 16 new anchors introduced to the network, marking a significant contribution to our efforts to deploy anchors in regions that had previously had little or no coverage. Feedback was positive throughout the process and the volume and variety of the applications we received exceeded all expectations. 
Given how smoothly things went last year, we're going to repeat the process this year. For the 2018 campaign, we're planning to sponsor 10 RIPE Atlas anchors, again from funds received through RIPE Atlas sponsorship. Same criteria, same motivation. Here's what you need to know.
Criteria
The goal of the campaign is to help the RIPE Atlas anchor network reach new regions. Like last time, the criteria stipulate that preference will be given to applicants who are:
Located in areas that have little or no coverage on the RIPE Atlas anchor network (check our anchor map to see if your area is on the network)
Not-for-profit organisations who do not have access to funds for purchasing the necessary hardware
Located within the RIPE NCC service region 
Although we will usually prefer to sponsor candidates who fulfil one or more of these criteria, we will nevertheless be open to sponsoring those who don't if they happen to be located in areas where the deployment of an anchor would be considered beneficial to the RIPE Atlas community.
Apply
Those who are interested in hosting a sponsored RIPE Atlas anchor can apply now. The application form is the same as the one normally used for new anchor hosts, but those interested in a sponsored anchor should add a comment in the 'notes' section indicating that you wish to be considered for sponsorship (if this note is not included, the application will be treated as a normal unsponsored application). Please note that you'll need a RIPE NCC Access account to apply.
The deadline for applications for this year's campaign is 30 September 2018. Please note that the deadline has been extended to 23 December 2018. We shall aim to notify successful applicants by the end of December once the review phase has been completed. 
Apply to Host a Sponsored RIPE Atlas Anchor
All applicants should ensure that they are able to satisfy the requirements for hosting a RIPE Atlas anchor and should also agree to the terms and conditions for RIPE Atlas service as well as the MoU for RIPE Atlas anchor hosts. If you have any questions about the sponsored anchor campaign, please feel free to contact us at atlas@ripe.net.  
We encourage anyone who is interested, and particularly those who meet the criteria listed above, to apply. This is an excellent opportunity to get involved, enjoy the benefits of hosting an anchor, and make a genuine contribution to the RIPE Atlas community.