The RIPE NCC's 2017 campaign to sponsor fifteen RIPE Atlas anchors has come to an end. Find out where the latest batch of sponsored anchors are located and learn more about some of the developments that took place in the last leg of the campaign.
---
The applications have been reviewed, the selection process has been completed, and the results are in at last: six new organisations have each been chosen to host a sponsored RIPE Atlas anchor. We'll get to "why six?" in just a moment, but for now, here are all the organisations who've benefitted from the campaign to sponsor fifteen sixteen RIPE Atlas anchors, with the latest listed first: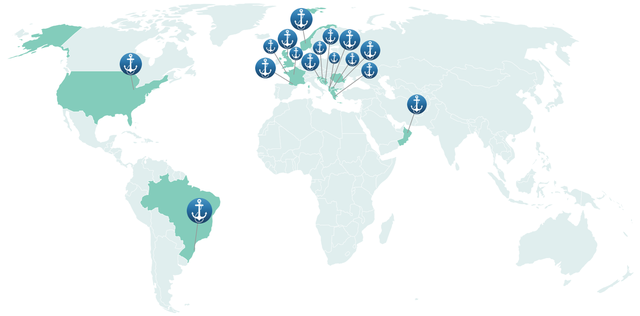 The Sixteen Sponsored RIPE Atlas anchors
Aquilenet – Bordeaux, France
Association Gitoyen – Paris, France
Federal University of Rio Grande do Sul – Puerto Alegre, Brazil
Tech Valley Center of Gravity – Troy, N.Y., United States
RASH (Rrjeti Akademik Shqiptar) – Tirana, Albania
University of Zagreb: University Computing Centre – Zagreb, Croatia
Arnes – Ljubljana, Slovenia
Electronic and Postal Communications Authority (AKEP) – Tirana, Albania
Faculty of Electrical Engineering, University of East Sarajevo – Sarajevo, Bosnia and Herzegovina
FORTH_ICS – Heraklion, Greece
IMT Atlantique – Plouzané, France
OMAN Research and Education Network – Muscat, Oman
Redpill Linpro – Oslo, Norway
Cyril and Methodius University - Faculty of Computer Science and Engineering – Skopje, Macedonia
University of Edinburgh School of Informatics – Edinburgh, UK
University of Sibiu – Sibiu, Romania
When we announced we'd be sponsoring a number of RIPE Atlas anchors, we laid out a set of criteria that would guide our selection process for candidate hosts. We wanted to get anchors set up at locations that were not well represented, preferably in the RIPE NCC service region, to be hosted when possible by not-for-profit organisations. The general goal was to have RIPE Atlas anchors go where they'd never have gone before. 
Although few of the applicants met all the criteria, all of them met some. As a result, the campaign has helped lend greater diversity to the RIPE Atlas anchor network, it's allowed a significant number of not-for-profit organisations to become hosts, and it's also boosted the number of anchors situated in our service region.
One More for Good Measure
We've been calling this 'the campaign to sponsor fifteen RIPE Atlas anchors', and yet we've ended up sponsoring a total of sixteen. So what changed? Well, those of you who've been following the updates on RIPE Labs will be aware that we recently switched to a new hardware solution for anchors. And, among their many charms, these new devices are much cheaper than their predecessors. It's for this reason that funds became available for sponsoring more anchors than originally intended.
The hardware switch also had an impact on the campaign's schedule, meaning that we're announcing the final six a few weeks later than we had hoped. Though we of course prefer to keep to our deadlines, giving priority to resolving the hardware issue was the right choice, and we are grateful to all the feedback we received from the RIPE Atlas community and RIPE Labs readers throughout that process.
Summing Up
Once again, we'd like to thank all those who took an interest in the campaign, especially those forty or so of you who took the time to submit an application. If you weren't successful this time, worry not, there are still plenty of ways to get involved: 
First, depending on where you are, you might be able to seek sponsorship from one of the other Regional Internet Registries. As mentioned in an earlier RIPE Labs article commemorating four years of RIPE Atlas anchors, APNIC, LACNIC and AFRINIC (working with ISOC) are all sponsoring anchors in their service regions.
Second, as mentioned above, the latest generation of RIPE Atlas anchors are considerably cheaper than previous versions. For example, fully-assembled RIPE Atlas v3 anchors are available from Meconet for around 450 Euros. We very much hope that this reduction in price will prompt many more of you to apply to host an anchor.
Third, given the success of this year's campaign, we may well be looking to repeat this process again in the future. Look out for more news on this on RIPE Labs in 2018.