Reports indicate that the Ugandan government initiated a shutdown of the country's Internet yesterday evening. Here's a look at what we're seeing based on data available from our Routing Information Service (RIS) and RIPE Atlas.
---
The shutdown began ahead of the Ugandan presidential election, which takes place today, and is currently still in effect as of the time of writing. A number of individuals and organisations shared their observations on the impact of the shutdown via social media. To help the Internet community better monitor the ongoing impact of the event, here's an initial look at what we're seeing in our data. 
ASNs, IPv4 prefixes and IPv6 prefixes
On the morning of 13 January, 36 Ugandan ASNs were visible in our RIS data. By midnight, that number had dropped by a third, to 24. In total, 303 of 565 (54%) IPv4 prefixes vanished from the routing data, along with 9 of the 17 IPv6 prefixes registered in the country.
As you can see in the country routing visualisation from RIPEstat below, the biggest drop occurred between 15:00 and 17:00 UTC (18:00 - 20:00 Uganda local time).
RIPE Atlas Probe Outages across ASes
RIPE Atlas probes located in AS29032 (DATANET-UG), AS327687 (Research and Education Network for Uganda) and AS327724 (National Information Technology Authority Uganda) went offline during this same period.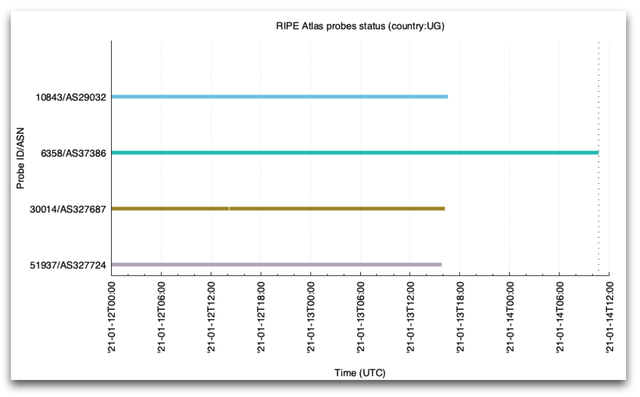 Another probe located in AS37386 (Uganda Internet Exchange Point) was not affected. However, although the probe is still online, the shutdown does seem to have had an impact. The network delay visualisation below, from the Internet Health Report, shows a significant spike in network delays around the time the shutdown was initiated (more specifically, between 16:00 and 18:00 UTC).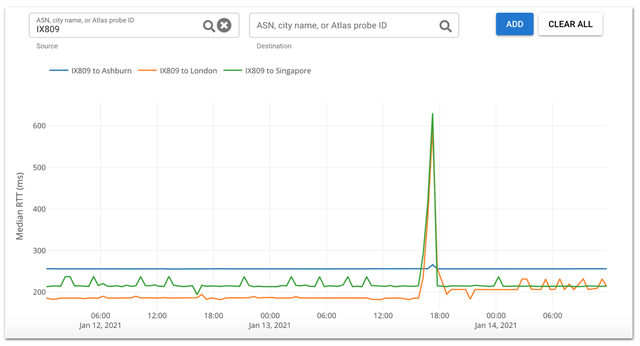 Summing Up
This is a first look at the shutdown from the perspective of the data we have available. Having more RIPE Atlas probes situated in Uganda would help give a fuller picture of the situation, so we would encourage people to get involved and host a probe. 
As always, there is plenty of room for further analysis here, and we invite and encourage anyone out there to make use of all the tools and datasets we at the RIPE NCC have to offer in order to get a better understanding of this and similar events and their impact on the Internet as a whole. If you have something to add right now, please go ahead and leave a comment below.