The RIPE NCC and iNOG organised a hackathon in June 2018, in Dublin. This review celebrates the achievements of the hackathon, invites you to use our results, and welcomes your contributions for future hackathons!
---
Together with iNOG, RIPE NCC successfully held its seventh hackathon in Dublin this June. 

 Image 1: The traditional collection of laptop stickers

Introduction 
It all started at the previous hackathon in Copenhagen - Hackathon Version 6 - in November 2017. Cristian Sirbu, one of the iNOG organisers, enjoyed our event so much that he wanted us to hold the next event together, in Dublin. 
It all worked out wonderfully. We had a great lineup of activities: 
Thursday evening: iNOG::10
Friday: Last-minute preparations, a hike in the Ticknock hills and a visit to the local hackerspace TOG
Saturday & Sunday: Two days of hacking
The results were impressive. Here is a quick summary of the hackathon in numbers:
8 finished projects
40 happy people
3,309 square inches of pizza devoured
234 cups of coffee consumed
and finally, 226 beers enjoyed!  
The RIPE NCC is grateful for the enthusiasm of the iNOG organisers, the support of our sponsors (ZPE Systems, ThousandEyes, Facebook, PanSift & RedBit Networks), the warm welcome by DoSpace, and the contributions of all the participants! 
Combining the NOG and the Hackathon
The decision to schedule the iNOG meeting and the hackathon back-to-back turned out to be fantastic! Many of the participants registered in advance for both events. We "recruited" several additional hackathon participants from the iNOG attendees, and some of the presentations turned into projects, which were worked on during the weekend!
See all the videos and slides from the iNOG:10 here
It worked out so well, that we have an invitation to follow this format again in 2019, with GRNOG. Stay tuned for more details! 
 Image 2: Vesna presenting at iNOG, at the WorkDay offices in Dublin 
 A Recipe for Success 
With the combined powers of the experienced iNOG volunteers (Cristian Sirbu, Lorcan Boyle, Donal O'Duibhir), the great host from DoSpace (Graham Barker), and our own hackathon-super-organiser Vesna, everything went as planned. Here are some of the elements that participants appreciated the most: 
DoSpace: A beautiful co-working space with an atmosphere that fosters creativity
Lots of good food from the local catering company KC Peaches, pizza from Basil, and dinner in HQ
T-shirts galore, with the hackathon icon, and as gifts from our sponsor: ThousandEyes 
Excellent coffee provided by 3FE, famous Dublin baristas, generously sponsored by Facebook
Good locally brewed craft beers! 
The visit to the local hackerspace, TOG 
And the ultimate reward - stroopwafels, of course!
Eight Projects 
Since the topic 'Tools to help Network Operators', was very broad, the projects were quite different. Eight teams were formed, out of a total of 12 suggested projects on themes ranging from more automation, to better visualisation of the measurements data about the reachability of their networks, to generating alerts. The teams presented their work on the Sunday evening at the end of two days of collaborative work.

Image 3: Matt's panorama of the co-working in DoSpace 
You can view all the software & slides created during the hackathon. Here are the projects, in order of appearance:
RIPE-Atlas-tools project
Team: Henrik Lund Kramshøj, Kemal Sanjta, Annika Wickert, Keith Gaughan, Graham Hayes, Guilherme Urban, Emile Aben
Goals: Improving existing Command Line Interface tools for processing RIPE Atlas data.
Achievements: fine-grained probes selection, and proposed changes to the traceroute: faster, more colourful, and with the graph output. They generated lots of pull requests.  
BioRouting table
Team: Maximilian Wilhelm, Oliver Herms, Philip Berndroth, Daniel Czerwonk, Serge Bazanski 
Goals: Additional features for BioRouting 
Achievements: Route server feature was implemented, and GRPC configuration maintenance 
Team: Pedro Vaz, Sofia Silva Berenguer, Iain Geddes 
Goals: To visualise the relationship between Autonomous System Numbers (ASN)  
Achievements: Backend data collection, TinyFlask for frontend, successful demo & a blog post 
GoNetconf Pack
Team: David Gee, Renne Neuman, Patrick Harney 
Goals: To create a pack for StackStorm that performs netconf requests 
Achievements: Successful demo! gogetconf code refactored, interface created & tested, a "pack" with 2 action created 
Team: Matt Oswalt, Tudor Stefan Tabacel Manea, Jasper den Hertog, Guilherme Loch Waltrick Goes 
Goals: Implement the detection of RIPE Atlas measurements data "events" in StackStorm
Achievements: Two kinds of events were detected and demonstrated (probe disconnections, baseline discrepancy)
WeatherMaps
Team: Rodrigo Magno, Christian Bachert, Ondrej Velicka, Joao Cancelli, Loke Berne
Goals: Dynamic GMaps weathermap creation from collected network state
Achievements: Lots of learning, and a successful demo of the results: routers on the map! 
Team: Ronny Trommer, Craig Gallen, Patrick, Colin MacGiollaEain 
Goals: Additional features for OpenNMS
Achievements: Telemetry / SNMP streaming data integrated in OpenNMS; good documentation 
Team: Nikos Roussos, Petros Gigis, Vasileios Giotsa
Goals: Create a tool that can give routing insights on ASes AS using the RIPE Atlas and RIPE RIS services
Achievements: Three implemented features (suggest new peering, automatically interpret BGP communities, detect routing incidents based on community changes) 
Image 4: Arcade; group photo; stroopwafels
Here's the shortcut (again) to the collection of software & slides, and more links to articles & photos:  
The jury, consisting of Vesna Manojlovic, Cristian Sirbu, Lorcan Boyle, and Brendan Cleary, had a hard time deciding to whom the stroopwafels should be given!  In the end, the jury decided to award stroopwafels in three categories:
For the best team-work: two groups working as one, on StackStorm topics!  
For the best cooperation with others: the AS Interdependency VIZ team!! 
For the most-complete project: the RIPE-Atlas-Tools team!!!   
Having Fun
Extra activities are important parts of the hackathon - and vital to keep people energised to work over the weekend. This time, there were some fun, new things to do:
Arcade machines, for some geeky relaxation 
Hiking, for the more nature-loving nerds 
Ice-cream, since Ireland had an uncharacteristic heat-wave  
And the opportunity to win the OculusRift, at a quiz, sponsored by Facebook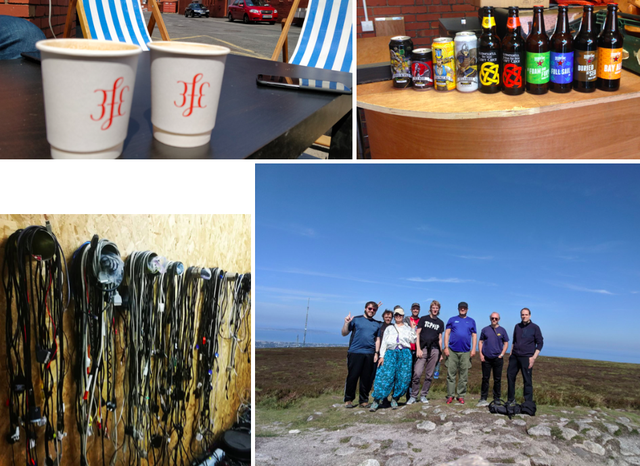 Image 5: Coffee in the sunshine, beer, cables in TOG, hiking-hackers 
Conclusions 
Once again, it was clear that hackathons are great as temporary spaces for group problem-solving and prototyping! They foster creativity, enhance cooperation, and are useful. All the tools and software are available. Please feel free to use them and hack further. 
Visit our collection of projects on GitHub. 
We also invite you to go to other hackathons! Check out the new calendar applet. This is a collection of all the hackathons that we know of on RIPE Labs: 
https://labs.ripe.net/hackathons 
The next RIPE NCC hackathon is in October in Amsterdam, just before the RIPE 77 meeting. 
Apply now for the Quantum Internet Hackathon
If you find hackathons interesting, we would love to hear from you. Please let us know what your interests are whether it is is participating in hackathons, proposing ideas for projects, or sponsorship. If you are organising your own hackathon, we would like to take part, and we can promote your event within our community. 
To get in touch, use the comments section, send us an email <labs@ripe.net> or find us on IRC or Twitter.
Till the next time!