The third RIPE Atlas hackathon took place in Copenhagen the weekend before RIPE 72. In this article, we share the details about the hackathon and a preview of the fourth hackathon.
---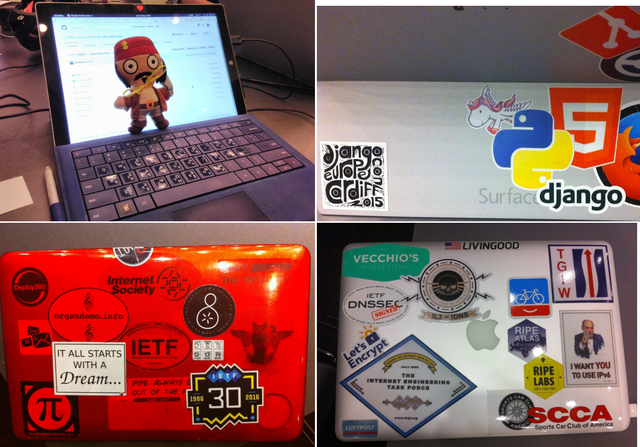 It's a tradition to take photos of laptop decor
In 2015, we learned that hackathons work ! Creativity is enabled by bringing diverse people together to work on a common project and mixing skills and approaches makes for amazing results: see DataViz hackahton and  Tools hackathon results . 
This time around, the subject was " interfaces " - new ways to use RIPE Atlas data, new ways to display results, new combinations of ingredients leading to interesting outcomes. 
These were the differences between the third hackathon and the two previous ones:
Denmark is a very expensive country, therefore we are deeply grateful to Comcast for their sponsorship - their contribution made it possible.
Travel expenses for several attendees were partially covered by Comcast - this enabled students, researchers  and NGO participants to join
Due to the proximity of the RIPE meeting, some projects got to be presented to a wider audience, and some of the participants for the hackathon came from the traditional RIPE meeting audience (operators, companies) 
Numbers 
21-22 May 2016

From that, seven returning participants, 13 new ones

Three social events, two at a hackerspace (one at Labitat and one at Illutron) and dinner at a beer brewery 
Seven final projects ( code on GitHub ), and two extra results from RIPE NCC staff
111 tweets about RIPE Atlas during hackathon 
10 packets of stroopwafels consumed!
Results
Multiple projects were presented , and the winner was Halo ! Their reward: present during the MAT Working Group session, and a box of stroopwafels :) 
Almost all of the projects were presented during RIPE 72 , so we will let the code, slides and videos speak for themselves (see below). 
Project
People
Code
Other results
Video
Slides
Halo
(Network Outages
Dashboard)
Shane Kerr
Daniel Quinn
Désirée Milosevic
GitHub
link
Video
Slides
(MAT WG)
Detecting Asymmetric
Routing over IXPs
Barry O'Donovan
Drew Taylor
Jacob Drabczyk
GitHub
link
Live website:
http://ard.inex.ie/
Video
Slides
(Connect
WG)
Tartiflette
(Near Real-Time Anomaly
Detection
from RIPE Atlas Stream)
Randy Bush
Cristel Pelsser
James Reilly
Alexandru Manea
Razan K Abdallah
Wenqin Shao
GitHub
link
Related work:
RIPE Labs article ;
Lightning talk
Slides / Video
IP traceroute Explorer
Sebastian Castro
GitHub
link
"IPv4 versus IPv6 -
Who connects faster?"
Vaibhav Bajpai
Live demo
Video
(MAT-WG)
Slides
(MAT-WG)
Geocoded IPv4/IPv6
traceroutes
Asbjørn Sloth
Tønnesen
GitHub
link
Improvements for
IXP-Country-Jedi
based on TraIXroute
Dimitris
Mavrommatis Edwards Mukasa Gigis Petros
Santiago Ruano
Rincón
GitHub
link
Related work:
RACI presentation
about TraIXroute
Slides / Video
Probes Lifetime
Philip Homburg
(RIPE NCC)
RIPE Labs article
Traceroute Streaming
Daniel Karrenberg
(RIPE NCC)
GitHub
link
RIPE Labs article ;
Lightning talk
Slides / Video
Teams at work
Next time
On 22 - 23 October 2016, just before the RIPE 73 meeting we will organise another hackathon, this time focussed on tools for Internet Exchange Points. We are planning to improve a number of things:
Involve more mentors,  facilitators , project managers and community builders in order to better organise teamwork and allow everyone to engage their potentials in the best way
Have the work day a bit more structured: frequent times to review progress and get clarification and help
Ensure  diversity: of skills, of genders, of viewpoints
Ask everyone to send an email introduction in advance, to describe their skills and preferred projects
The following things went well and we will keep them: 
Placing a lot of effort in prior preparation pays off: logistics, communication, education
Room setup that encourages team cooperation: islands of tables, flip-charts, name tags
Friendly and informal atmosphere, supportive RIPE NCC staff members that help troubleshoot issues 

Closing party at the art-ship-hackerspace Illutron 
Staying in touch

If you're interested in helping to organise or to participate in the next hackathon we'd love to hear from you!  We'd also love an invitation to be guests at your next event.  
In order to get in touch, here are some possibilities:
Hackathon participants: 
IRC channel: #ripeatlas @ Freenode
Mailing list: hackathon-interface@ripe.net
RIPE Atlas team:
@RIPE_Atlas on Twitter
ripe-atlas@ripe.net for mailing list discussions
atlas@ripe.net for tickets