RIPE Atlas is starting off 2013 with a new release that includes many exciting features, community involvement, and promises much more to come in the near future.
---
While developing RIPE Atlas, we are maintaining and publishing a roadmap to keep the RIPE community involved and informed of the features we are working on. Please find below our achievements in January 2013, plans for the upcoming months, and ways in which you can provide feedback. The yearly overview of 2012 is available here .
Status
At the end of January 2013, RIPE Atlas included:
2,500 active probes (~280 activated in January, twice the monthly average!)
1,000 IPv6-enabled probes
5,900 users (~450 more than at the end of 2012)

2,100 of these users are RIPE NCC members

1,350 user-defined measurements performed in January
New Features
We have introduced several features that were announced in the last roadmap update in 2012, and a few additional features that were requested by users in the meantime:
Test their IPv6 reachability with traceroute measurements from 1,000 probes
Receive 1,000,000 additional credits to spend on their own user-defined measurements
Apply for a RIPE Atlas probe and have it shipped to the LIR address we have on file
New member-specific features include suggestions about registered colleagues in order to facilitate transferring credits, and even probes, to colleagues in the same LIR.
We welcomed two new sponsors in December, SynaIX and DENIC, and another two in January , SIDN & France-IX . Thank you very much to all of our sponsors for your support!
RIPE Atlas sponsors are now featured under a dedicated sponsors tab in the Community section of the website.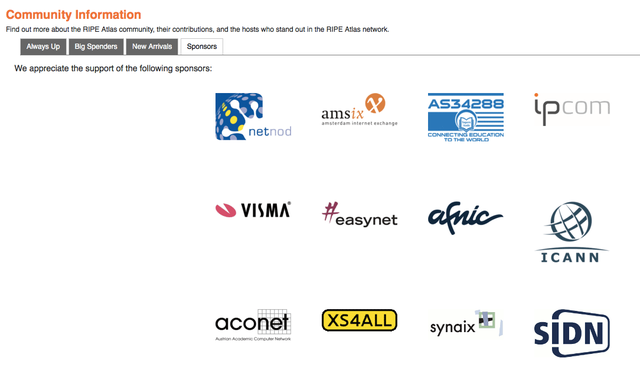 Figure 1: Sponsors tab under on the Community page
We made refinements to the user-defined measurement controls (for example, giving warnings before stopping measurements for users who run out of credits; not scheduling too many measurements from probes with bandwidth limitations, etc.)
There are new costs specified for certain user-defined measurement results, based on the resources each measurement result consumes. Please see the updated Credit System documentation for more details.
We started documenting and publishing various REST APIs to the system , that enable scripting your access and integrating RIPE Atlas data into own visualisations and analysis. The initial version of the first two (probes and measurements) are available now as beta services. New exciting possibilities this offers will be featured in separate RIPE Labs articles.
The application procedure has been slightly revised because we are distributing more and more probes via "ambassadors" (at courses and conferences), and not only by directly shipping to those who apply via the website. Therefore, new hosts who applied for their probe online are automatically registered at the same time, and those who receive a probe at a meeting or conference without having applied for it first can now register their probe online much more easily, without the PIN code that used to be required !
You can now define an API key to download results of all of your measurements, rather than just a specific one.
RIPE Atlas anchors are now shown as potential targets when specifying a measurement.
The visualisation of user-defined ping measurements now allows for 20 probes, instead of 19 :-)
Ongoing Activities and Short-term Plans
Together with the pilot hosts, we continue to develop the

RIPE Atlas anchors pilot

, which will use enhanced RIPE Atlas probes as regional measurement targets.
We started work on migrating the DNSMON service into RIPE Atlas and RIPE Atlas anchors.
Group access management is an often requested feature. We will enable it for RIPE NCC members (LIRs) before RIPE 66. We will continue working on the generic solution for group access later this year.
We are preparing to distribute the next generation of probes , the TP-Link model TL-MR 3020.
We continue to make improvements to the stability and reliability of the back-end infrastructure , as well as the expansion to allow for the growth of the number of probes.
We'll start testing two new features soon: one-off measurements and the measurement specification API to start and stop user-defined measurements . Beta testers will help us adjust these features before we go live with them.
Community
Interest in RIPE Atlas has grown very much over the last two months. Community contributions include an article for TAZ written by Constanze Kurz (in German), and a video of the presentation given by Unicorn from RaumZeitLabor hackerspace in Mannheim, about RIPE Atlas (also in German).
The Hackerspaces community created their own map view of the locations that have a RIPE Atlas probe.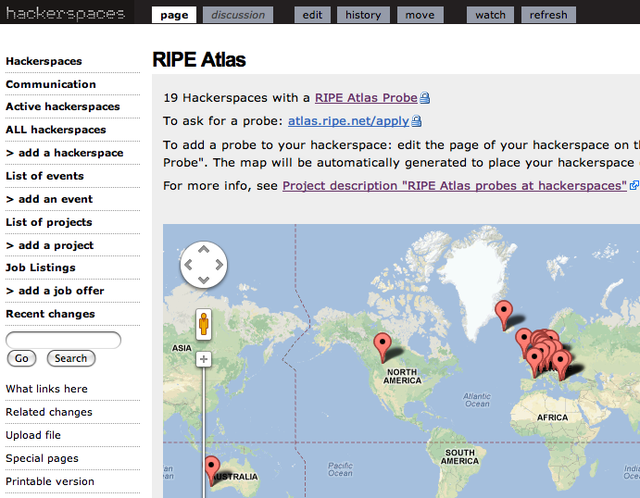 Figure 2: Map of hackerspaces that have RIPE Atlas probe
Outreach
If you attend one of the RIPE NCC training courses, you can pick up a RIPE Atlas probe there, or learn about RIPE Atlas from our trainers, in such places as Sofia, Lisbon, Kiev or Bishkek.
Not only RIPE NCC staff, but also community members are promoting RIPE Atlas at events they attend: Vesna Manojlovic gave lightning talks at several hackerspaces events and distributed many probes at 29c3 , and Fearghas McKay presented RIPE Atlas at UKNOF 24 .
In the coming months, you will be able to meet RIPE Atlas ambassadors at:
If you would like to distribute RIPE Atlas probes at your event, or if you want to give a presentation about RIPE Atlas, we can support you with slides and printed materials (brochures, stickers, printed instructions). Please get in touch with us (see below). Who knows? You might be surprised with a RIPE Atlas cake as a reward!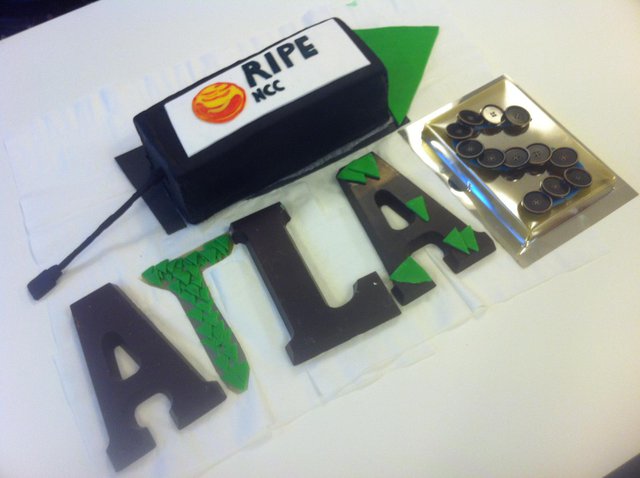 Figure 3: Probe-shaped cake, made by Lia Hestina

Get in touch!
We look forward to hearing from you!
If you would like to give us your input or ask questions:
Please subscribe to the RIPE Atlas mailing list for active users, which is also followed and answered by developers: ripe-atlas [at] ripe [dot] net
If you want to report a bug or problem: atlas [at] ripe [dot] net
For direct feedback: becha [at] ripe [dot] net or @Ms_Measurements (#RIPEAtlas)
We have opened a new channel of communication: Live Chat , operated by the RIPE NCC's Customer Service department, is now also accepting questions about RIPE Atlas.
And we are pleased to announce an official Twitter account: @RIPE_Atlas !