RIPE Atlas is now accessible for all the RIPE Labs users and LIR Portal users, via "RIPE NCC Access" (single sign on system).
---
In the article Preparing RIPE Atlas for RIPE NCC Access we announced the introduction of our single sign on system for RIPE Atlas. This has been switched on on Tuesday, 27 March 2012.
You can now access RIPE Atlas with your RIPE Labs credentials or your LIR Portal credentials.
When you are logged in, you can go to RIPE Atlas and see the measurement data collected by all probes marked as public by the probe host. You can look at this data for an individual probe , by selecting the link to "Probes" in the menu. You can see their ping RRD graphs and traceroute data, for IPv4 and IPv6 (as shown in the image below).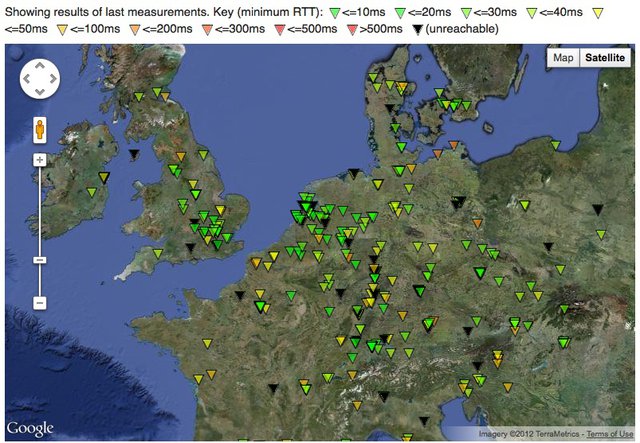 Several other measurements results are accessible even if you are not logged in, since they are available to the general public and the whole Internet community:
Maps generated based on the data we collect, picturing the reachability or the latency from all the probes to multiple fixed destinations around the world;
Comparison between response times for DNS SOA queries to all the root DNS servers, for IPv4 and IPv6;
The distribution of the probes per AS number or per country if you choose the link to "coverage".
If you would like to collect measurements with RIPE Atlas from your location, you can volunteer to host a probe, free of charge. In order to receive a probe, you need to register .
For any questions or feedback, please leave a message under the article or send an email to atlas@ripe.net .