While developing RIPE Atlas, we are maintaining and publishing a roadmap to keep the RIPE community involved and informed of the features we are working on. This update was presented last week at the RIPE 65 meting. We are curious to get your feedback.
---
We made lots of progress with RIPE Atlas since the previous version of the roadmap (in August) . Here is the summary of the new features, and plans for the future.
The September roadmap was presented at RIPE65, you can find the slides here .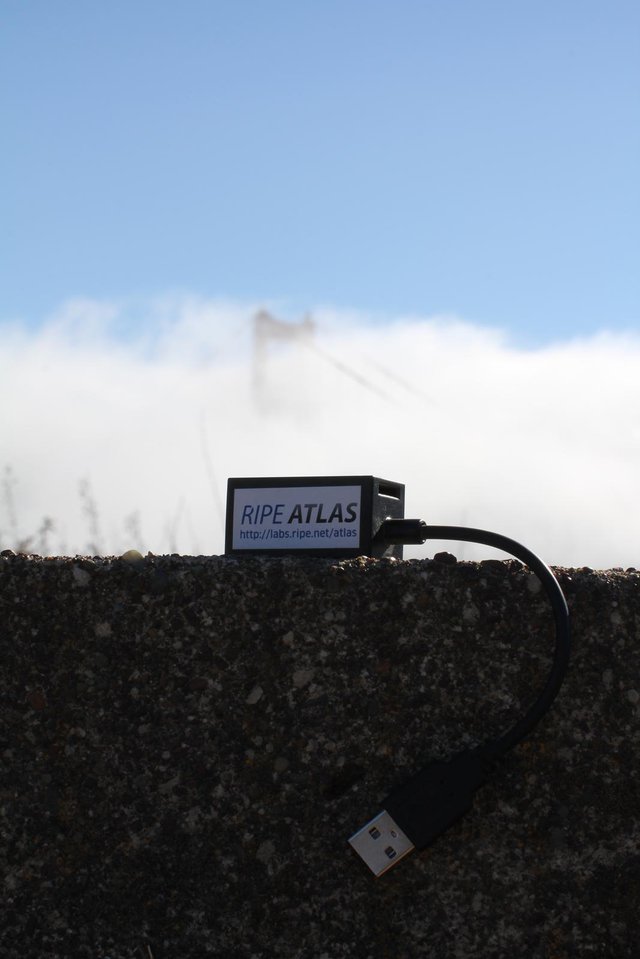 RIPE Atlas probe in San Francisco, USA; photo credit: Arnd Merijnissen
Current status
1,850 RIPE Atlas probes are up and running (100 more than last month)
There are 3,267 Atlas probe hosts

1,356 of these users are contacts for RIPE NCC members (LIRS)
(corrected from "1,365 are hosted by members")

There are 4 types of "customised" measurements members can perform:
Changes since last roadmap
It is possible to download measurement results without having to be logged in, by using API Keys which were deployed and enabled upon user request. You can also share your results with others using these keys.
We got two new sponsors: Aconet and Easynet
RIPE Atlas hosts and sponsors met with some of the developers during

RIPE 65

in Amsterdam and RIPE Atlas was presented in various sessions throughout the meeting (please refer to these slides for more information).
Use cases
During RIPE 65 a number of use cases were presented that were based RIPE Atlas:
David Lebrun, University of Louvain, Belgium
Maikel de Boer, Jeffrey Bosma, University of Amsterdam
Benno Overeinder, NLnetLabs
Plans for next month
In October we will continue working on internal improvements of resiliency and stability, and on the following new features:
Making it  possible to compare TCP & UDP DNS measurements on the same map
Making it possible to see your credit earnings and consumptions by downloading monthly credits reports
Increasing the number of active probes by sending out automatic notifications in case your probe is down
Increasing the reach of RIPE Atlas, by putting extra efforts in distributing probes at training courses & conferences
The new firmware release will allow to clearly see the difference between the probe rebooting or disconnecting, and is introducing a few fixes for known bugs.
Deploying first RIPE Atlas Anchors
And one more outstanding feature from last month: making it easier to follow the rate of deployment of RIPE Atlas probes over time by updating the graphs that show the distribution and status of probes
Plans until the end of 2012
In order to remind you if the probe is not plugged in or if it is down, we will add more automatic email notifications of events.
We will create Internet traffic maps based on RIPE Atlas data, to illustrate the health (e.g. reachability) of measured networks.
We will work on increasing the number of active probes by reaching out to users to activate probes that are down.
We want to make it easier to perform large-scale measurements by lifting all the limitations (except daily credit consumption).
We are planning to make RIPE Atlas data more accessible to the wider community by moving publicly available information to http://www.ripe.net
In order to get ready for next year when we will run out of current probes, we are evaluating next generation devices. Our requirements are that it has to be harder, better, faster, stronger.
Plans for the RIPE Atlas Anchors pilot phase
Installing up to 10 RIPE Atlas Anchors as targets until the end of 2012

to offer greater topological diversity for built-in measurements
Making them into powerful probes, capable of performing more measurements than small probes
Evaluating plans for additional services on the same box
Plans for 2013
Migrating DNSmon functionality to RIPE Atlas and RIPE Atlas Anchors
Improving the presentation layer

by representing RIPE Atlas data in RIPEstat

possible to customise views, and embed widgets in your dashboard
adding dynamic data visualisation
Adding mobile applications for viewing measurement results
Expanding RIPE Atlas with 4,000 more probes, and 40 more RIPE Atlas Anchors
... and many more features, based on your feedback!
Possible new features include:
Anomaly detection - customised notifications
HTTP/TCP measurements
Collecting incoming measurements on RIPE Atlas Anchors
"Fast track" measurements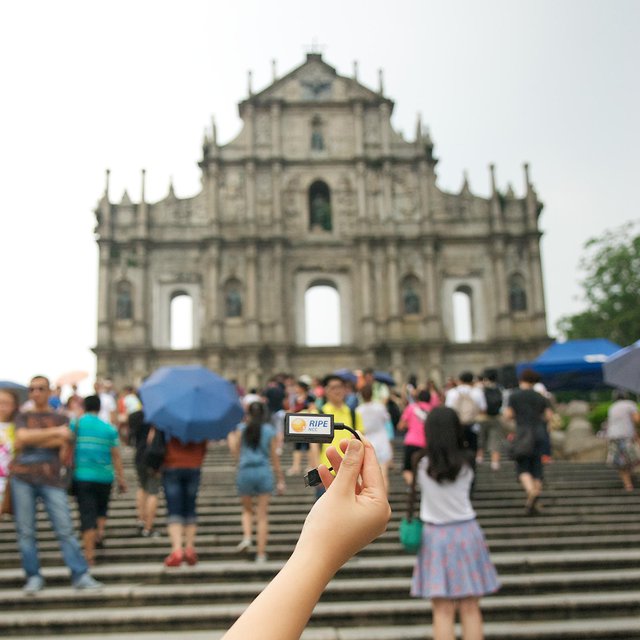 RIPE Atlas probe in Macau; photo credit: Christian Kaufmann
Questions For You
What would you like us to improve in the current functionality?
What are the most-wanted features for each of the items planned for the next release?
What functionality do you find most important to be implemented within the next  three to six months? Which one(s) should have priority?
Direct Feedback
If you would like to give us any other input or if you want to talk with us, you can get in touch with us via:
The RIPE Atlas mailing list for active users: < ripe-atlas@ripe.net >
Measurement, Analysis and Tools Working Group mailing list: < mat-wg@ripe.net >
The RIPE NCC Services Working Group mailing list: < ncc-services-wg@ripe.net >
Our RIPE Atlas ticket queue: < atlas@ripe.net >
On Twitter: to @Ms_Measurements (use #RIPEAtlas)
We also follow other network operators lists and events.

For more information see https://atlas.ripe.net