After RIPE 78, I published an article with some of my takeaways from the meeting. I received positive feedback about that, and so here I am with another update from our last meeting in October. As with the last time, topics are ordered roughly according to when they occurred in the meeting week rather than by importance. Note that this article covers only a few of the many issues discussed at the meeting, and skips a lot of the more technical topics.
---
DAY 1
Opening Plenary
In the Opening Plenary, I mentioned that we have a Code of Conduct (CoC)  in place for RIPE Meetings and that the Diversity Task Force would be presenting a draft of its proposed update to this later in the week (more on this below).
Before the meeting, my daughter shared an image on diversity, inclusion and belonging. I thought it is a good reminder that diversity is only the start of the journey, so I included it in my presentation.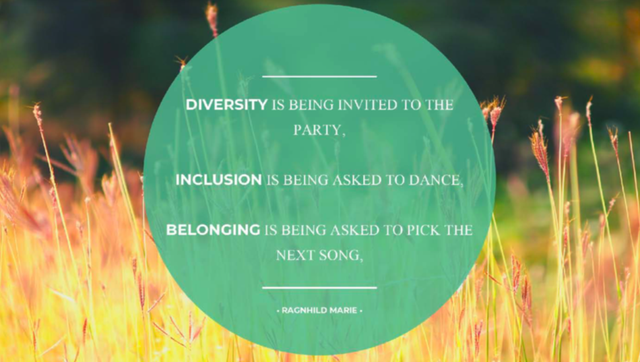 This seems like a good description of what we are trying to achieve. The goal is not simply getting more newcomers at our meetings - it's about making people feel welcome, so they can contribute to, and evolve the community. 
NOG BoF
On Monday evening, there was a BoF for Network Operator Group (NOG) organisers. While RIPE Meeting attendees come from all around the world, RIPE develops policy for a distinct geographical area (the RIPE NCC service region). If we think of RIPE in terms of "global" policy-setting and coordination within our region, there is also a lot of "local" coordination taking place in NOGs as well. By the RIPE NCC's count, there are at least 32 NOGs in our region alone, and possibly a few more flying under the radar.
I wasn't able to attend the BoF, but I understand one of the main topics was whether NOG organisers should form a working group. While there was no consensus on this, I think it's worth seeing where we can strengthen links between RIPE and the local NOGs in our region, and how we can support coordination between NOG organisers within RIPE. Many of these people will encounter the same challenges in terms of finding the appropriate financial, legal or governance structures for their NOGs and could benefit from sharing experiences with one another.
With RIPE as the "global" policy-setting community, we might also benefit from greater interaction with the NOGs in our region. Of course, many RIPE Meeting attendees are also active in their local communities and so this connection already exists informally. But perhaps stronger links with these groups might help to draw more people into our community. It's not hard to imagine a situation where greater participation from NOGs feeds into the work of RIPE, while better communication in the other direction keeps local communities updated on our work and any changes that might affect them.
In line with this, the RIPE NCC put together some slides with a few key points from RIPE 79 for anyone who plans to give an update at their next NOG meeting.
DAY 2
Women in Tech Session
The Women in Tech sessions are now a regular feature at RIPE Meetings, and this time we had a panel discussion that looked at hiring, onboarding, and how to build diverse teams. It's great to see that these sessions continue to be well attended. Alongside other initiatives such as childcare, these sessions signal to newcomers that we take this "openness" thing seriously as a community. The Diversity Task Force has done some great work here.
BoF on Centralised Internet 

As a community, we haven't really discussed the phenomenal centralisation of the Internet that we are seeing. This is an interesting topic - any discussion of its technical impacts almost seems incomplete without something like a critique of capitalism. While this trend will no doubt have societal and economic implications, it also poses questions for the RIPE community. RIPE was created to coordinate IP interconnection, but what does it mean if an agreement between two network operators could be more impactful than the rest of us put together?
In any case, it is great to see RIPE approaching this topic, even if it's only a few early steps. Coming after articles and presentations from Geoff Huston and Jari Arkko, I suspect this will not be the last time we talk about this as a community.
DAY 3
The "No More IPv4 WG"
The first day of working group sessions at RIPE 79 started with the Address Policy WG. With RIPE 79 being the last meeting before IPv4 run-out, it was no surprise that this would be the focus of the agenda. Noteworthy here was a panel discussion that looked back at how successful the community's IPv4 policies had been.
People have described history as a series of unintended consequences. This seems like a fitting description of the changes to RIPE policies and RIPE NCC procedures that were needed to limit the worst excesses and ensure that the final /8 was distributed fairly and roughly in accordance with the spirit of the policy. Nevertheless, while it might have been a bumpy process at times, I think we mostly achieved our intent of supporting new entrants and allowing existing networks a little extra breathing room.
Internet Governance
In the Cooperation WG, we had a lively panel discussing the law enforcement's need for greater RIPE Database accuracy. I highly recommend those with an interest in this topic to view the session in the archives.
In recent years, we have worked with governments to include them in the community. This took a bit of time, but we are seeing success. Now that governments are participating in the consensus-based process, they have raised some concerns with who participates in the process and how the process works, especially when multinational entities participate with a mandate from their members, while the current process focuses on individual participation.
This topic needs further discussion and we should establish a task force to carry out an in-depth analysis of how the PDP can be improved for the future.
Auf Wiedersehen, Axel
In the RIPE NCC Services WG, Axel Pawlik announced that he was stepping down after 20 years as Managing Director of the RIPE NCC. I think the community's standing ovation said most of what I want to say here, but it nevertheless bears repeating briefly.
Almost right from the very beginning, RIPE has benefitted enormously from the strong support provided by its secretariat. The RIPE NCC is much more than a registry, and Axel has been a big force behind this. He has taken the organisation from around 60 employees when he started to around 160 today. Axel was also quick to realise that better engagement with governments would be needed, and in many ways he anticipated some of our current challenges in this respect.
This will not be the last we see of Axel - and so this is "congratulations" rather than farewell. I hope he remains a familiar face within the RIPE community.
RIPE Community Plenary
At RIPE 77 and 78, two well-attended BoFs asked some quite fundamental questions about who we are as a community. That we found more questions than answers was not surprising, but not a bad thing either. One excellent suggestion was to reserve space in the meeting agenda for us to discuss things as a community (even finding time to have a discussion about the RIPE Chair selection process in recent meetings was not easy).
RIPE 79 was the first meeting in quite a number of years where we held a RIPE Community Plenary and I think this was a success. Expect this to be a regular feature at RIPE Meetings from now on – some of the topics from this session are included below. 
RIPE Accountability Task Force Recommendations
In my opening remarks, I noted that the final report of the Accountability Task Force ends with 15 recommendations. The task is now on us as a community to decide which of these require further action.
One of these recommendations was about disclosing financial details related to my role as RIPE Chair, and I covered this in the session (see slide 11). While this was relatively straightforward, other recommendations will require wider input from the community – notably the recommendation to document what the powers of the RIPE plenary are.
The recommendations from the Accountability Task force have now been published on a separate page to make it easier to track our progress and record any actions that are taken as a result.
RIPE Chair Selection
We now have a RIPE Chair Role Description, RIPE Chair Selection Process, and a document describing the RIPE Nominating Committee (NomCom) and its responsibilities. During RIPE 79, Daniel Karrenberg, who has been appointed as Chair of the NomCom by the RIPE NCC Executive Board, started the process to form the NomCom that will make the final selection for the RIPE Chair and Vice Chair positions when the selection process starts ahead of RIPE 80.
After an extended deadline, we had 36 candidates in the running, and the ten voting NomCom members have been randomly selected from this pool. They will now start the work of selecting the next RIPE Chair and Vice Chair.
RIPE Database Requirements Task Force
Another suggestion from the RIPE Big Picture BoF at RIPE 78 was to establish a task force to examine the current uses and requirements people have for the RIPE Database and propose a way forward. We now have such a task force, which aims to produce its draft document by March 2020.
Code of Conduct
At the beginning of every RIPE Meeting, I make a point of referencing to the RIPE Code of Conduct:
For over a quarter century, the RIPE community's strength comes from its breadth of experience, diversity of views, and an open, respectful exchange of ideas – values that we want all of our RIPE Meeting attendees to uphold.

Please treat each other with tolerance and respect. Free speech and an open exchange of ideas are encouraged and celebrated. Demeaning, intimidating or harming anyone at the meeting is wrong. We are especially sensitive to behaviour that offends based on gender, sexual orientation, religion, race or ethnic origin, or other perceived social, cultural, or personal differences.
The page also identifies the trusted contacts who have received training and who are there to help people who might encounter problems with another attendee. The trusted contacts can not only mediate but also take stronger actions:
Please be aware that attendees violating the RIPE Meeting Code of Conduct may be asked to leave the meeting without a refund and other actions may be taken as deemed necessary.
In the discussion on the Diversity TF's draft, some participants seemed to think we were discussing whether to introduce a code of conduct or not, while the proposal is to strengthen it and to "give it more teeth". To me this this is about evolution rather than revolution.
We as a community should continue to make the code of conduct even clearer and more explicit and more in-line with the way RIPE operates. For example, the document explains how the CoC Team (which would replace the Trusted Contacts) would be selected and how it would deal with reports. This is good.
While I support the general approach of the proposal, I can see a few issues with the draft that remain to be addressed. I am committed to getting a more robust Code of Conduct in place. 
Closing Remarks
736 attendees from 59 countries (25% newcomers)
Eight children enrolled in the on-site childcare at the meeting
24 mentors were paired with a newcomer at the meeting
Job Snijders and Paul Hoogsteder joined as chairs of the Routing WG
Pavel Lunin and Dmitry Kohmanyuk were elected to the RIPE PC (we will need a new ENOG representative on the PC, as Pavel was filling this role)
Filiz Yilmaz was elected to serve another three-year term on the NRO NC after her current one ends in December.