The RIPE NCC academic engagement is by far one of the most gratifying and fulfilling initiatives our team in the Middle East office works on. So for we have visited six universities in three countries (Lebanon, Saudi Arabia and Oman) and we plan to visit at least two more before the end of this year (Untied Arab Emirates and Qatar).
---
The concept is simple: we spend two hours with the university students, faculty and staff and walk them through the basic technical fundamentals that allow the Internet to function and grow, such as standardisation, numbering and naming. The attendees are introduced to the organisations that coordinate these efforts, their operating models and how to get involved if interested. The amount of discussion and feedback we receive during and after the session is overwhelming and students (even those without any technical background) are highly engaged and intrigued.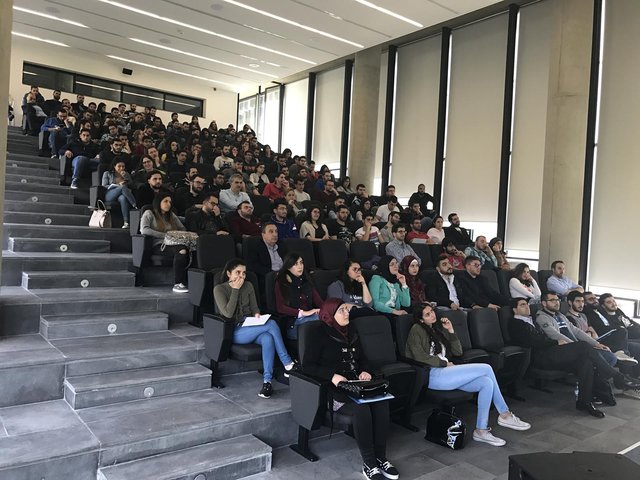 More than 120 students from different universities in the North of Lebanon attended at the Balamand University
Based on requests we sometimes organise a dedicated half-day IPv6 workshop after the session for the Computer Science and Engineering departments. The workshop mainly covers IPv6 address notations and basic address planning.
We've found that the students easily grasp the concepts and require less time to wrap their minds around IPv6 design fundamentals because they are not shackled down by years of designing IPv4 networks, counting every IP and device on the network and eventually resorting to NAT to scale their design. Anyone who has conducted an IPv6 workshop would tell you that this paradigm shift is the biggest hurdle they need to overcome.
Dedicated IPv6 workshop at the Balamand University
During the discussions, we introduce the RIPE Academic Cooperation Initiative (RACI) to those interested in highlighting the research they are currently working on. As for those looking for fresh research ideas, we usually point them to RIPE Atlas and the RIPE NCC hackathons. To date, one university, the American University in Beirut (AUB), has become a RIPE Atlas anchor host.
We are currently working with our colleagues in the Training Services department to meet the requests from universities and faculty members to develop more e-learning modules on the topics discussed during the sessions. The RIPE NCC has a diverse online course portfolio offered through the RIPE NCC Academy and the online webinars. We are happy to know that some professors have already integrated the IPv6 training material into their syllabus.
We are keen on developing the concept furthur and aim to get more universities and academics involved to bridge the gap we see in the Middle East between the academic sector and the Internet industry.