The LIR Locator tool has been updated. It now contains a number of new options and features, including information about Local Internet Registries (LIR) with 4-star IPv6 RIPEness. The tool is mostly targeted to the members of the RIPE NCC, but also contains a public map accessible to everyone.
---
Introduction
Last year, we were working on a new tool to provide the public with geographical information about Local Internet Registries (LIRs) and the services they offer in the RIPE NCC service region (see LIR Locator Tool ). We now announced this new public tool which marks the location of LIRs on a public map. You can find some more information about the functions and the usage of this tool below.
The LIR Locator consists of two parts: a publicly available map which shows the location of each LIR and an internal part which is integrated with the LIR Portal. The tool now also shows LIRs with 4-star IPv6 RIPEness.
Public Map
The public map (see below) shows the location of an LIR, based on the LIR's publicly available postal address. It is also possible to view public membership information of each specific LIR. This information is already available in the sorted country list .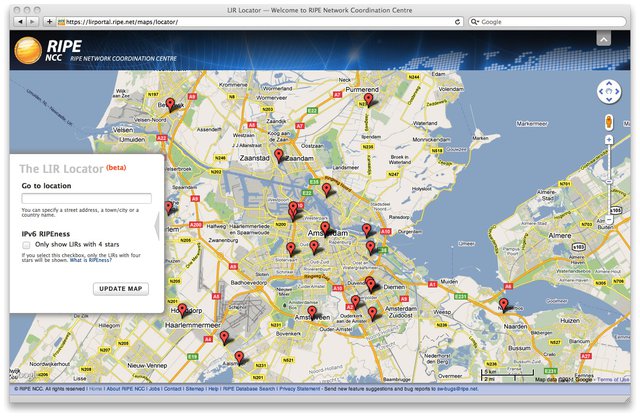 It is also possible to only view 4-start IPv6 RIPEness LIRs on the map as shown in the image below.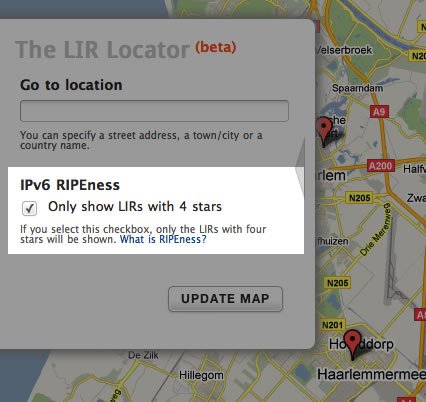 Another feature when navigating the map, is to select a group of members. This is done by simply holding down the "Shift" key and selecting a geographic area. All LIRs located in that area will be selected, and users can browse through detailed information for each of the selected LIRs (see below an example).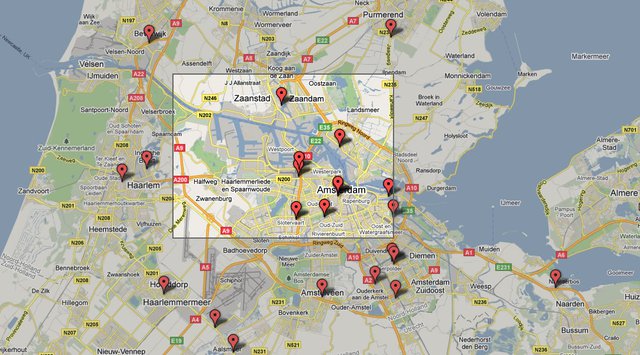 This map is not meant as a replacement for our member list. Instead it is designed to exist in parallel and to prove an alternative representation of the same information. Simply viewing the map gives users a lot of information about the concentration of LIRs in a specific geographic region. One future application of this information is to determine where to provide training courses.
LIRs with 4 star IPv6 RIPENess score are clearly indicated on the info window.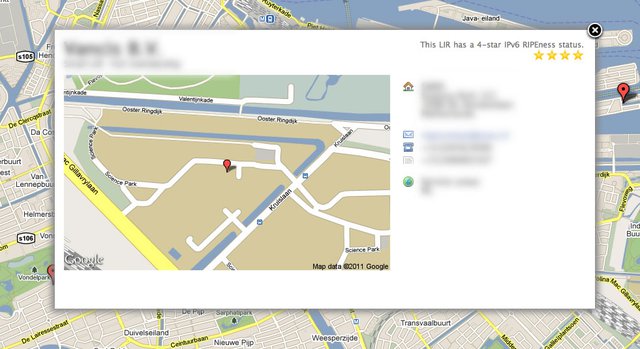 LIR's Application
Members are in control of their geo-location and are the authoritative  source for this information.
We have determined an LIR's location on the map by using the Google Geo-Location Service. Because of this, we decided to notify users to confirm their map location and to make sure the automatic process was correct: after logging in they would see a note on the home page.
Please note that the accuracy of google's geo-location results may vary: in some particular cases many LIRs are shown in the same spot, usually this happens in the center of a city. If that's the case, it is important that users fix the incorrect location: It is easy to do it from "My Location" item on the menu.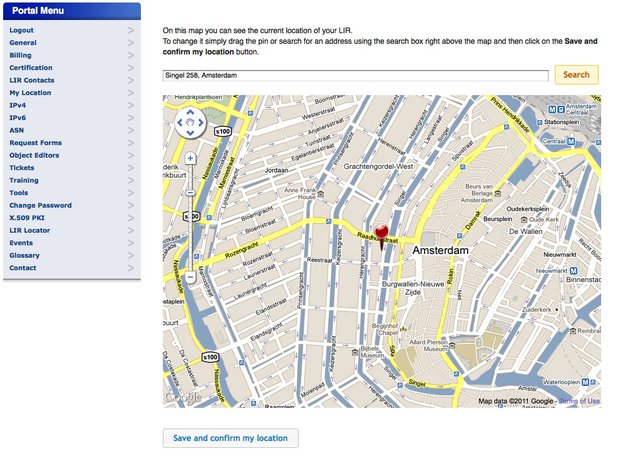 Also when LIRs change their postal address using the "General" link in LIR Portal they can reconfirm their new location.
Members can drag and drop the marker for their location anywhere on the map, as long as it is within boundaries of their postal address country.
Please note that synchronization of changes might take several minutes before they are visible on the public map.
Known Issues
LIR Locator is in public beta state, and we are actively working on fixes and a number of improvements.
The most important known issue is that some of the markers are missing. We found that the Google map rendering engine doesn't render them, although the location data is present. We already have contacted Google about this and we are working to fix this issue as soon as possible. 
Among reported issues, for example the geo-location service confuses Bailiwick of Jersey with Jersey, Georgia in United States. 
Detail of the data provided by Google maps is also different for each country and an updated list of detail level for each country is provided by Google . 
We are looking for solutions to these issues and when all known issues have been addressed, we will change the state of the service from Public Beta to production.
Future of the project
We aim to add features reserved to our members in the short/medium term.
In the future, we are planning to offer more services that enable members to communicate with other members. The LIR Locator is one step into this direction. 
Besides being our main service portal for the membership, the LIR Portal can also serve as a communication platform for members that they can use to exchange information.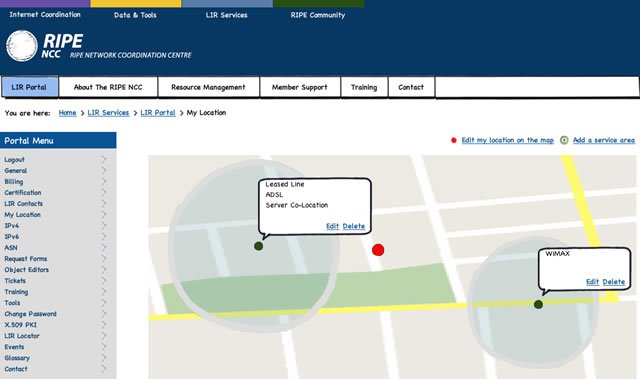 LIRs could for example search the map for possible service providers in a specific region. They can find services and potential business partners in those regions. For example, they can find all co-location service providers in a location and easily contact them. They can even use the same tool to identify less served areas in order to expand their businesses.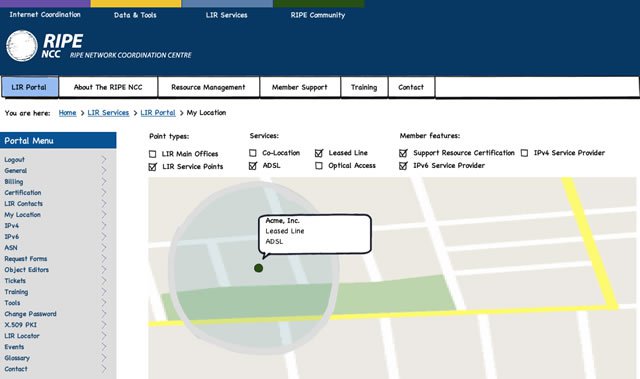 There are many other possibilities for this type of member-to-member services. We can imagine a service for members to publish their special contact information only to other LIRs, for instance direct lines to sales or an emergency technical contacts. It is even possible to design a simple service for member updates, so LIRs can publish business or technical updates to other interested LIRs. 
We are constantly looking for your feedback and suggestions on these possible services. Please don't hesitate to contact us. You can leave a comment under this article or write to us at sw-bugs@ripe.net . And you can talk to us in person at our stand in Amsterdam at RIPE 62.