Over the summer, we – the Sustainable Digital Infrastructure Alliance (SDIA) – published a three-part series introducing our manifesto for a sustainable European cloud, one that's open-source, fair, and creates economic opportunities for all. Such digital infrastructure will reflect European values, and provide a blueprint that others around the world can draw inspiration from to further develop their own digital economies. Below is a summary of each part, an invitation to read them, and a call to action to help us make our vision a reality.
---
Last month, I introduced our Open Data Hub to the RIPE community, inviting anyone interested in making the digital sector more transparent to join our efforts. Today, I am excited to share summaries of our three-part series describing our vision for a sustainable European cloud.
It's a key part of our Roadmap to Sustainable Digital Infrastructure by 2030, and one that is meant not merely to challenge the dominance of the big, non-European cloud providers, but offer an entirely different paradigm that is open-source, fair, sustainable, and creates economic opportunities for all. Indeed, a functional European cloud would be the ideal platform for the continent's growing digital infrastructure, and one that would offer limitless opportunities for innovation and digital transformation in both an environmentally and economically sustainable way.
We invite you to check out each part of the series, give us your feedback, and get in touch with us if you're interested in helping us transform our vision into a reality. Below is a summary of the key points covered in each post.
Part One: How the European Cloud Can Help Build a More Sustainable and Efficient Digital Economy
Our first entry, published in July, introduced the concept of a sustainable European cloud, outlining some of its features - including transparency, inclusivity, and its being open source - and highlighted why the time is ripe to develop this resource (no pun intended). We strongly believe that creating a cloud that is more cost-competitive and more sustainable in both economic and environmental terms will also help drive digital innovation across the continent and beyond.
The post also explores how innovation and a sustainable European cloud are essentially a prerequisite for realising, among other things, the EU's Europe Fit for the Digital Age strategy, explains why such a resource is needed, and also contrasts itself with existing initiatives.
Taking GAIA-X One Step Further
One aspect we focus on is how the ownership structure of a sustainable European cloud will be inclusive and fair, offering its users a much more viable solution than others, creating a shared, European utility for digital power. Existing initiatives such as GAIA-X, which seek a common and unified marketplace for digital services, require a common sustainable, competitive, European digital infrastructure. We believe the European cloud we outline is a key facilitator of that vision and is critical to achieving the EU's aforementioned strategy and European Cloud Initiative.
While we strongly support GAIA-X and see it as crucial to our efforts, our vision for a European cloud takes a more holistic, unified approach that goes beyond the relatively narrower scope of marketplaces and digital services, while also placing more emphasis on sustainability and European identity.
Moreover, GAIA-X's primary objective is to close the gap of cloud services and foster the development of European alternatives of those services that can then be shared among all European cloud providers. These services are meant to run only on GAIA-X-certified infrastructure, though. While it's undoubtedly an important aspect to address, under the principle of sovereignty, it's even more important to ensure Europe has its own resilient and robust physical digital infrastructure. With our vision for a European cloud, we provide a blueprint for this infrastructure, which will likely also be a foundation on which many of GAIA-X's services will run. With the European cloud, GAIA-X services will also become more accessible to smaller and regional actors who will, in turn, become interconnected, providing a decentralised and resilient network of regional cloud infrastructure.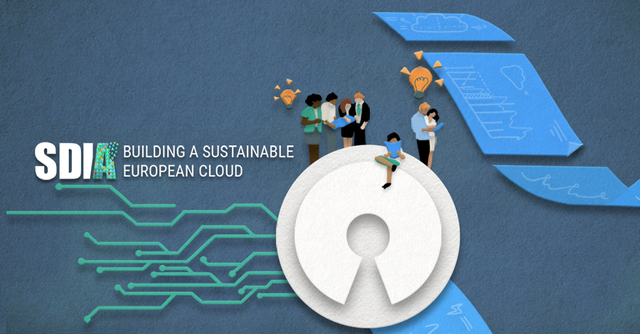 Part Two: Sustainable, Inclusive, and Equitable Cloud Infrastructure Drives Innovation and Develops Digital Ecosystems
Our second entry, published in August, built on the previous one by expanding on the blueprint we are in the process of creating for a sustainable European cloud. Such a blueprint will outline how to build local and/or regional cloud infrastructure and develop a model to include its central functions. The blueprint we are developing will contain the building blocks of the necessary infrastructure – from design, architecture, and concepts, to business models and contracts – all of which will be free to implement, open-source, and free of any legal or copyright claims.
We also stress the intrinsic relationship between a sustainable European cloud platform and connectivity, and its inextricable link to local and regional governance. According to our vision, each region, state, or nation would have the means to develop their own, local sustainable digital infrastructure, helping to close Europe's digital divide – something that remains a significant challenge to creating a sustainable digital economy on the continent. Doing so will ultimately support the local economy by creating local tax revenues and enabling local innovators, providing a breeding ground for a community or region's digital ecosystem – something that will inevitably advance the goals of the wider RIPE community.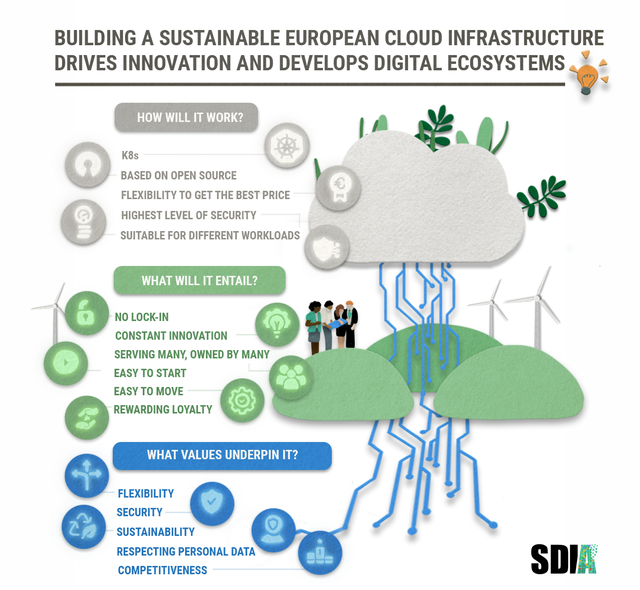 Part Three: Building a Sustainable European Cloud, Region-by-Region
Our third and final entry, published this month, further expanded on the role of local and regional governance and multi-stakeholder engagement. It also explored the steps that needed to build the regional cloud platforms described in part two, highlighted how they are interconnected, and demonstrated how they reflect a larger, and in this case, European platform.
It's imperative that, when building a cloud platform for Europe, it isn't created in a top-down manner. On the contrary, it has to manifest in a bottom-up way from its individual regions and generate prosperity for local businesses. The digital transformation of businesses, governments, and society at large will require local ecosystems of knowledge and infrastructure, which is exactly what we envision our European cloud model providing.
Furthermore, a prevailing principle underlying our blueprint involves building upon what is already there. This includes existing infrastructure, employing refurbished and reused hardware, and utilising open-source and license- and patent-free software such as Kubernetes. Based on this principle, we also developed an alternative way of looking at the business model through the lens of SDIA's strategy and Roadmap: getting companies across industry boundaries to collaborate. A single data centre operator, IT service company, IT hardware distributor, IXP, or fibre-optic operator won't be able to deliver a regional cloud platform – at least not without great expense. Therefore, if each of those actors would be willing to provide their service or infrastructure based on a profit-sharing model instead of an upfront investment, a cloud platform could be launched quicker.
Involving other stakeholders is critical too, especially local and regional governments. In fact, ensuring that the regional market is competitive and that there are incentives for companies to buy local cloud infrastructure is a role that only government actors can fulfil. At the moment, SDIA is forming consortia within the cities of Berlin and Amsterdam to develop the first regional cloud platforms. They will be the first to implement the blueprints we're developing, including business models, software, and a go-to-market strategy, which will do so with the support of local governments as well.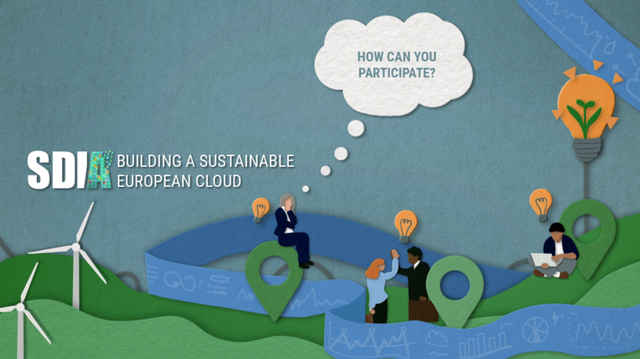 What's Next?
The main next steps include:
Further developing the blueprint
Setting up and piloting consortia within Berlin and Amsterdam
Identifying and reaching out to new partners in more European cities
Engaging with governments to develop the right policy support
Communicating the vision of sustainable local and regional cloud platforms
We also plan to participate in RIPE 83, where we can explore this vision in greater detail and have a meaningful discussion with the RIPE community.
How You Can Collaborate with Us
Join our Steering Groups, especially our dedicated Building a Sustainable European Cloud Steering Group
Join the SDIA and become part of a consortium
Build your own local group and utilise SDIA's blueprint
Create awareness for local Cloud platforms
Exploring these benefits will also help companies, start-ups, businesses, governments, and other stakeholders to fully achieve innovation and development. Creating value will be the focal point of such digital infrastructure, which will not discriminate against any party, and will pioneer the next generation of digital ecosystems on a regional, national, and European level.
A European cloud is possible. Let's start building it – together.
Contact us or leave a comment below to learn more, get involved in our dedicated cloud Steering Group, and work on developing this blueprint with us together for a better, more sustainable European cloud.