If Europe is going to realise its vision for a greener ICT ecosystem and a sustainable future, support from the RIPE community is imperative. But what can you do - as a network operator and as a user - to work towards a sustainable Internet?
---
Just over two weeks ago, I had the privilege to co-moderate a plenary session at the 2020 edition of the European Dialogue on Internet Governance (EuroDIG) focusing on environmental sustainability and its relationship to information and communication technologies (ICTs) as well as Internet governance. The session brought together European experts from across sectors and stakeholder groups to explore work being done to make the Internet more sustainable, outline what is needed, and give concrete advice on how to translate ongoing and future action into Internet governance processes (you can read the summary on RIPE Labs and watch the session recording).
Figure 1: Screenshot of the Green Internet session at EuroDIG showing the list of speakers
Sustainability is a topic I've been writing about and addressing within the RIPE community for years – particularly why it's good for your business. We've come a long way since I first hosted a workshop on the subject at EuroDIG 2017. I should highlight that RIPE NCC staff were as supportive then as they have been now to ensure that this topic is on the agenda. The fact that not only EuroDIG spotlighted ICT sustainability as a plenary session, but that both the global Internet Governance Forum (IGF) and AccessNow's RightsCon Summit Series have created a new policy track dedicated to it are encouraging. Yet, the urgency surrounding sustainability now has never been greater.
With last year's launch of the European Green Deal and the subsequent release earlier this year of the Shaping Europe's Digital Future roadmap, the European Strategy on Data, and Europe's Circular Economy Action Plan, sustainability has taken a front-and-centre position on the EU policy agenda.
The roadmap specifically calls for data centres and telecommunications to become more energy efficient, reuse waste energy, and use more renewable energy sources with the goal to become climate neutral by 2030. Some good news is that, overall, data centres and data transmissions networks are making good progress, according to the International Energy Agency (IEA). Overall, the panelists agreed. Drawing on research analysing various metrics used to calculate the environmental footprint of the digital world, panelist Olivier Vergeynst from GreenIT Belgium highlighted how user equipment has a much higher footprint across metrics when compared to networks and data centres. Regardless, he argued, that does not mean network operators, data centre management, or anyone involved in the larger information technology (IT) ecosystem should be complacent, as there is still significant work to be done, especially as it relates to procurement.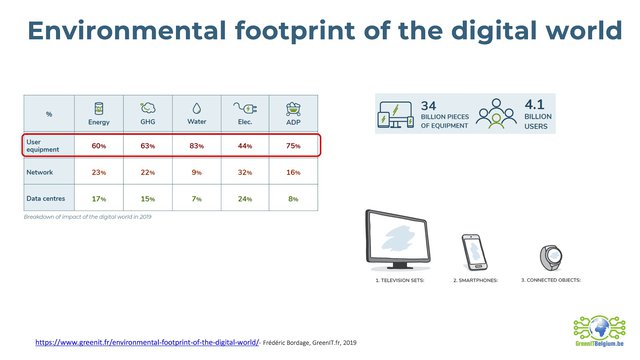 Figure 2: Overview of the environmental footprint of the digital world as calculated by Olivier Vergeynst from GreenIT Belgium

The roadmap doesn't stop at data centres and telecommunications, however. As one of the panelists – Chris Adams from ClimateAction.tech and the Green Web Foundation – stressed, our current predicament is a climate crisis; thus, any sound policy recommendations must go beyond just energy and efficiency. As the roadmap states, the way that ICT equipment is designed, bought, consumed, and recycled also matters, and should reflect the principle of circularity (as opposed to a linear system). This includes being designed to last longer, to be properly maintained, to contain recycled material, and to be easily dismantled and recycled – if not fully repaired or reused. 
What's particularly important about the latter aspect is that it seeks to address the direct impact that ICTs have on the physical environment, locally, regionally, and internationally, as well as on human rights and well-being. The growing demands of an Internet-dependent and interconnected society, for instance, are contributing to unprecedented levels of energy consumption, conflict mineral mining, electronic waste (e-waste) generation and subsequent dumping in the Global South, and negative effects on vulnerable natural landscapes. Let's not sugarcoat it: the kinds of changes needed and challenges to overcome are mammoth. But at the same time, you – as members of the RIPE community – have immense power to actually change it.
Simply put, if Europe is going to realise its vision for a greener ICT ecosystem and a sustainable future, support from the RIPE community is imperative.
Not only do many of you constitute the region's telecommunications network, Internet exchange point (IXP), and content delivery network (CDN) operators, but you're also responsible for building and maintaining networks, generating data about the networks, and leading their development. You have the power to shape the conversation, but more importantly, you have the power to do what is so desperately needed: build sustainability and circularity into the design of our networks. It doesn't stop there, either. As multiple panelists rightfully highlighted, such as Olivier, one of the easiest ways for you to do this is through responsible procurement. What does this look like? One of the biggest takeaways from resources like this purchasers guide from the U.S.-based Global Electronics Council (GEC) is that the equipment we buy does not exist in a vacuum divorced from the natural environments being extracted from and polluted, nor from the labour that is being exploited. Network managers simply have a responsibility to know where their equipment and their components are coming from and how they're being produced. While financial considerations are understandingly a key part of the purchasing process, just remember that since we "vote with our money" is essentially doctrine, educating ourselves and choosing suppliers that prioritise environmental protection, sustainable and circular sourcing and production, and human rights-respecting standards is vital.
What you can do
I want to underscore the power you have to make the change, and there is so much you can do. Some suggestions I could think of include:
Extend the lifetime of your equipment, and fight for the right to repair older but still high-quality equipment.



Ensure that when you do need to replace equipment, it is either reused if possible, donated, or disposed of properly via a certified e-waste recycler.



Do your research: understand the policies and practices of the companies and suppliers you work with, including where they source their materials. If available, review independent assessments of their sustainability commitments to ensure an ethical and sustainable supply chain. If a company or supplier does not have a sustainability policy, urge them to adopt one.



Use your voice: lobby your suppliers to, for instance, include metrics such as the amount of carbon dioxide generated or to focus more on sustainably-sourced products.



Promote circular economic methods with your purchasing, network development, and software suite choices.



Drive the market for renewables: this is important because as more people use networks, even with the increases in efficiency, we have to ensure that they are being powered in a sustainable way.



We need data: data helps provide accountability, transparency, and oversight since we then have a better idea of how to improve or where failures are occurring. Add energy use, procurement statistics, and other related information to your monthly and annual reporting.



One way you can do this is to use the cross-sectoral, multi-stakeholder nature of Internet governance fora as an opportunity to generate policy recommendations and best practices, connect with individuals and organisations that you may not typically encounter, and explore ways to collaborate together in order to generate outcomes that mutually benefit your wallet, your customers, and the environment.



Evaluate your current business strategy and see how the current predicament of less travel could be incorporated more permanently into your operations. This can also include flying less often, organising more remote meetings, and investing (

wisely

) in carbon offsets. The Association for Computing Machinery (ACM) has been a leader in pioneering recommendations for both

reducing footprints

and investing responsibility in

carbon offsets

, though bear in mind that a key disclaimer is that they are not a panacea.

Lastly, as panelist Emma Fryer from TechUK suggested, there are at least 10 additional steps you can take to make your networks, operations, and communities more sustainable, with the most important ones circled in red:
Figure 3: Ten steps to make your operations more sustainable
Sustainability is simply good for business
As if the above-mentioned suggestions weren't enough, the fact is, consumers increasingly care about sustainability. Moreover, adopting sustainability practices decreases costs and makes businesses more competitive, further reinforcing the fact that sustainability is good for people, profit, and the planet. And from Mozilla, Fairphone, and the Sustainable Digital Infrastructure Alliance (SDIA), to Greenhost, the Internet Rights and Principles Coalition (IRPC), and the Global Enabling Sustainability Initiative's (GeSI) work to reduce greenhouse gas (GHG) emissions across the telecommunications industry, the private sector, civil society, and government are pushing the envelope. The technical community must do its part as well to champion for more sustainable technology. If the ongoing COVID-19 pandemic has proven anything, it is that now is the best time to work towards a sustainable recovery. But we need you, as does the planet!