The headlines are raising awareness about the plastic soup that's clogging up our oceans but there's another problem much closer to home for much of the RIPE community: e-waste (aka 'dead electronics'). E-waste is a massive contributor to environmental pollution globally. We want to keep the conversation going about how our peers are tackling e-waste so that we can share best practices and reduce our carbon footprint together. Where is your obsolete equipment going? Are you implementing more sustainable solutions to power your business?
---
RIPE Labs is a platform to share best practices, tools and ideas that benefit the wider Internet community. Much of the content here and at RIPE NCC-organised meetings focuses on how the community runs/routes/secures their networks but we also include other aspects that impact Internet operations like "Innovation and Human Rights in the Internet Architecture" (RIPE 77), "How Networkers Manufacture the Good of the Internet" (RIPE 75), "Ethics in Network  Measurements" and increasing diversity and inclusion in the RIPE community.
About a year ago, we published Michael Oghia's article, "Why Sustainability is Good for the Internet (and Business Too)", making the case to have sustainability on the Internet governance agenda, including addressing the increasing burden of e-waste on the environment:
"Aside from connecting more people over time, current estimates place the growth of the Internet of things (IoT) at a staggering 20.4 billion devices by 2020 – and that's the conservative figure. Where are those devices going to come from? How are they going to be manufactured and eventually recycled (or simply discarded)? What kind of energy is going to power the data centers feeding our increasingly data-hungry habits? How do we mitigate machine-to-machine (M2M), ICT, and data transit energy consumption, which is rising as well? What will we do with all the fiber that was laid when it needs to be replaced? And what about other aspects of technology, such as whether or not the minerals in those devices are mined from conflict zones, only to be shipped back one day to be dumped in a slum?"
Michael Oghia shared an example of how the Armenian IXP, ARMIX, reduced their electricity costs by 30% by installing solar panels in their PoPs with the support of ISOC. This is an example of a win-win solution: reduce overhead and reduce your carbon footprint. We want to hear more stories from the RIPE community like this! 
According to "E-Waste: A Big Problem Needing Bigger Solutions" by Anna Kučírková,  the volume of electronic waste around the globe is projected to grow by 33% in the near future:
"A United Nations study reported that 44.7 million tons of e-waste was discarded in 2016, and only 20 percent of it was disposed of properly. The UN believes that dead electronics are the most rapidly growing source of waste."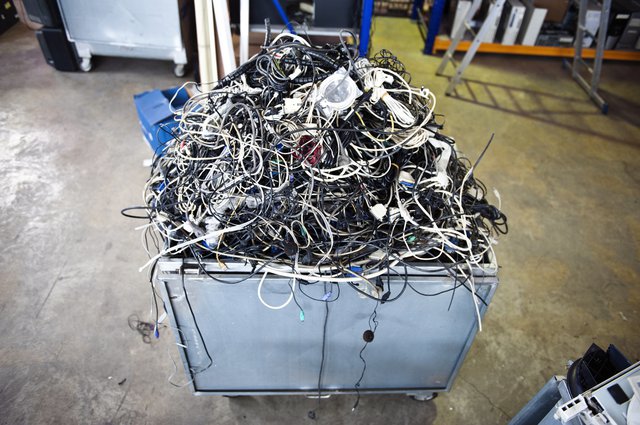 One thing is certain, e-waste is a problem that won't go away, so how can we work together to lessen its impact? We would love to hear from you:
What has your experience with e-waste recycling been?
Does your company have any special programmes or partner organisations it works with to deal with e-waste?
If you are a hardware manufacturer, do you have a facility for customers to return or recycle obsolete equipment?
What are the other ways you have of dealing with this issue?
The community has come together often to share best-practices and expertise, and this could be a great forum for those of you who have solutions to share them. Please reach out to us to share your thoughts and experiences.