RIPE 81 was a fun, engaging, busy, highly-interactive, content-packed event attended by an enthusiastic gathering of attendees from across the community. Looking back at the meeting, Mirjam shares some thoughts on how it all went.
---
RIPE 81 took place last week with 1,224 attendees registered and an average of 1,000 viewers per day. It was great to see that we were able to bring the RIPE Meeting spirit online thanks to good content, creative social events and the general enthusiasm and goodwill of the community.
Meeting Platform and Format
Our second virtual RIPE Meeting was brought to attendees with the help of two new tools: Meetecho and SpatialChat. Despite a couple of technical problems early on, which the Meetecho team were very quick to respond to, I heard a lot of positive comments about Meetecho. Attendees particularly appreciated having all the interaction around each session available in one place, which made it much easier to join in on chat with other participants while simultaneously following verbal interaction with the speakers.
The introduction of SpatialChat also added to the overall positive vibe at the meeting. The platform helped recreate that feeling of spontaneously bumping into people during coffee breaks - almost like in a physical meeting. And the halloween-style rooms prepared by the RIPE NCC for the virtual dinner were just amazing!

Left: RIPE participants used SpatialChat for a virtual jam session; Right: SpatialChat prepared for the special Halloween virtual RIPE dinner
Time to Talk
Maybe because of the improved interaction functionality, it sometimes felt that there wasn't enough time for discussion. As some of our attendees commented, filling up each 45 minute slot with presentations might not be the best approach, especially since interesting conversation did get going in those cases where there was time left at the end of the session. 
With this in mind, we'll certainly be thinking about how to create more space for discussion next time. We could consider scheduling presentations and discussions at different times for instance, or maybe look at organising shorter interim meetings. Please let us know if you have any suggestions or experiences with other events that might work also for RIPE Meetings.
Content Highlights
The Monday before the official start of the meeting was filled with some interesting BoF sessions and a social event organised by one of the RIPE WGs. During the SCION BoF the question was raised as to whether the Regional Internet Registries, and especially the RIPE NCC, might want to support this effort - e.g. by providing a registry for some of the SCION identifiers. In response to this, it was suggested that more feedback ought to be gathered from the community, for instance by organising another BoF or even a RIPE WG.
Sustainability and the power which operators have through procurement was a new topic for the RIPE community. The organisers suggested forming a small group to write a Best Current Practices document, similar to the one written for IPv6 (see ripe-554). This topic might need more discussion among the community before next steps are taken.
As usual, the RIPE Programme Committee put together an interesting set of presentations. That said, we seem to see fewer submissions for virtual events and we would like to encourage more people to submit presentations for RIPE 82. 
It is too much to summarise all the interesting topics presented during the WG sessions. There was a particularly interesting discussion in the Cooperation WG about how much we as a community need or want government regulation in order to encourage (or mandate?) the use of certain standards such as IPv6 or DNSSEC. Should we push for regulation here, or focus instead on stimulating the use of such technologies? During the RIPE NCC Services WG, Hans Petter Holen, the former RIPE Chair and now Managing Director of the RIPE NCC, looked at the underlying principles of this community and said that geopolitics might become one of the biggest challenges, both for RIPE and the RIPE NCC. In the Anti-Abuse WG, a discussion evolved around the need for training and automation in order to increase responses to abuse reports by network operators. 
Community Plenary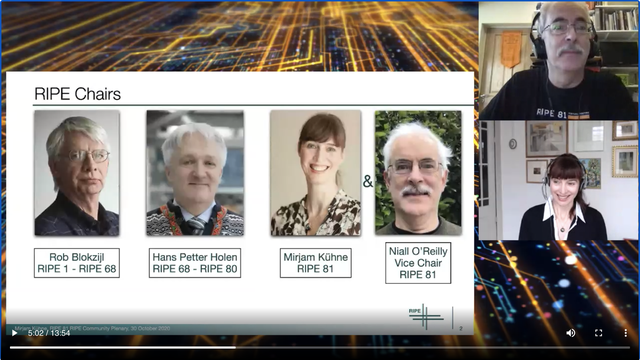 Inclusion and Belonging
At earlier RIPE Meetings it was already pointed out that it's not only important to increase diversity within the community, but also to make sure that new people feel included so that they really belong to the RIPE community. Reaching out and attracting the next generation of RIPE participants is important to me. In addition to providing support for newcomers, this also means working with the not-so-new participants to encourage them to actively engage - for instance, by volunteering as WG chairs, getting actively involved in task forces, or taking on other community tasks.
During the Community Plenary, some good suggestions were raised, such as improving onboarding and mentoring for new RIPE WG chairs and to better define the necessary time commitments. Actively supporting existing RIPE WG chairs and lowering the bar for others who are interested to take up such a role is high on our agenda. Right now, for instance, we're working on a more detailed description of the WG chairs tasks document that will be published on ripe.net shortly.
Trusted Contacts Report
The new Code of Conduct Task Force is working hard on a new version of the RIPE code of conduct. In the meantime, we would like to strengthen and expand the Trusted Contacts team. At RIPE 81, the RIPE Meeting Trusted Contacts received one report related to the use of video material, previously used at RIPE 68, which has offensive connotations related to transphobia. No one involved in the selection or use of this material at RIPE 81 was aware of these connotations. We do welcome transgender persons into our community, and we are sorry for any harm caused. This was not our intention. The incident was brought to the attention of the RIPE Meeting Team and an apology was made. 
RIPE Identity
During the Community Plenary a discussion started in the chat room about the distinction between RIPE and the RIPE NCC. The point was that it is often difficult for new, but also experienced, community members to fully comprehend the difference between the two. Comparisons were made with other regions, and new names and acronyms were suggested. But it was also stressed that all regions are different and that diversity is good. This relates closely to the need to strengthen the RIPE identity, an effort that we have set quite high on our list of goals as RIPE Chair Team. Working towards this will involve carrying out a review of the RIPE related content on www.ripe.net as well as a review of the RIPE Document store, especially the meta data, the categories used, etc. 
Summary
I very much enjoyed RIPE 81 and I would like to sincerely thank everyone who made it happen: the RIPE NCC staff, the Programme Committee, the RIPE WG chairs and of course everyone who actively participated in the meeting.
You can find the daily meeting reports and the presentation archive online.
Save the date for RIPE 82: 17-21 May 2020. We will update you once we know whether this will be a physical or virtual meeting. In either case, we hope to see you there!