RIPE 83 was the fourth RIPE Meeting we've held online - but the presentations and conversations that took place were a strong reminder of why we come together in discussion and debate to keep each other informed and engaged on what's happening across the different spheres that form our community.
---
For me, and I think also for many others who took part in RIPE 83, this was one of the most energetic and constructive virtual meetings we've had to date. I hope lots of you who attended rated the talks and filled in the RIPE 83 feedback survey. While I'm curious to see the results, many people who took part have already expressed how pleased they were with the sessions, presentations, and overall level of discussion through the week.
In this article, I'll go through some of my personal highlights plus a number of topics that will require more work and involvement by all of us. But first, some numbers!
RIPE 83 in Numbers
Registrations: 1,126
Newcomers: 240
Childcare: 66 signed up
Rather than trying to squeeze the tutorial for Newcomers into an already full RIPE Meeting week, we decided to hold the tutorial the Monday before. This gave new participants more time to prepare for the meeting. Also the academic session took place the week before. It was well attended and there was some good interaction. Some of the presentations could have even made good plenary talks. We'll have to see how we can possibly integrate those research topics more into the meeting - especially now we temporarily paused the RACI Programme.
Highlights
Community Culture
At RIPE 82 we talked about the mental health and the overall wellbeing of our community. This time the Programme Committee chose a talk by Corinne Cath who presented her PhD in which she looked at our community culture. Even though the study focused mostly on interviews and observations Corinne made at the IETF, many of her findings are also applicable to the RIPE community. And while our mantra is that we are "open to anybody", there is still more work to do to make sure everyone feels welcome and included. I am very happy that we have a new code of conduct in place and I am looking forward to work with the Code of Conduct Task Force and the wider community on the next two documents on the Task Force's agenda.
Sovereign Internet Attempts
Alexander Isavnin updated us on the attempts by the Russian government to create a "Sovereign Internet" and what an impact this might have on number resources. The presentation was received with great interest and many questions. I expect that this topic will stay with us for some time.
Sustainability and Access
The Programme Committee chose a number of interesting lightning talks, for instance one that focused on a sustainable digital economy by Michael Oghia. Michael had organised a BoF at RIPE 81 to see if there is interest to further work on this topic. I am pleased to see that there was interest now during RIPE 83 to work on Best Current Operational Practices (BCOP) on the topic of sustainability. If you would like to participate in this activity, please contact the BCOP mailing list or Michael Oghia.
Another interesting Lightning Talk was given by Sheik Md Seum, who presented a project in which they work together with owners of local tea stalls to increase affordable access to the Internet in Bangladesh. It is important to stay in touch with developments in other regions.
Responsible Disclosure
The topic of responsible disclosure and bounty programmes popped up throughout the week, for instance during the presentation by Giovane Moura and also later in the chat and on SpatialChat. Maybe that's a topic that needs to be continued on one of our mailing lists or in one o the working groups?
RIPE Database Requirements
Before the RIPE Meeting, the RIPE Database Requirements Task Force published their final report (ripe-767) and the Task Force members presented the main recommendations in the relevant WGs throughout the week. Those recommendations will now have to be considered and addressed. To make that work a little easier to keep track of, the RIPE NCC has published a page that lists all recommendations. There was a proposal during the DB WG session to also look at the high-level purpose of the RIPE Database, but the decision was made to address the TF recommendations first and then see if further work is needed or if some aspects are missing.
I would like to thank the TF members again for all the work they've put into this. The report provides the community with a solid foundation on which to ground future work in this area. The Task Force is now closed.
WG Chair Selection
Before the RIPE Meeting, a number of working groups (WGs) opened a call for nominations to replace or add co-chairs. Unfortunately, there wasn't a lot of enthusiasm, and the current WG chairs were struggling to recruit new co-chairs. There might be lots of reasons for this, but the ongoing COVID crisis is definitely one of them. Not being able to physically meet and have informal chats during a coffee break is taking its toll.
Also, though, all this is a good reminder that we need to pay attention to the processes by which new WG chairs are selected. In the coming months, we'll continue working with existing WG chairs and with the community to make sure that WG selection processes are doing what they should be - helping encourage greater involvement by making it very clear to everyone how to get involved. One way to make all this easier is to reduce differences between selection processes for different WGs, bringing them more in line with each other - also something we'll be working on.
RIPE Values and Principles
Inspired by the RIPE NomCom report and conversations with numerous community members, we have been thinking about our community's mission and values. During the opening plenary and also at the community plenary, I listed the following values that guide everyone's participation: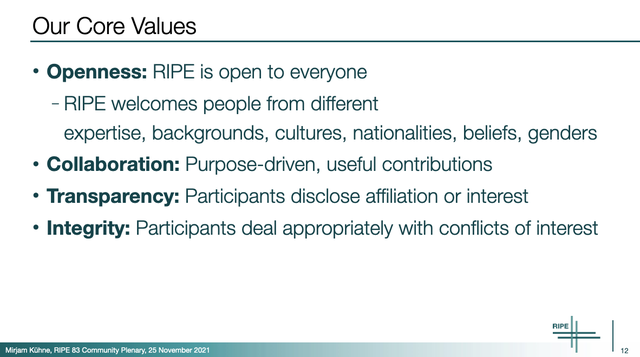 In that context, I would also like to draw your attention to the presentation by Chris Buckridge in the Cooperation WG and the RIPE Labs article A Matter of Principle that talks about our underlying - but not necessarily documented - principles, such as the fact that we stand for a "global, interoperable, unfragmented Internet".
It was also good to see Anriette Esterhuysen, the Chair the Internet Governance Forum's Multistakeholder Advisory Group present in the Cooperation Working Group. The increasing number of government initiatives that might have an affect on the RIPE community was definitely noticeable during RIPE 83. We're glad to have very dedicated community members and knowledgeable RIPE NCC staff involved in the discussions who regularly report back to the RIPE community.
On that note, many of us are participating in the IGF this week. I presented on behalf of the Technical Community in the Opening Session on Tuesday. There's another article here on RIPE Labs where you can see the speech I gave as RIPE Chair at the IGF 2021 Opening Ceremony.
IPv6 Policy Review
The Address Policy WG is starting an activity to review the IPv6 policy which was created some 20 years ago. You can find more details in the mail Leo Vegoda, co-chair of the Address Policy Working Group, sent to the mailing list after the RIPE Meeting.
Revised Policy Development Process
On 28 October, we published a revised draft PDP document on the ripe-list. We spent some time during the community plenary to discuss the changes. It's been recommended to create a redlined version of the document that shows the differences to the current PDP as described in ripe-710. Thanks to the RIPE NCC staff, this redlined version has now been published and we will continue the discussion on the ripe-list.
Rob Blokzijl Award
I was particularly happy to hear that the Rob Blokzijl Foundation has established a new award committee. Eileen Gallagher and Carsten Schiefner, two of the committee members, announced the next award and asked for nominations before 18 March 2022.
Conclusions
This is only a short list of topics that were covered at RIPE 83. Despite the fact that again we could only meet virtually, we had very constructive discussions, both during the plenary and in the WG sessions. It was good to see so many of you at least online. As you can see in the summary above, there is work ahead of us. But first and foremost I wish you a healthy, relaxing and peaceful end of the year!