Another RIPE Meeting packed full of presentations, conversation, parallel events and socials drew to a close last week in Rotterdam. Looking back over the event, the RIPE Chair team shares highlights, new initiatives and other news from RIPE 86.
---
I hope you had a productive RIPE 86 meeting last week. This was our biggest meeting ever with over 800 participants on site in Rotterdam and over 200 online. It was great to meet with so many friends and colleagues, but I was especially pleased to see so many new faces. Many thanks to the RIPE NCC who was our local host and to all RIPE NCC staff who put an enormous amount of work into preparing and supporting this meeting.
The Programme Committee did a great job again in curating a good mix of plenary topics. As already mentioned in my opening remarks, the topic of regulations, proposed legislation and public policy is not going away, which was reflected in a number of presentations during the plenary but also in WG sessions (and not only in the Cooperation WG).
The RIPE NCC provided a very informative and entertaining Daily Meeting Report that covered the meeting pretty much in real time. Below, I want to add some personal highlights and reflections.
Birds of a Feather: AI, IETF and Cheese
The Programme Committee approved two BoF sessions that took place in parallel on Tuesday:
The first looked into the impact that recent developments in Artificial Intelligence might have on the RIPE community (see recording)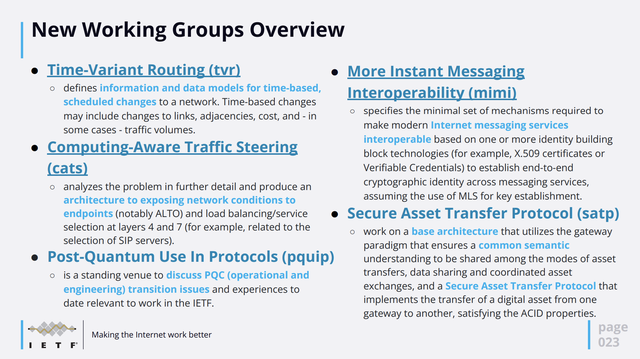 In the second, we got an overview of the Internet Engineering Task Force (IETF) (see slides and recording). This was a good opportunity to increase collaboration between the RIPE community and the IETF. I hope to see more engagement and updates by IETF participants on the RIPE mailing lists and also on RIPE Labs.
And in a third of these sessions that didn't appear on the official meeting plan, there was also a Cheese BoF organised by NLNOG. This session was very well attended. While it may have drawn a fair few participants away from the other two BoFs, it provided a good opportunity to meet with other cheese-lovers - and social interaction is of course one of the main purposes of RIPE Meetings.
Best Current Practices
On Monday evening, the Best Current Operational Practices session took place. As well as a discussion around RIPE DNS Resolver task Force recommendations, there was also a call for action to document best practices to keep networks running in times of natural disaster or war.
The idea here is to document the experiences of network operators who are working in areas that have been hit by war or other disasters and who have to maintain infrastructure under those extraordinary circumstances. After the meeting, a small group was formed to conduct interviews with network operators in Ukraine. The results will be collected and shared with the community.
Diversity in Tech: Youth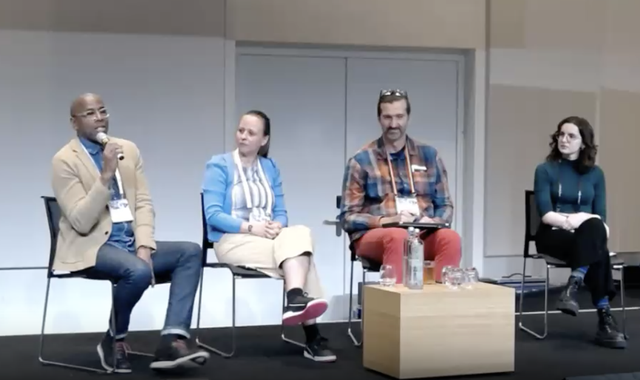 This time, the Diversity in Tech session focused on youth and newcomers. We heard from other communities such as the IETF, NANOG, EuroDIG and Wikimedia what they do to encourage new participation. But maybe most importantly, we heard from many young RIPE participants what we could do more to facilitate participation and inclusion. Often, it is a financial matter and there were some constructive suggestions how companies could help to support younger engineers or students to attend the meetings.
The online event we organised again for students before the RIPE meeting also seems to bear fruit: we saw an increased number of students from the Netherlands attend the meeting. Many of them actively participated and I hope to see many of them again at one of our next meetings.
In this context, two presentations during the community plenary on Thursday were also relevant: Leo Vegoda raised the issue that mailing lists are not what they used to be and asked if we should consider using other communications channels. This is currently being discussed actively on the RIPE Mailing List.
Henrik Kramselund presented on the idea of creating a "newcomers guide to the Internet" and asked people to contribute ideas and literature to his GitHub repository.
RIPE Code of Conduct Team
It was a big milestone for our community to introduce the first ever Code of Conduct Team at RIPE 86. All team members received training before the meeting and they were all set to take on their duties. During the closing plenary the team presented a transparency report. You can still provide reports to the Code of Conduct Team using this reporting form. Also, we are still eager to have more volunteers take the training and join the team. You can nominate yourself or someone else using this application form.
Feedback
If you have not done so, please take a moment to fill in the RIPE 86 feedback form. This will help us to continue to improve the meeting in the future, both for in-person and remote participation.
Call for hosts
And if you want to host a RIPE Meeting in the future, you still have time until 18 June to submit a host proposal.