What it took to send the RIPE NCC's staff home while remaining fully operational.
---
Early Planning
On 11 February, we had our first internal meeting to discuss COVID-19 and its impact on business travel to the Asia-Pacific region. We started re-routing business trips to avoid stop-overs in Mainland China, and asked staff to share details of any private travel plans to Asia, so that we could monitor the situation.
On 25 February, we set-up a call with International SOS (our external medical and safety partner) and asked for advice, mainly related to the upcoming conferences and events that we organised. They told us to avoid travelling with a cold or fever, as some countries could potentially quarantine staff with actual COVID-19 patients.
From this point onwards, an internal crisis team began to meet regularly to discuss the rapidly-evolving situation and its impact on our organisation. We started investigating office-dependent processes and worked on alternative plans. The health and well-being of our staff has always been our top priority, so we quickly prepared for a scenario where everybody would be working remotely. 
On 12 March, we decided to no longer allow external visitors. We urged everyone to work from home and decided to keep the office open three days a week for a few critical functions. In a press conference on 15 March, the Dutch Prime Minister, Mark Rutte, announced stronger restrictions. By this point we were sufficiently prepared to close the office completely (two days later) while remaining fully operational.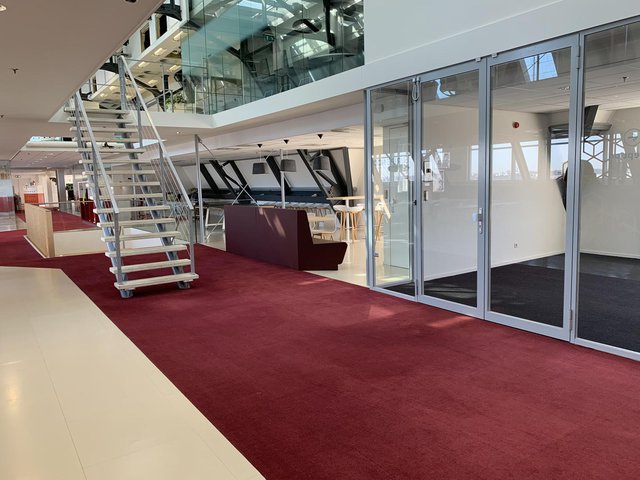 Main entrance: the office has been closed since 12 March.
Reinventing Office-dependent Tasks
Before we decided to send people home and close the office, we sat down and listed all of the tasks that would require someone to be in the office. From there, we looked for remote-friendly alternatives and did our best to make the transition as smooth as possible. 
Membership Application Process 
The RIPE NCC membership application process is still dependent on post mail, so we had to find workarounds.
Outgoing mail: As part of the process, we send two signed copies of our Standard Service Agreement (SSA) to potential new members via post. The postman normally picks up all outgoing mail at the office. Since last week, we changed this process by having one of our colleagues printing out the contracts and dealing with postal mail at home. This way, we avoid delaying the application process.
Incoming mail: In the past, new members returned their signed agreement to us via post. We now ask them to use a secure link to upload the signed contracts to avoid any delays in the activation of new memberships. One of our colleagues goes to the office once a week to retrieve and process all other incoming mail. If it is later decided that we cannot enter the building anymore, we will forward the mail to a member of our Management Team.
IT Support for Individual Staff
As of now, our IT support team can help staff solve most of their IT issues remotely. However, if someone has serious problems with their laptop or needs a replacement laptop, one of our colleagues from the IT department can arrange to meet the person at the office. This hasn't happened yet. 
Visitors
Our office has been closed since 12 March. Funnily enough, we can still answer our doorbell remotely. If someone rings the doorbell downstairs today, one of our colleagues will answer from home and tell them that the office is closed.
Telephone
When we moved to the new office in December 2016, we decided to go with a fully-digital phone system. We now use Voice over IP, which allows us to pick up the phone without being physically in the office.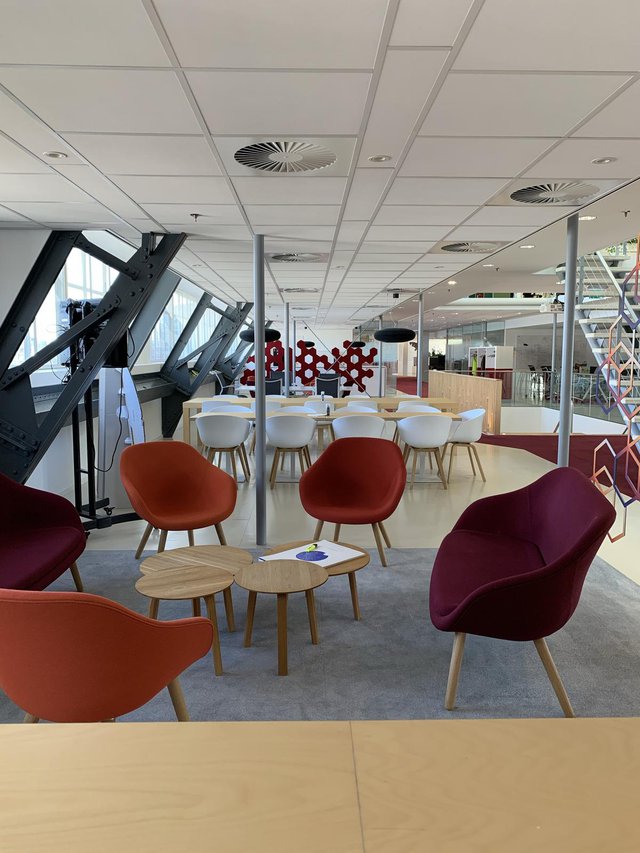 Our cozy lunch area is waiting for our return.
Challenges
During our transition to a fully remote work set-up, we faced and are still facing challenges to adapt to the new situation. 
Closing the Office
Our hardest challenge was to make a decision on how and when to close the office. We had to strike a balance between protecting our staff and minimising service disruption while keeping up with the rapidly changing advice from government and medical experts. This was not easy, but our early planning paid off as we were able to keep everybody safe and healthy while having a smooth transition from office to remote work. 
Business Travels
Due to the lockdown, we had to cancel or change about 100 business trips that were already scheduled for the next few weeks and months. This required an impressive amount of work and negotiation, but we are proud to report that so far we have managed to lose very little money in this process. 
Staff Mental Health
Many of us are used to working from home, but not for three weeks in a row. It can be tough to be locked up with our loved ones 24/7, especially for parents with kids who need to be home-schooled. Some of us are new in town or live alone and were looking forward to meeting colleagues at the office every day. Also, some of us have partners and families in other countries but are not allowed to travel at the moment and don't know when we will see our families again.
During the lockdown, we are trying to look out for each other and stay connected as much as possible via chat and video. One of our colleagues even started a virtual workout to do some daily exercises together behind our laptops.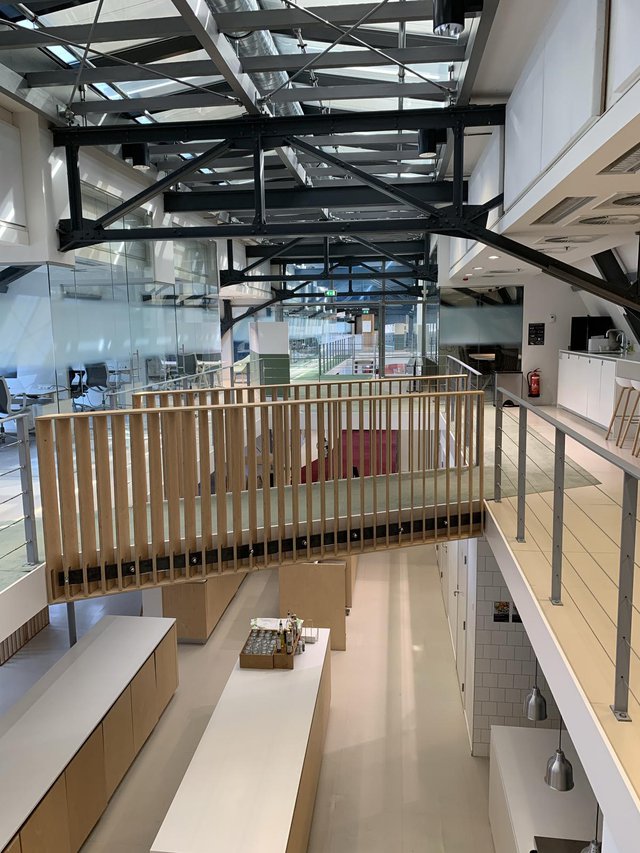 View from the top floor onto the empty coffee and kitchen area.

Next steps
As the situation around COVID-19 remains uncertain and the lockdown might be extended, we don't know yet how long the office will be closed. However, we remain in contact with all of the people involved to run the office, from catering to the landlord, security guards to the flower delivery guy, so that when it's time to re-open the office, we will be ready.