It has been a busy last quarter of 2013 for RIPE Atlas. Here you have an overview of the latest features and new functionality.
---
We offer periodic updates on the things we're developing in RIPE Atlas . You can get an overview of our development plans and achievements at any time by checking the RIPE Atlas Roadmap .
The latest stats can be found in  RIPE Atlas 2013 Year in Review .
New Seismograph Functionality
We introduced the Seismograph in September 2013 as a way to better visualise multiple ping user-defined measurements, allowing RIPE Atlas users to easily catch behavioural patterns and failures in the reachability of different probes. Seismograph provides users with a stacked chart and a control panel to interact with the system.
The Seismograph is the new way to visualise ping user-defined measurements within RIPE Atlas, and is meant to replace the old ping visualisations (under the RRDs tab), which will disappear within the next few weeks.
We've made some big improvements to the Seismograph, including the ability to click and zoom into a time period to see more details about events that interest you. The resolution of the stacked graph is automatically recalculated after zooming, and you can see the time period you're looking at in the time bar at the bottom of the graphs. There are also buttons at the top right of the control panel that allow you to select a time period of a day, week or month.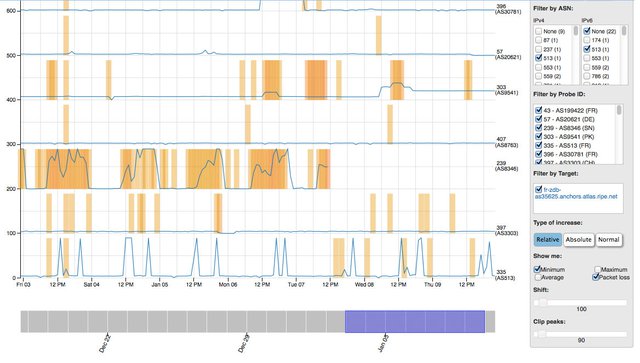 Seismograph with new features
In addition, users can now filter results by country and see the number of probes (in brackets) for each ASN. The hostname, rather than the IP address (which can change over time) is also now displayed. Also, under the "Show me" section of the control panel, you can now select whether you want to see the minimum, average, maximum or packet loss values (previously only the minumum was available). 
We hope the new features make the Seismograph even more useful in visualising your measurements. Let us know what you think!
Map Improvements
A subset of the RIPE Atlas maps now allow filtering by country code and ASN (see an example below). If you haven't seen them already, check them out!
Map showing only probes hosted in Germany
Status Checks
We're working on a new feature we hope many of you will find useful, called Status Checks. This new feature will allow you to seamlessly integrate RIPE Atlas into any monitoring tool you currently use, such as Nagios or Icinga. RIPE Atlas probes around the globe will become available as measurement destinations within your monitoring system, greatly expanding its reach and giving you a more complete overview of your own network's performance. 
Status Checks are currently available for ping and traceroute measurements. If users would find it useful, we may develop status checks for DNS and SSL measurements as well in the future. Let us know what you think.
Status Checks are currently being tested by a group of RIPE Atlas users. If you'd like to learn more about what this new tool can do for you, why not become a tester? Get in touch with us: see below. 
Once we've received feedback from our testers and have finished developing the tool, we'll make Status Checks avaiable to all our RIPE Atlas users. Stay tuned for more information!
One-off SSL Measurements
We introduced one-off measurements in April 2013 to allow users to diagnose and debug problems in their own networks by getting measurements results in near real-time.
This feature was originally available for ping and traceroute measurements, and we're pleased to announce that users can now also perform one-off SSL measurements as well. We also plan to make SSL measurements available via Quick Look measurements in the future. Learn more about how to perform one-off measurements in the RIPE Atlas documentation .
New Security Page
We want to increase transparency  when it comes to the security of the RIPE Atlas network.  That's why we've added a new Security Disclosures page to the website, where you can find information about any potential issues and how we're continually working to improve security.  
New Firmware and Bug Fixes
We updated the RIPE Atlas firmware to a new version that improved security and functionality and fixed certain issues. You can get all the details on the RIPE Atlas Announcements page .
We also fixed several bugs, including the traceroute chart now showing the correct RTT value (it  previously showed the average instead of the last hop).
Improved Tools for Ambassadors
Ambassadors help us spread the reach of the RIPE Atlas network by distributing probes at conferences and other events on behalf of the RIPE NCC.
Ambassadors can now see a map and list of the probes they've distributed when logged in to the RIPE Atlas website in the "My Atlas" menu under "Ambassador Probes". They'll also get an overview of their probes' statuses and an explanation of each status. 
We have a new mailing list for RIPE Atlas ambassadors that you can use for sharing your experiences,  troubles, or features request. Subscribe here . 
We're always looking for more RIPE Atlas ambassadors! If you're interested in helping us expand the RIPE Atlas network, get in touch with us at mcb [at] ripe [dot] net to learn more.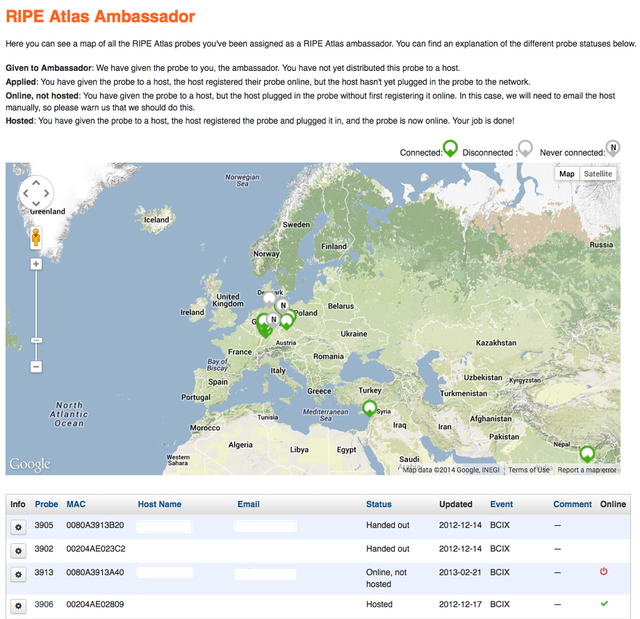 An example of the new ambassador pages
Outreach
Come and meet RIPE Atlas ambassadors and RIPE NCC staff at the following upcoming events: 
Feedback
As we continue to develop RIPE Atlas, we rely on ideas, suggestions and feedback from the Internet community to help guide us and ensure we provide the tools most useful to you, the user. Let us know what you think:
For specific questions about RIPE Atlas, please use the RIPE Atlas mailing list for active RIPE Atlas hosts and interested users, which is also followed and answered by RIPE Atlas developers: ripe-atlas [at] ripe [dot] net
For more general discussions about measurements and future plans, please use the Measurements Analysis and Tools Working Group Mailing List: mat-wg [at] ripe [dot] net

For direct feedback, please contact the Measurements Community Building team, at mcb [at] ripe [dot] net

Join the discussion on Twitter @RIPE_Atlas