Following up on our original summary of RIPEstat's first year, we take a look back at 2012 and review some of the highlights that have hopefully helped make RIPEstat an even more valuable tool for you, the users. We also give a sneak peek at some of the big developments we'll be hard at work on in 2013.
---
After RIPEstat's first year in development, the RIPEstat team continued to add new functionality and improve the design based on the feedback we received from you. And of course, we have more changes in store. Here are some of the highlights from 2012, which saw RIPEstat provide more than 120,000 unique users with information about Internet number resources.
New User Interface
One of the biggest improvements to RIPEstat in 2012 came in the form of a new user interface that presents query results in a more organised, efficient way. The new UI organises widgets into useful categories in a tabbed menu and gives a concise "At a Glance" overview as the default view when querying an Internet number resource.

Figure 1: RIPEstat's old (left) and new (right) user interface
We also made a permalink available for each widget and for each result.
Users can now also give their feedback on each of the individual widgets, so that we can continue to develop and improve RIPEstat according to the needs of the people who use it most.
Find out more about RIPEstat's new look .
New Widgets
Based on feedback from users, we developed a number of new widgets to provide you with the information you asked for, visualised the way you want it. Some of the top widgets created in 2012 include: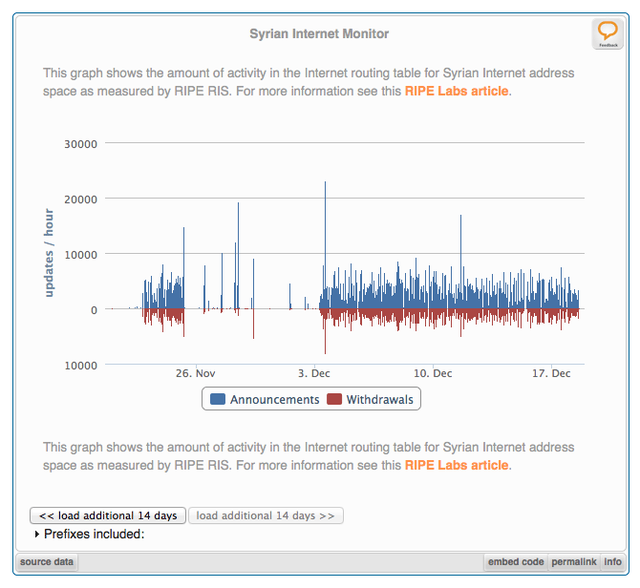 Figure 2: The Syrian Internet Monitor shows when Syria regained connectivity
Tell us what you think about these and other RIPEstat widgets using the widgets' feedback buttons!
New Text Service
Even as we improved the web-based, widget interface, some of you asked us for an alternative text-based interface, and we listened. In November we announced the RIPEstat Text Service , which offers the same consolidated, useful information about IP addresses and Autonomous System Numbers as the regular web interface, but is designed for users who prefer to use a command-line program and are interested in including RIPEstat data in their own scripts.
With the text service, users can also customise the open source code for their own needs, such as creating their own widget, and share their contributions with the rest of the RIPEstat community.
Learn more about the RIPEstat Text Service on RIPE Labs .
Better Data Integration
During RIPEstat's second year in development, we continued to better integrate other tools and data sets - both from within the RIPE NCC and beyond.
RIPE Atlas Data
RIPEstat now includes a widget that incorporates data from RIPE Atlas , our global active Internet measurement network. RIPEstat users can now see how many RIPE Atlas probes are (dis)connected within an AS Number or IPv4/IPv6 prefix. They can also query the widget for (alpha-2 or alpha-3) ISO country codes to see existing probes in that country. The new RIPE Atlas Probes widget is found under the new "Activity" tab.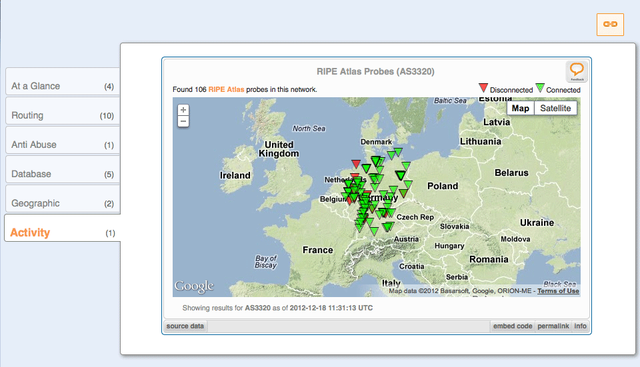 Figure 3: The RIPE Atlas widget
APNIC Data
We also integrated data from one of the four other Regional Internet Registries (RIRs), APNIC . RIPEstat users can now see results from the APNIC Whois Database as well as the RIPE Database when querying an Internet number resource, as displayed in the Registry Browser and Address Space Hierarchy widgets. This data is also now provided in near real time, whereas it was previously on average several days old.
RIPEstat for RIPE NCC Members
RIPE NCC members logged in to their RIPE NCC Access account can now access additional RIPEstat features, such as historical data contained in the RIPE Database.
Improved Mobile Version
We improved the iOS app with a new design and better functionality.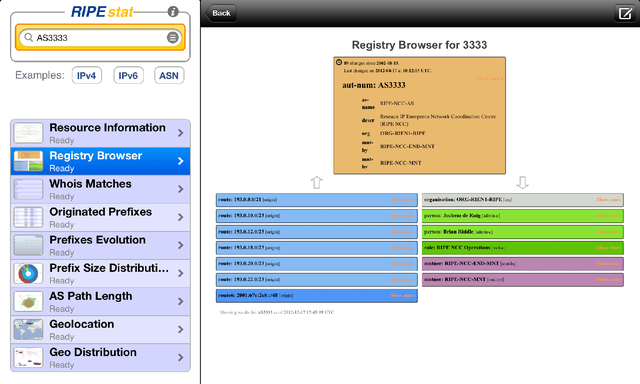 Figure 4: The improved RIPEstat mobile version
Improved Functionality
Users interested in obtaining results for a single IP address query used to get convoluted results, as the system automatically converted the IP address into a /32 prefix. In 2012 we made it easier to query RIPEstat for a single IP address, which now gives more logical, properly formatted results for each individual widget.
"Last updated" information is also now provided for all whois-like data.
RIPEstat users can now access RIPEstat data more efficiently, allowing them to create their own widgets, graphs or other visualisations, thanks to improvements we made to the data API. If you do use RIPEstat data for a widget or other tool you build, let us know about it! Send the details to stat [at] ripe [dot] net.
Plans for 2013
We have big plans to continue making RIPEstat as useful as possible for our users in 2013.
Continued Improvements to the User Interface
The next round of improvements to the UI is currently being developed and will focus on widget controls and user-defined views.
In early 2013, users will have access to a "Create New View" tab to create their own customised views based on categories they define themselves. Later, they will be able to manage their customised views by adding and removing widgets from them, re-arranging their customised view tabs, and renaming the tabs. These customised views will be remembered when users log in. Longer term plans include a more sophisticated interface that will include such additions as "My Clipboard" functionality. By dragging widgets onto the clipboard, users will be able to compare side by side query results for different IP prefixes at a fixed point in time, for example.
Support for New Resource Types
We will continue to support different types of queries in addition to IP addresses and Autonomous System Numbers, such as domain names, and provide whatever associated RIPEstat data is available (for example, seeing Geolocation and Forward DNS results after querying "www.ripe.net"). Another goal is to support country-based queries across more RIPEstat widgets. The Syria Internet Monitor and the RIPE Atlas Probes widgets are the first to support querying by region, and we look forward to expanding on this list in 2013.
Further Integration of Other Data and Tools
We plan on integrating more RIPE NCC tools and data sets into RIPEstat in the coming year, as we have started to do with the RIPE Atlas Probes widget that came online recently. We also want to include such tools as DNSMON , and we plan to continue making more RIPEstat features available through members' RIPE NCC Access accounts. We also expect a brand new version of the well-known BGPlay (an application that produces visual displays of BGP routing activity for a specified prefix over time) in 2013.
Stay Tuned
We will continue to announce new features as they become available and we encourage users to check back frequently for further improvements and stay on top of new functionality and other updates with our regular RIPEstat demos .
Feedback
You can offer feedback on RIPEstat at any time through one of our dedicated channels: