The RIPE NCC is involved in various activities in Central Asia and the Caucasus region to improve engagement, service delivery and outreach. Read here about the first outcomes, where we were in 2017 and where are we going in 2018.
---
Getting to know Central Asia and the Caucasus
Central Asia and the Caucasus are two regions that connect the EU to China, Turkey, Iran, Afghanistan and other countries. These two regions were previously part of the USSR. They share a number of common approaches to business and state regulation. They also face similar challenges and even a number of threats they need to address. Finally, these two regions aren't very familiar with the word "multistakeholder". Instead, states would prefer multilateral approaches.
Countries in Central Asia and the Caucasus
In these regions you can find the same type of membership as elsewhere in the RIPE NCC service region. There are many professionals who are eager to share their experience and learn from others. Among other things, they are actively constructing fibre optical networks, developing Internet of Things (IoT) solutions, maintaining research networks, often in cooperation with GEANT. 
English is not widely used: the main language of intercultural communication is Russian.
When I was starting my engagement as an External Relations Officer, I conducted some preliminary research in Central Asia, asking respondents to identify the areas where they anticipate most cooperation with the RIPE NCC, what they know about us, etc.
The result was quite interesting: many of the respondents didn't know the Internet ecosystem at all. In this region, there is a certain lack of information about the responsibilities of I* organisations. A number of people thought the RIPE NCC is just a commercial organisation that sells IP addresses.
Many people didn't know about our various fellowship programmes (e.g. RIPE Fellowship, RACI) even though these programmes are extremely beneficial to participants, especially those from developing countries.
Regions of changes
It was obvious that more effort should be made to improve RIPE NCC engagement in these regions, to improve outreach and to invest resources that would recoup awareness in the regions.
Step 1: Dedicated person for the Caucasus and Central Asia
The first step was to assign a RIPE NCC staff member who would promote RIPE NCC activities and services in Central Asia and the Caucasus and who would support our members and the community in those regions. I am that person!
Step 2: Participating in events
The second step was to increase RIPE NCC engagement activities in the region by participating in events organised by a number of partners.
Since July 2017, the RIPE NCC has provided its support to the IGF meetings in Armenia and Georgia. We made presentations at the 2nd Central Asian IGF in Tajikistan, participated in the Eurasian Week and TLDCON in Kazakhstan, the APTLD, GITI and Datafest Tbilisi in Georgia and ITU RCC events in Uzbekistan and Armenia.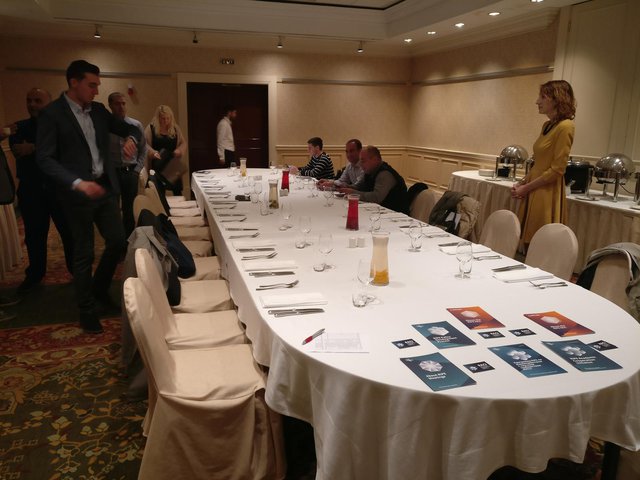 A RIPE NCC member lunch in Tbilisi, Georgia

Step 3: The RIPE NCC Corner
The third step was to increase our visibility and to provide more opportunities for outreach by using new models of participation in events. During three events - the Georgian IGF, the Armenian IGF and GITI - a "RIPE NCC Corner" was launched. Through this means we distributed informational materials about the various services on offer from the RIPE NCC, while RIPE NCC staff and RIPE and RIPE NCC Fellows from the region provided information about programmes they participate in.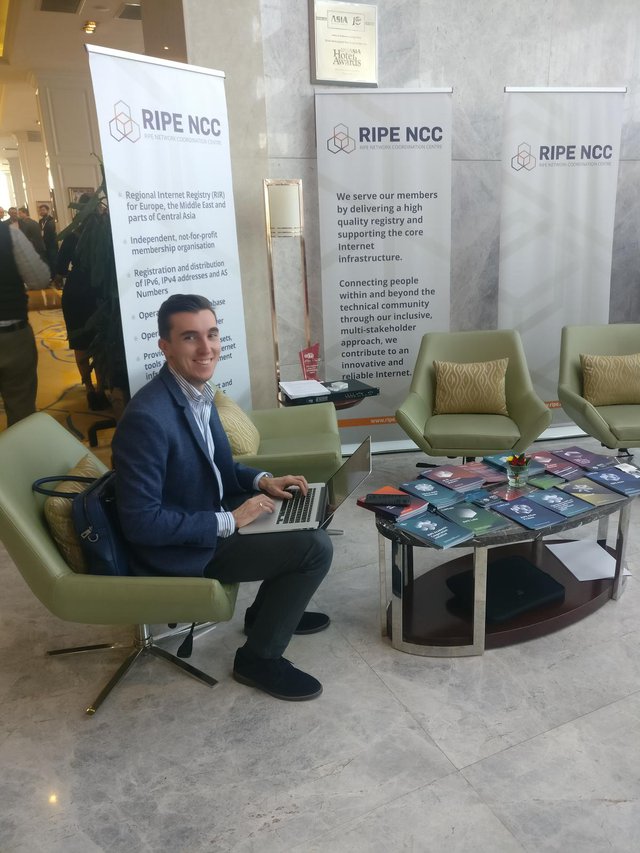 My colleague Maxim Burtikov at the RIPE NCC corner in Tbilisi?
Step 4: Training courses
The RIPE NCC organised training courses in Armenia (Basic IPv6 and Advanced IPv6 training course) and Kazakhstan (LIR and RIPE Database, Tools and Measurements training courses). Courses in Kyrgyzstan (Basic IPv6 and Advanced IPv6 training course) and Georgia (LIR, RIPE Database training courses) will be held in the first quarter of 2018 and more educational activities in other countries of the region will be implemented in 2018. 
Step 5: Institutional cooperation framework
We've also done work with state agencies: we organised a number of meetings during the other events in the region and discussed possible cooperation. Formal and non-formal agreements have been made during these meetings and there was great interest to boost cooperation in the areas of education, capacity building and the Policy Development Process. In Georgia, we made a significant step in our cooperation: an MoU was signed between the RIPE NCC and the Georgian National Communications Commission (GNCC). Moreover, a special action plan has been discussed and we identified concrete steps to implement the MoU. 
The RIPE NCC has also developed a special training course for Law Enforcement Agencies (LEA) in the region, to replicate the success we had in Ukraine and Belarus. The first course will be held in Armenia in February 2018. We're also looking into requests from Georgia and other countries.
Step 6: Participation from the region
It is worth mentioning that a number of representatives from the region had an opportunity to participate in RIPE NCC activities: ENOG Fellowship was awarded to Bakhrom Nasirjanov from Tajikistan, Kristine Hakobyan from Armenia and Ucha Seturi from Georgia; RIPE Fellowship was awarded to Ella Titova from Armenia, and RACI Fellowship to Lado Svanadze from Georgia and Karen Tadevosyan from Armenia. Kristina Hakobyan was also selected to participate in the RIPE NCC Version 6 Hackathon that took place in Denmark in November 2018.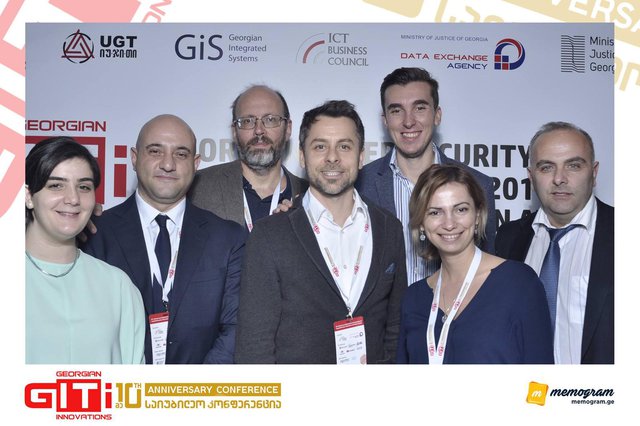 RIPE NCC staff and fellows at the GITI event in Georgia
Step 7: RIPE NCC Community Projects Fund
In November 2017, the RIPE NCC announced the RIPE NCC Community Projects Fund and launched a new opportunity to support projects valuable to the operation and resilience of the Internet, with a focus on tools and services of benefit the technical community. We received seven applications from Central Asia and the Caucasus.
What's next?
In 2018, we will continue our activities in the region: We will arrange meetings with universities, share experiences with the local communities and leverage success stories of people that have been engaged with RIPE NCC activities. Please look out for announcements of various RIPE NCC organised events in 2018: ENOG 15 in Moscow, RIPE 76 in Marseilles, MENOG 18 in Tehran. We will also organise an event in Kazakhstan in September 2018.