The RIPE NCC is coming to Georgia and Armenia to carry out academic engagement, LEA training, seminars and member lunches in Armenia and Georgia.
---
In 2017, the active approach the RIPE NCC took to engagement in the Caucasus region was very well received and resulted in requests for us to carry out more activities in partnership with academic, regulatory and commercial organisations for the benefit of the local communities there.
A central part of the engagement that will take place in the coming weeks involves a special course (Internet Fundamentals and Data Analytics) that will be presented in Armenia and Georgia by Christian Teuschel, RIPE NCC System Architect (@NCC_RIPEstat). Moreover, local partners such as RACI Fellows, train-the-trainer participants and RIPE NCC Hackathon participants are involved in the seminar to share their local expertise and show how things work locally in their respective countries.
A previous version of this workshop was given at the USJ in Beirut, Lebanon in 2017 and the courses given in Armenia and Georgia will draw heavily on the experience we gained there.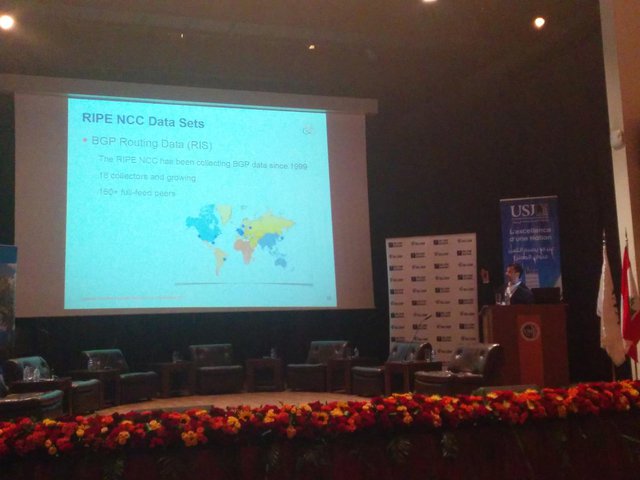 Christian Teuschel presenting on Big Data at the USJ, Beirut
Academic Cooperation Initiatives
Drawing on the experience of successful academic cooperation initiatives in the Middle East, we will use the coming weeks to try to replicate those successes and build deeper and more effective links with academic organisations in the Caucasus region. Topics such as learning more about the overall Internet ecosystem, big data, Internet measurement tools such as RIPE Atlas and the further developments of the Internet are of great interest to academics in these countries, so we are well placed to help in these areas.
Georgia
In September 2017, an MoU was signed between the RIPE NCC and the Georgian National Communications Commission (GNCC). An action plan for implementation followed in December that covered issues relating to academic cooperation. So, with the help of the GNCC and others in the Georgian Internet community, plans were developed that will see two seminars take place at the Free University of Georgia and the Caucasus University at the end of January. Further cooperation with the University of Georgia and the Technical University will be scheduled for later in 2018.
Armenia
As in Georgia, we have worked hard to build bridges with the academic community in Armenia. First up, on 5 and 6 February, we will present the Internet Fundamentals and Data Analytics course at the American University of Armenia (AUA) and the Russian-Armenian University (RAU). A targeted audience of students and lecturers with technical backgrounds, as well as other interested parties, will benefit from this 3-hour intensive course.
We will also make full use of our presence at these universities by meeting with the faculty members at AUA and RAU, as well as at the National Polytechnic University of Armenia and Armenian National Engineering Lab (ANEL), to come together and identify the next steps in academic cooperation that can help with Internet development in Armenia.
This is also a chance for us to meet with Internet-oriented specialists from the regions who have difficulties to participate in these university meetings. A special session will be arranged on 4 February 4 for the members of the Young Programmers NGO and the Jermuk Youth Center in the mountainous region of Armenia-Jermuk.
We will also attend the School of Internet Governance, run by ISOC Armenia, to deliver a presentation about RIPE and the RIPE NCC, RACI and other relevant issues on 3 February.
Law Enforcement Agencies (LEAs)
Following on from the Armenian Internet Governance Forum that was held in Yerevan in Autumn 2017, we have identified considerable interest and a request from Armenian LEAs to get involved in the activities of the RIPE NCC and the wider Internet community in the region. Previously, a workshop for LEAs was given in Belarus and Ukraine, and we will replicate this for Armenian participants on 8-9 February with the help of a Europol speaker.
Member Lunch, Armenia
One of our engagement priorities for the Caucasus region is to meet with and hear from RIPE NCC members there and to learn what it is we can do to help them and the local communities. So, to take advantage of the presence of staff from the RIPE NCC, we will have a member lunch in Yerevan on 7 February.  The member lunches allow us to inform and get input from members who might not be able to travel to RIPE NCC-organised events such as RIPE Meetings. They allow us to inform members about services that can help with their operations and also to hear from them about how we might improve those services for their benefit.
Georgian IT and Innovation
We were delighted to be able to attend and participate at GITI, an annual Georgian IT and Innovation event last November.  Following from this, the Georgian  Small and Medium Operators Union has asked the RIPE NCC to become an integral part their event and we're looking forward to having this opportunity to engage with the business community via GITI.
Remote Access and IXP Workshops
This event is intended to support IXP empowerment in Georgia. We were asked to deliver a presentation on traffic flows in Georgia and the the surrounding region using RIPE Atlas probes and other tools. Workshops will take place in Tbilisi on 2 February and will involve a number of local and international counterparts, including ISOC, Facebook, Georgian state bodies and other local participants.
EuroDIG Preparatory Meeting
We are also delighted to be part of the EuroDIG 2018 preparatory meeting that will take place in Tbilisi, Georgia on January 31, 2018.
All of these efforts are, of course, a result of the interest and desire to develop the Internet from the local communities in the Caucasus region. With each initiative that we become involved in, we meet more and more people from the local communities who want to work with us and among themselves to grow the industry and learn techniques that can benefit their organisations and countries. We are looking forward to building on these connections throughout 2018 and hope you will join us there wherever possible.
Overview of Events
| Date | Location | Event |
| --- | --- | --- |
| 30 January | Free University Tbilisi, Georgia | Internet Fundamentals And Data Analytics Workshop |
| 31 January | Caucasus University Tbilisi, Georgia | Internet Fundamentals And Data Analytics Workshop |
| 31 January | Technopark GITA Tbilisi, Georgia | EuroDIG Preparatory Meeting |
| 2 February | Technopark GITA Tbilis, Georgia | IXP Workshop |
| 4 February | Yermuk Youth Center Yermuk, Armenia | Internet Fundamentals And Data Analytics Workshop |
| 5 February | American University of Armenia Yerevan, Armenia | Internet Fundamentals And Data Analytics Workshop |
| 6 February | Russian-Armenian State University Yerevan, Armenia | Internet Fundamentals And Data Analytics Workshop |
| 7 February | Yerevan, Armenia | RIPE NCC Member Lunch |
| 8 - 9 February | Yerevan, Armenia | LEA Workshop |
Local speakers and various events
We would like to thank the following RIPE, ENOG and RACI Fellows, trainers from the Train-the-Trainer program and RIPE NCC Hackathon participants who will be participating in RIPE NCC planned activities in January and February 2018 in Armenia and Georgia.
Armenia
Kristine Hakobyan, ENOG Fellow and RIPE NCC Hackathon participant,  will share her experience with participation at the IPv6 Hackathon in Copenhagen earlier this year.
Avetik Yesayan participated at the IGF in Geneva with the support of the RIPE NCC will deliver a presentation "IoT in Armenia - reality or future?"
Karen Tadevosyan, RACI Fellow, will deliver a presentation on "User experience with RIPE Atlas probes".
Gor Poghosyan, TTT program participant, will deliver a presentation "How we measure the Internet - Armenian case study"
Georgia
Ucha Seturi, RIPE Meeting Fellow, will deliver a presentation "Innovative Georgia builds innovative industry: past, present and future activities for educated people".
Vladimer Svanadze, ENOG Fellow, will deliver a presentation "Cyber Security and Georgia - New Challenges".
Roman Karchava, Technical Director, Ordunet LLC (RIPE NCC LIR), will deliver a presentation "Analysing Internet Data in Georgia - Local Cases for the Benefit of Local Companies".