Google BigQuery is a powerful platform that offers the ability to rapidly filter, query, and process large volumes of data. We're storing RIPE Atlas measurement results in Google BigQuery to let you explore and analyse our data more easily.
---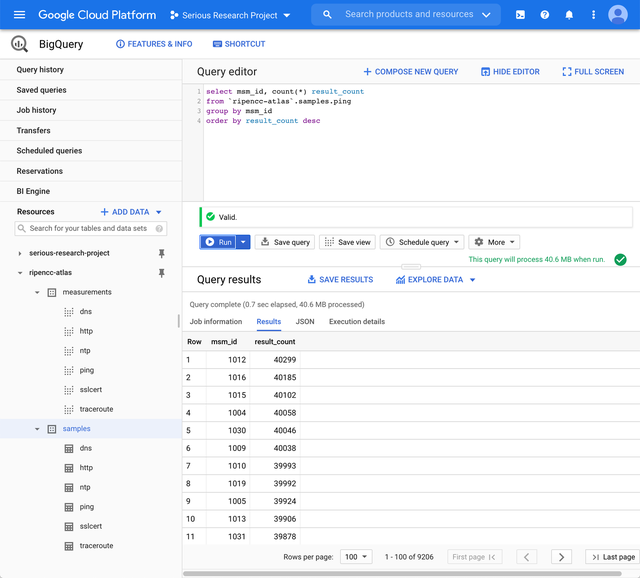 We are now making our public RIPE Atlas measurement results available via Google BigQuery. This is in addition to our existing API, public measurement result pages, and the daily dumps.
In order to access the service, you will need a Google account, and a project under which to manage your data and queries.  
Initially, we will offer two datasets:
"samples" contains six tables with a static, 1% sample of recent measurement results
"measurements" contains six public views that contain some historical data and are continuously updated with current measurement results.
The costs incurred by your queries and storage of your results (if you store them) are charged to your project. Take a look at our getting started guide for pointers.
Privacy
Your queries and query history belongs to you and your project. We cannot see your queries.
Terms and Conditions
The RIPE Atlas Service Terms and Conditions are applicable to the use of the data and, therefore, your use of this data must be in line with the purposes defined in that document.
Service Level
Our intent is to keep this running. In terms of ongoing support, we consider this a beta service.
If you report a service issue, we aim to respond to the issue not later than the next business day. The severity of the issue will determine how long a fix takes.
Contact
If you have issues, questions, or ideas, please contact atlas-bq@ripe.net
Documentation
Further documentation for this is available on GitHub: https://github.com/RIPE-NCC/ripe-atlas-bigquery/