We have decided to move static content to a CDN to help speed up the rendering time of our websites.
---
We've received a lot of feedback from our users over the last year about the online tools that the RIPE NCC delivers.
From our recent discussions at member lunches and regional meetings, we learned that some of our websites and web applications run a bit slow in some areas of the world. 
In our investigations, this was mainly down to latency issues. We provide our websites from several data centres in Europe and, of course, the further you get away from this content source, the slower the content will load.
So to improve this, we looked into using a CDN to help with the distribution of our static content. Initially we did an audit of various CDN providers to see what was available to us. We mainly reviewed:
What provider had the best coverage for our service region
What service was easiest to use and set up
The cost for a small amount of content
Static content
We will only be putting static content from the base template and our web applications on the CDN. This includes Cascade Style Sheets (.css) and JavaScript (.js) content shown in the red box in the image below. The actual web applications or any service that holds personal data won't be deployed and hosted on the CDN.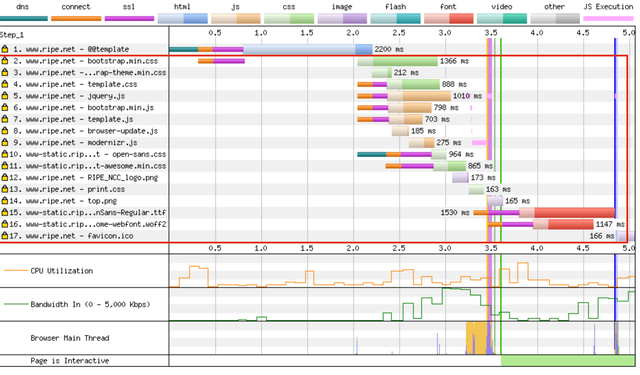 Load time of static resources of the template of www.ripe.net
Benchmarking
We've been benchmarking our website load times from various locations in our service region over the past few months. The reason we've been doing this is so that we can test and analyse whether or not the CDN has helped us and our users out. We'll review the results after six months and if we don't see a benefit by then we will switch back. 
We hope to deploy our static content to the chosen CDN within the next few weeks and this should hopefully improve the web response/load time for our users.