Early mornings, long days, lots of acronyms and overall an amazing learning experience.
---
Getting Started
What can I say? Having been lucky enough to attend the EURO-SSIG last year in Meissen, I got a good introduction to the world of the Internet Corporation for Assigned Names and Numbers (ICANN) and what they do. During this event I also learned about the ICANN Fellowship programme. This programme seeks to create a broader and more diverse base of knowledgeable participants, with priority given to candidates living in underserved and underrepresented communities around the world; those who represent diversity of gender, sector, region, experience and expertise. Working for the RIPE NCC and living in the Netherlands, I never thought I would be successful in my application. Out of 400+ applications there were 58 places: 400+ applications from intelligent, inspired people, wanting to contribute to keeping the Internet the free and open Internet that we know today. I did not envy the selection committee at all. I was soon to realise the application process was just the beginning of a huge amount of learning, discussion and involvement in the ICANN community.
During the run-up to the event, all the fellows were split into smaller groups and assigned a coach. I was fortunate to have been assigned such an open, welcoming and friendly coach in the form of Bikram Shrestha, a former fellow and President of the Internet Society Nepal. During weekly conference calls, we all discussed what topics interested us, what we should expect, what to plan for and how to make the best of our time at the meeting. Having an experienced attendee available to answer any questions or doubts we had proved invaluable.
Engagement is something I have been interested in for a while, both within the RIPE community and the greater Internet community as a whole: How do we engage with people who know nothing about how the Internet is managed? How are end users represented at ICANN? Who speaks for human rights, diversity, youth engagement and education at ICANN?
On my coach's advice, I decided to follow the At-Large sessions along with the Non Commercial Stakeholders Group (NCSG) discussions. Before I go on, I warn you in advance: be prepared for a lot of acronyms! The At-Large Advisory Committee (ALAC) acts in the interests of Internet users, and is made up of Internet-related consumer rights groups, academic organisations and even private individuals. The purpose of the NCSG is to represent the interests of non-commercial registrants and non-commercial Internet users of generic Top-level Domains (gTLDs) along with other services such as education, philanthropies, consumer protection and community organising, to name a few.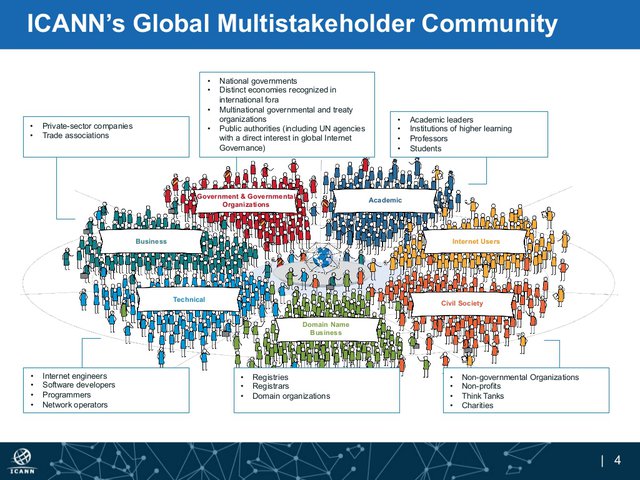 Day 1 - Newcomers sessions
I would be lying if I told you I wasn't nervous walking into my first session. Walking into a room of 70+ people involved in the fellowship programme could have been a very daunting prospect, but being greeted by Siranush (the person in charge of the programme) with a big hug, my nerves quickly diminished. 40 nationalities were represented - something that quickly made me realise just how important the Internet is worldwide.
After this short introduction round, we headed to the conference venue for our "Newcomers Day". We were greeted by Janice "Mama J" Lange (the mother of the fellowship programme). She emphasised that everyone was new once, there was no such thing as a stupid question, and to go to as many different sessions as possible until you find the area which really "fits".
This was followed by quick presentations from a number of people from each stakeholder group. They each explained what each stakeholder group did and who they represented. Breakout sessions then followed, with me choosing to find out more about the AT-Large community. An informal Q&A session was followed by a quick lunch break, then back to more presentations from the other stakeholder groups. The newcomers session proved a great introduction to the ICANN community.                                
Following the newcomers session, all fellows attended an Introduction to DNSSEC. This fun and interactive session gave a great overview of Domain Name System Security Extensions. DNSSEC uses digital signatures to assure that information is correct and comes from the right place. The use of cartoons and a skit made this complicated security protocol easy to understand - something I never thought was possible.
The last session of the day was the Fellowship Newcomers networking event. This informal event with drinks and food was a great way to get to know my other fellows better and engage with members of the community in a less formal environment.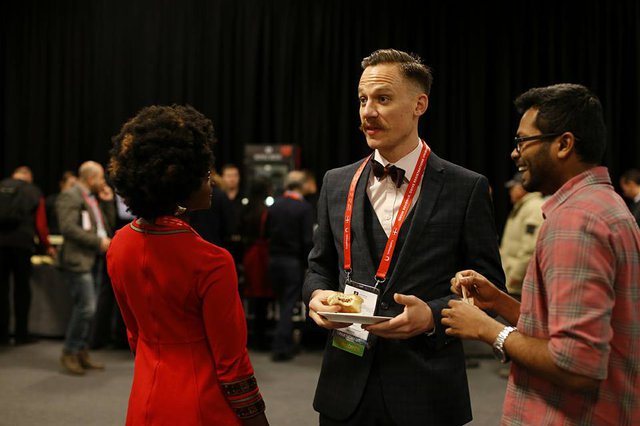 Enjoying the Newcomers networking event
Day 2 - DNSSEC and a marching band
The official opening ceremony included speeches from Jean-Jaques Sahel (Regional VP ICANN Europe), Dr Stephen Crocker (Chair of the ICANN Board), Mette Bock (Denmark's Minister of Culture), Henrik Udsen (Chair of the Danish Internet Forum) and Goran Marby (ICANN's CEO). They covered everything from what to do and not do in Copenhagen, what's next following the IANA stewardship transition and the importance of meeting face-to-face. A lot of discussions in the ICANN community take place over mailing lists, emails and Skype calls. Being able to meet face-to-face and interact as humans rather than email accounts is essential to bringing these wide and varying communities together. Finally, the Tivoli Youth Guard - a famous Danish marching band consisting of 13-16 year olds - treated us all to a performance. It was an uplifting and energising start to the long week ahead.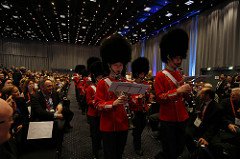 As the band marched out of the room, I headed to my first session of the day: "Internet Networking - how it works?" As someone from the number community, I already had an idea as to how the Internet "works", but it was great to get an easy-to-follow overview by Alain Durand (Principal Technologist at ICANN). Another Fellowship session followed, where we had presentations from the members of the Nomination Committee, Paul Diaz from the Registry Stakeholders Group (RySG), members of the Non-Commercial Users Constituency (NCUC) and from Anthony Holmes, Vice-chair of the Internet Service Provider Connectivity Provider Constituency (ISPCPC). Each session started with a quick presentation and was followed by an engaging Q&A session with the fellows.
After a quick break, I headed to the Governmental Advisory Committee (GAC) session on "Underserved Regions - How to Engage Better".
Then came the public forum. This gave anyone and everyone an opportunity to ask questions and make comments to the board of ICANN, something many of my fellows did. It was great to see so many newcomers go to the microphone and although I was too late to get to the mic this time, I knew there was another forum later in the week and I made it my mission to make a comment then.
The day finished with the ICANN Gala. This was a great way to relax after a long day. The vibe very much switched from policy and governance to having fun with friends. Dancing and laughing were soon the main topic on everyone's mind.
Day 3 - At-Large and diversity
The first session of the day saw more presentations and Q&A sessions with members of the GAC and the ASO (Address Supporting Organisation). Similar to the previous fellowship session, these were aimed at explaining what each stakeholder group did, who they represented and their role in the ICANN community. We were also given a presentation from Richard Lamb (ICANN) on DNS abuse. Unlike previous days, our schedules were free for most of the day, which allowed us to attend and follow meetings and discussions around our areas of interest. I decided to follow the At-Large sessions. First up was drafting a response to a recent review of the At-Large community. Seeing the multistakeholder approach in action when coming to a consensus on which points the ALAC agreed and disagreed with was great, yet a little frustrating at times. There was so much focus on smaller points such as grammar that they only got through half of the document. I had suggestions for a number of points but unfortunately we ran out of time. Luckily I located the review on the ALAC community page and submitted my input via email later that day.
At the end of the day I attended another fellowship session that saw presentations from the Root Server System Advisory Committee (RSSAC), a Q&A session with two ICANN board members (one of whom was a fellow alumni, which was such an inspiration to us fellows to see someone who was once where we sat now on the board of ICANN). Finally, we got an update on the post-IANA stewardship transition. This was extremely interesting to me, seeing what was next for the community now the transition is complete. Increasing ICANN accountability is a very important subject that covers many items such as transparency, ICANN staff and AC/ASO accountability, human rights and, most important to me, diversity. Even before the session had finished I had submitted my request to join the Work Stream 2 Diversity sub-group.
Day 4 - More diversity and more acronyms
The day started with another fellowship session. This time we saw members of the Security and Stability Advisory Committee (SSAC), the Not-for-Profit Operational Concerns Constituency (NPOC), the Commercial and Business Users Constituency (CBUC) and ALAC explain their communities and answer questions from fellows.
After a quick coffee I headed to the IANA numbering services review committee. Being from the RIPE NCC, I wanted to catch up with what was happening in the number community post transition, but I had to leave early so I could participate in the ALAC discussion on end users in ICANN, including ICANN's accountability, jurisdiction and diversity.
The discussion on ICANN jurisdiction is important, as there are many misunderstandings surrounding ICANN's jurisdiction. For example, will ICANN now relocate following the transition? People agreed that ICANN should remain in the private sector as a not-for-profit.
ICANN diversity is such an important topic and ensuring we are representing everyone is so important. Discussions here were based around a questionnaire aimed at end users. I brought up a question regarding the languages these questionnaires will be sent in. There is a lot of talk at ICANN with regards to translation and I have to agree that to really engage with end users around the world, language barriers must be taken into consideration. It was great to see so many fellows taking an active role in the discussions. Another great point that was raised was ensuring other groups not necessarily recognised as a universally accepted aspect of diversity, e.g. cultural diversity or sexuality, should be considered when sending out the questionnaire. 
Day 5 - Mic-anxiety and 70 friends
The last day of the meeting started with the familiar fellowship session in which we could ask questions to members from the Country Code Names Supporting Organisation (ccNSO), the Generic Name Supporting Organisation (GNSO) and the Non-Commercial Stakeholder Group (NCSG). The NCSG section was of particular interest to me as it helped me really get my head round the group structure. The NCSG Chair explained that the main priorities regarding policy were to protect non-commercial user rights, freedom of speech, transparency, privacy, due process and everything involved in that. Work Stream 2 was mentioned again, something which I will be following and participating in.
ICANN CEO Goran Marby then joined us and spent time answering questions from the fellows. His open and approachable manner was so refreshing, sitting with the fellows, walking around, even posing for selfies. The fellows really felt comfortable asking questions. Something he said that rang true to me was that even if you were at ICANN 58 to represent an industry, people were there for something bigger. By connecting people, amazing things happen.
Our final fellowship session centered around how the week had been, the required reporting and some more time with our coach to discuss what we are taking away from the fellowship programme as a whole. We then headed to the public forum and the public board meeting. Similar to the public forum earlier in the week, this was a three-hour session allowing members of the community to discuss, ask questions and bring up ideas. A public board meeting, something that is normally a closed meeting, followed this. It was great to see such transparency at the top level. To see how the board discusses/votes on policy changes and other important decisions surrounding ICANN was so interesting.
I have to say my nerves of approaching the microphone had prevented me giving my ideas a number of times but the more I did it, the easier it became. Therefore, during the public forum I made a point to express my gratitude to ICANN for the fellowship scheme and express the importance of the programme. This was met with applause from the audience and extremely positive comments from the board. I have since vowed to never let my nerves get the better of me again.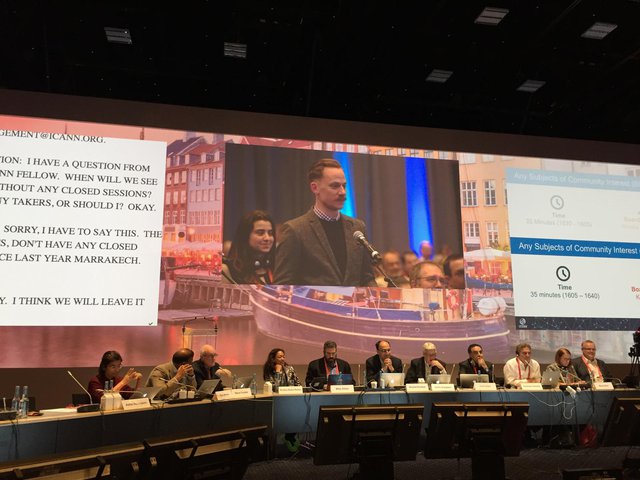 Me making a comment during the public board meeting
Perhaps the hardest part of the week turned out to be not the 06:30 (!!!!) sessions, not the late nights and long days, nor the intense schedule of learning, but saying goodbye. It amazes me how in just six days such close bonds can be formed. I now have friends (and I mean friends, not work friends or acquaintances) from 40 countries around the world. Friends I can contact at any time for help or advice. This is something the Internet does; it brings people together, its crosses language barriers, borders, religions and social classes. It allows communication, collaboration and interaction with other people wherever they are. The work ICANN does is so important to maintaining a free and open Internet for everyone. It allows collaboration and the sharing of ideas, and proves the bottom-up multistakeholder approach, allowing everyone to give their input, does work. I look forward to being a part of this community for many years to come.
Takeaways
The fellows' passion and dedication to ICANN and the Internet as a whole was inspiring to me. I gained as much from them as I did everyone who presented in the sessions I attended. Being able to dip my toe into as many different stakeholder groups was great. It allowed me to really figure out where I fit in the community. Since the meeting, I have requested to become a member of EURALO, a member of NCSG, and subscribed to the WS2 Diversity mailing list as an active participant. I have submitted my comments on the AT-Large review and I look forward to following the discussions closely from now on.
I also shared my experiences as a fellow with the team in charge of the RIPE Fellowship. Ideas such as calls with our coach before hand, submitting reports, the general emphasis on being part of a "family", allowing people to be a fellow more than once and having dedicated sessions where people come to talk to the fellows rather than just allowing the fellows to sit in sessions are all ideas we are going to consider for the RIPE Meeting Fellowship.