Since its inception, RIPEstat has been helping network operators and end users monitor the state of the Internet. Ten years on, we look back at some of the ways RIPEstat enabled us to get a clearer picture of how the Internet fared in the event of outages, blackouts, natural disasters, and Nyan Cat.
---
As well as providing millions of users with essential information on IP address space and Autonomous System Numbers (ASNs), RIPEstat has become a go to tool for providing quick insights on the scale and impact of Internet events as they happen. This selection of articles shows how we put this to use here on RIPE Labs over the past ten years.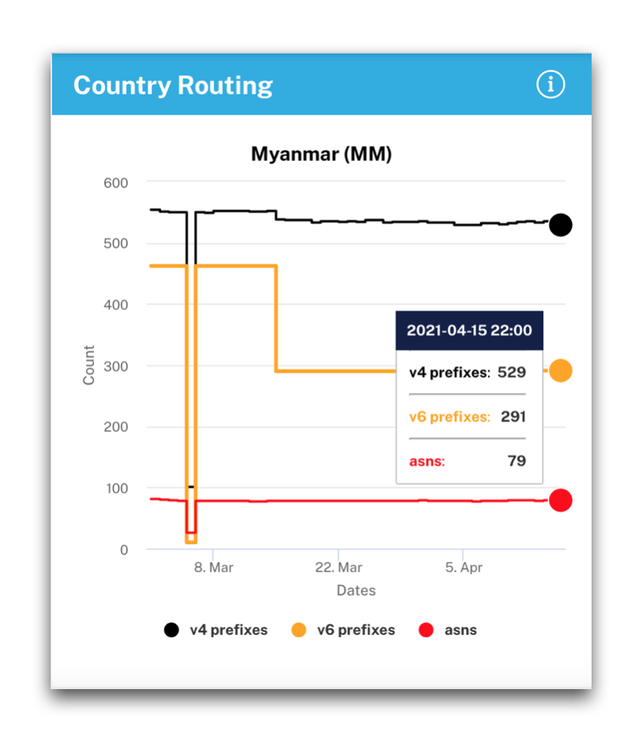 ---
January 2011: Live Egyptian Internet Incident Analysis
In 2011, we covered a series of live demos marking the launch of RIPEstat here on RIPE Labs. Nestled in among those early articles was the first RIPE Labs report of an outage building on information available from RIPEstat. The article was brief, and the information in RIPEstat has since been archived, but that first look at the 2011 Internet outage in Egypt was the first of many to come.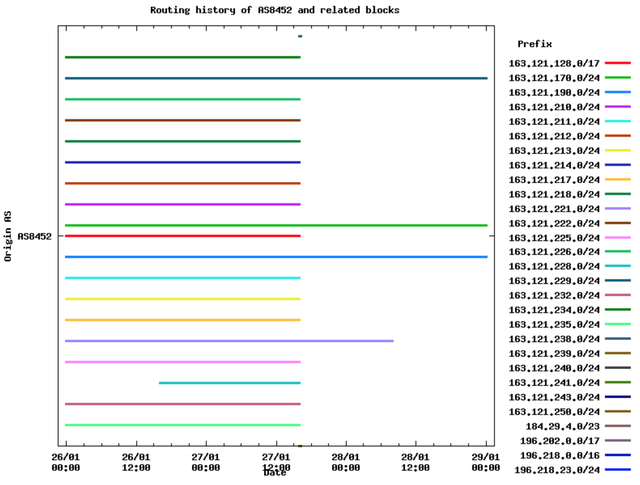 ---
December 2012: Monitor the Syrian Blackout with RIPEstat
Shortly after the Syrian Internet went offline in November 2012, this RIPE Labs article presented a new RIPEstat widget released to provide a near real-time feed of what BGP updates and withdrawals were seen from the Syrian IP address space following the blackout.
---
March 2013: Mediterranean Cable Disruption as Seen in RIPEstat

On 27 March 2013, an important fibre-optic link between Europe, the Middle East, and Asia was disrupted. Country routing statistics from RIPEstat showed the extent of drops in the number of IPv4 prefixes announced in Saudi Arabia, Sudan, Kenya, and Egypt.
---
November 2013: Typhoon Haiyan - What we see in RIPEstat and RIPE Atlas
Typhoon Haiyan, still one of the strongest typhoons on record, had a devastating effect on the Philippines. The impact on the country's core Internet infrastructure, as shown in RIPEstat, initially appeared to be modest, prompting a sustained investigation on RIPE Labs.

---
April 2014: BGP Leaks in Indonesia
A misconfiguration by Indosat, one of Indonesia's largest service providers, caused their AS to start announcing prefixes that were not allocated to them. In this article, Rene Wilhelm presented a discussion of how the event was seen in data from our Routing Information Service (RIS) and used RIPEstat visualisations to assess the impact of the leak.
---
March 2015: Cyclone Pam and the Internet in Vanuatu
While cyclone Pam was battering the South Pacific in 2015, we were monitoring how the storm was affecting Vanuatu. The RIPEstat country routing statistics widget initially showed a minor drop in IPv4 prefixes, later followed by a bigger drop as Telecom Vanuatu went offline.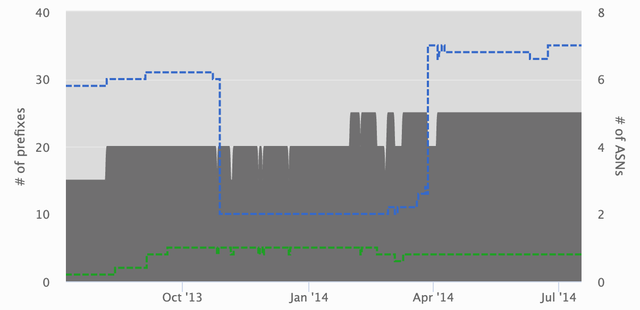 ---
August 2015: The Internet in North Korea - Hanging by a Single Thread?
Also in 2015, after the occurrence of several outages in the country, RIPEstat helped us carry out this analysis of the fragile state of Internet connectivity in North Korea.
---
March 2020: After the Quake in Croatia

After a strong earthquake hit Croatia in March 2020, Vesna Manojlovic took to RIPEstat to visualise its impact on Croatian Internet. The article offers a useful demonstration of how RIPEstat can be used to get a better understanding of the resilience of the Internet.
---
August 2020: Our First Glance at the Belarus Outages
On Sunday 9 August, the day presidential elections took place in the country, wide-scale Internet outages occurred, partially disrupting the ability of people in Belarus to connect with the rest of the world via the Internet. This was our first glance at the scale and impact of these outages.
---
January 2021: Our First Glance at the Uganda Internet Shutdown
As reports emerged indicating that the Ugandan government initiated a shutdown of the country's Internet this January, RIPEstat once again enabled us to get a clear initial picture of the impact of the event based on data available from our Routing Information Service (RIS) and RIPE Atlas.
---
RIPEstat in the Wild
So there you go. This is how RIPEstat has helped us gain better visibility and understanding of wide-scale Internet events on RIPE Labs. In coming years, as RIPEstat enters a new phase, we hope to make even more use of this, digging deeper to bring you more insightful coverage. But of course, the true power of RIPEstat is that anyone can use it any time to get quick, useful information about the state of the Internet.
If you've made use of RIPEstat yourself to get insights into Internet events we haven't talked about here, do share them your use cases with us in the comments!