We've selected the winning article and runners up for the latest RIPE Labs Article Competition. Read on to find out who won!
---
This spring we ran our third RIPE Labs article competition, once again giving authors the chance to win free tickets, travel and accommodation for the upcoming RIPE Meeting.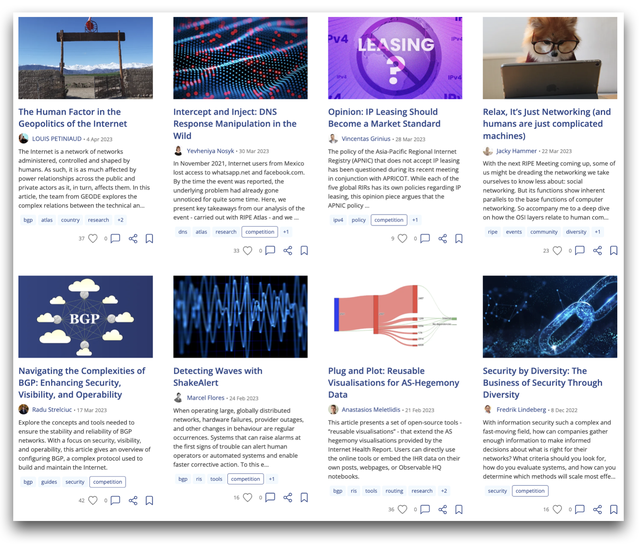 As ever, our goal was to coax people into getting their insights about the Internet down on paper (as it were) - and then bring the person who did the best job along to RIPE 86 to share their ideas in person with the rest of the community. Two runners up were also selected, each of whom were also given the option to choose a free ticket to the RIPE Meeting as prize.
This time around we got eight entries in total, three of which came from entirely new authors to RIPE Labs. Whether you won or not this time around, I'd like to say a big thank you to all of you who entered for contributing to RIPE Labs and sharing your work with our readers!
So who won?
First off, I owe one more big thank you to Mirjam Kühne for joining me on the panel and helping pick a winner. As per the competition rules, when it came to judging the articles we received, Mirjam and I were looking for those that we thought would be especially useful and interesting to the community. And in the spirit of encouraging new people to get involved with RIPE, we also gave preference to authors who've had less chance to engage with the community by attending previous RIPE Meetings.
With such a solid set of entries, the choice wasn't at all easy this year, but without further ado...
First prize
I'm very pleased to announce that the winner of the RIPE Labs article competition for RIPE 86 is Yevheniya Nosyk - Ph.D. student at Université Grenoble Alpes - for her article entitled Intercept and Inject: DNS Response Manipulation in the Wild.
The article presents a valuable set of insights arrived at through the course of a research project in which Yevheniya and her colleagues used RIPE Atlas to measure and analyse BGP route leaks in connection with DNS manipulation. The whole project stems from a particular event that saw Internet users in Mexico losing access to Whatsapp and Facebook back in November 2021.
It's important and useful work that demonstrates just what can be achieved with RIPE Atlas - and Yevheniya's clear, succinct presentation of key takeaways from the research project puts its outcomes in clear view for all the community to observe and learn from. An article very much deserving of our first prize! And I'm glad to announce that Yevheniya will be talking more about the project and its findings at the MAT WG session that takes place on Thursday morning at RIPE 86.
Runners up
As for our runners up:
Louis Petinaud provided us with a detailed write up of the fascinating work being done by the GEODE group. Drawing connections between the geopolitical and technical realms (notably, with the help of RIPE Atlas measurement data again), the article is another deeply interesting examination of The Human Factor in the Geopolitics of the Internet, this time with a particular focus on Central Asia. (You'll be able to see more from Louis in his Connect WG session presentation at RIPE 86.)
Congratulations!
We'll be running the RIPE Labs article competition again ahead of RIPE 87, set to take place in late November this year -- for those of you who'd like to join us there as one of our winning authors, I look forward to seeing your article!
All that remains is to say congratulations one last time to our winner and runners up - see you at RIPE 86!