The RIPE Labs Article Competition is back! Once again, we're offering you a chance to win free tickets, travel, and accommodation to come join us at the next RIPE Meeting - RIPE 86 taking place this May in Rotterdam. Here's a quick look at what we're looking for from a winning article and how to enter.
---
A friend of mine recently reminded me what a strange thing the Internet is. Some call it the experiment that never ended.1 Others compare it to a living organism that just keeps growing. And then there are people who like to think of it as a series of tubes. The point is, whatever analogy you choose, the Internet is a fascinating thing to think and talk - and write and read - about.
As we launch our third RIPE Labs article competition, we're again looking to be reminded of just how interesting a phenomenon the Internet is. As always, we're looking for articles about where the Internet came from, where it's going, and how we measure and understand where it is right now. That's quite an open brief, for sure. But the important thing to keep in mind is that we're looking for stories and analyses that are truly eye-opening for the people who help keep the Internet running.
If you think you have an article in you that fits that bill, write it down, enter it in the competition, and you could win a free trip to come meet the community at RIPE 86 this May in Rotterdam in the Netherlands!
How to enter (and other useful details)
Everything you need to know about the competition, including a more specific list of what we look from the best RIPE Labs articles, is available on the RIPE Labs Competition Rules page.
If you're eligible to enter and you have an idea for an article you'd like to put forward, it's time to get to work. All articles submitted to the competition will go through the usual RIPE Labs review process. When you're ready to send us your entry, just remember to tick the box indicating you'd like this article to be considered for the competition entry before you click to submit it for approval.
We'll stop taking new entries on 31 March at 23:00 (local Amsterdam time). At that point, a panel will convene to choose a winner and runners up. The results will be announced in early April.
Looking for inspiration?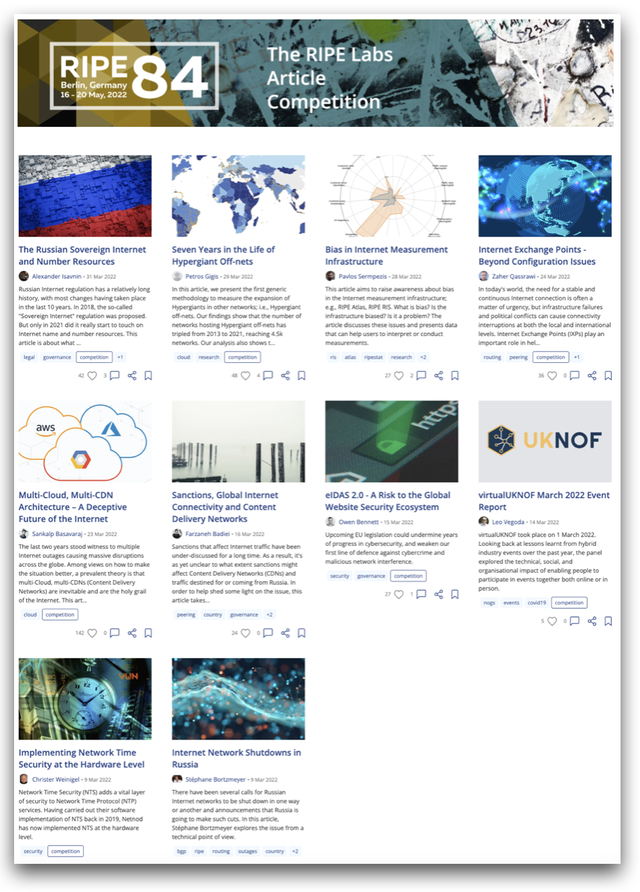 Last year, our first two competitions saw entries from seventeen RIPE Labs authors in total. Alongside the excellent winning articles from Pavlos Sermpezis (RIPE 84) and Koen van Hove (RIPE 85), the entries we received set a high bar for the competition, and covered a diverse range of topics.
If you're looking for inspiration, or at least a good set of examples of what we're hoping for from competition entries, the competition pages from the first and second competitions are a good place to start.
Summing Up
We really hope to see lots of people entering this competition for a chance to come join us at RIPE 86.
As always, we hope the prize we're offering will encourage people who might never have thought to share their work and insights on RIPE Labs to do so. As RIPE Labs Editor, I wish all participants the best of luck! I really look forward to reading your articles and to greeting the winner in Rotterdam.
If you have any questions about the competition at all, or would like feedback on whether your idea for an article fits the kind of things we're looking for on RIPE Labs, don't hesitate to contact us.
---
I've heard slightly different versions of this attributed to Vint Cerf and Geoff Huston.