Our first ever RIPE Labs Article Competition is now live! Read this article to find out how you can win a free trip to join us this May at RIPE 84 in Berlin, Germany.
---
Today we're pleased to announce the launch of the first ever RIPE Labs Article Competition. We're looking for the most engaging, insightful, fascinating RIPE Labs article you can come up with. And the first prize we're offering in return - no less than a free trip to come join us at RIPE 84 this May in Berlin, Germany.
May the Best Article Win!
The best RIPE Labs articles teach us something about the way the Internet works. Some take familiar concepts – from pings to IP addresses – and reexamine them to reveal something new and interesting. Some expose new challenges and show what steps must be taken to meet them. Others introduce tools for measuring and developing the Internet that end up being indispensable to network operators and other experts in the field. And then there are those that tell stories or provide commentaries on how the Internet came to be, how it's developing, how it shapes and is shaped by the society that uses it, and where it might be going next.
What all really good RIPE Labs articles have in common is how deeply interesting and useful they are to the community of people who help operate the Internet. And we want to keep giving the community more of that! With the launch of this competition, we aim to encourage more people to share their work and insights on RIPE Labs by offering them the chance of winning a truly enticing prize in return.
The Prize
RIPE Meetings are special events. If you've never been to one, they're a place where people from all across the Internet community come together for several days to discuss and debate current Internet-related issues, share experiences about latest developments and best common practices, and network with each other.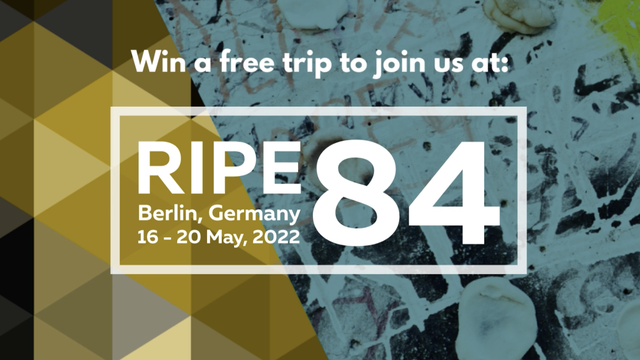 Taking place twice a year in different countries across the RIPE NCC service region, RIPE Meetings are packed full of sessions where experts present on the latest from a whole range of current Internet-related topics. And then there are the social events, taking place at top venues through the week, where attendees get the chance to network, dive into deeper discussions on important issues and developments, and really get to know the rest of the RIPE community.
RIPE 84 is due to take place at the Intercontinental Berlin, in the heart of the German Capital, from 16-20 May 2022. As winner of the RIPE Labs competition, you'll get a free ticket to the meeting itself, travel costs covered, free accommodation at the RIPE Meeting venue, and free access to all the scheduled social events, including the RIPE Dinner! We'll also take care of other costs you might incur when arranging travel, such as travel insurance and visa costs.
And that's just the first prize. Two runners up will each receive a brand new iPad.
How to Enter and Other Useful Details
All the information you need on how to enter the competition and more is available on the RIPE Labs Competition Rules page.
If you're eligible to enter the competition and you have an idea for an article you'd like to put forward, it's time to get to work. All articles submitted to the competition will go through the usual RIPE Labs review process. When you're ready to send us your entry, just remember to tick the box indicating you'd like this article to be considered for the competition entry before you click to submit it for approval.
We'll stop taking new entries on 25 March at 23:00 (UTC+1). At that point, a panel (whose members will be confirmed soon) will convene to choose a winner and runners up. The results will be announced no later than 6 April 2022.
Summing Up
We really hope to see lots of people entering this competition for a chance to come join us at RIPE 84.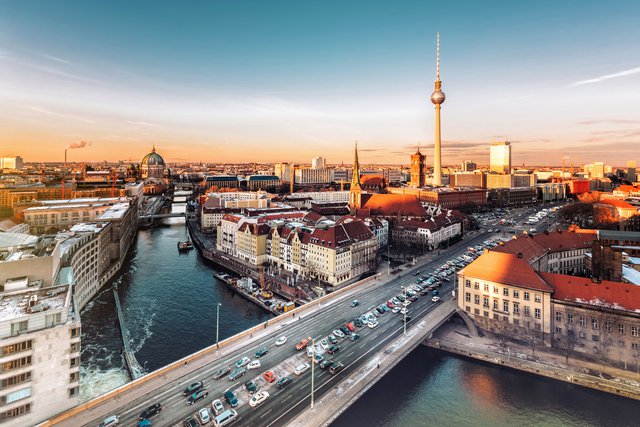 Hopefully, the prize we're offering will encourage people who might never have thought to share their work and insights on RIPE Labs to do so. As RIPE Labs Editor, I wish all participants the best of luck. I look forward to reading your articles and to greeting the winner in Berlin.
If you have any questions about the competition at all, or would like feedback on whether your idea for an article fits the kind of things we're looking for on RIPE Labs, don't hesitate to contact us.