Welcome to the anticipated 2018 Quantum Internet Hackathon report. Here we share the results of last months' successful hackathon held at the Volkshotel in Amsterdam.
---
Discover the teams' objectives, achievements and consumption habits, while learning about the possibilities of the Quantum Internet.

Before we begin... 
Can we all agree that to grow, develop and evolve requires collaboration? Improvements arise out of fresh perspectives. 
With QuTech, we created an environment to nurture the exchange of ideas, so we could emerge with valuable Quantum Internet solutions. We invited you to take part, and you came from a variety of technical backgrounds:
11 Quantum Technology researchers
11 software developers
2 designers 
4 hackers
3 network engineers
8 students
3 Jurors
Thank you for your participation! When you participate in hackathons, you develop alliances and contribute to the development of emerging software or tools; you become integral to the future of technology.
The Quantum Internet and Us
We spent 13-14 October 2018 exploring particular aspects of the Quantum Internet – a topic familiar to a select few. Over a year ago the RIPE community was introduced to the Quantum Internet. After QuTech suggested the topic, together we hosted a weekend dedicated to designing and developing tools to monitor and visualise the behaviour of a quantum network. Powered by stroopwafels and visions of a sci-fi future, we delved into the cosmic possibilities.
"Let us think the unthinkable, let us do the undoable, let us prepare to grapple with the ineffable itself, and see if we may not eff it after all." - Douglas Adams' DirkGently's Holistic Detective Agency
And that's exactly what we did. It went like this:
 Hackathon in numbers:
8 finished projects
42 enthusiastic participants from 20 different countries
20 burgers, 5 Aussie fish and chips, 4 pork ribs, 9 ribeye steaks, 1 salad and 1 chicken Parma (during closing dinner) 
Lots of local beer
Boundless measures of imagination!
One thing that's immeasurable is our appreciation for your commitment and interest! We're grateful to our sponsors (Juniper Networks and Quantum Internet Alliance) and all the participants for their contributions.

The Incredible Eight
Identifying eight projects for our teams to focus on allowed us to highlight fundamental topics within the Quantum Internet arena. Our goals for the hackathon were:
Make progress towards Quantum Internet
Bring together quantum-tech researchers, RIPE community network operators, software developers, hackers and more
Combine creative skills
Contribute useful tools for quantum tech
Make new connections
Continue cooperation
Do Try This at Home
Before we delve into the accomplishments of the eight projects, we should offer you some context. It was a sunny and hot day, and we didn't use real quantum hardware. We used SimulaQron: a simulation tool for software development for the Quantum Internet. It can be used both as a stand-alone system (SimulaQron on a laptop could be equivalent to a small quantum computer on which you can execute gates and make measurements) and in a distributed way - to create a network.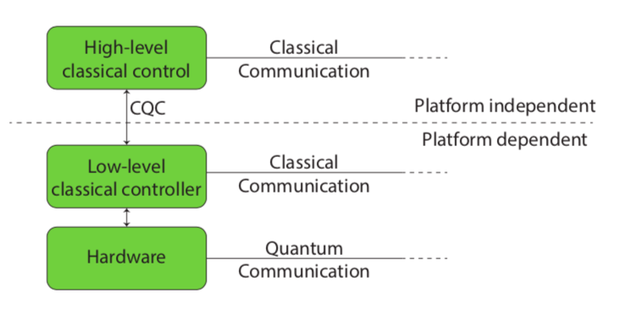 When Axel Dahlberg, on of the PhD students at QuTech, connected several laptops (running SimulaQron on them) to the switches provided by Juniper Networks, he created a local network that became a distributed simulation. This gave participants the illusion of talking to real quantum processors and being able to entangle qubits at a distance.
If you want to learn more about how to set this up at home read this documentation about SimulaQron as used at the hackathon. 
Results
All eight teams had five minutes to dazzle us with their final presentations. You can find the slides of presentations on GitHub, as well as all the code (shared and published in our usual place for a collection of results). 
PROJECT 1: Quantum Consensus 

Team: Matthias Hudobnik, Anders Rehult, Takaaki Matsuo, Bram Dobbelaar, Wojciech Kozlowski, Marc Gaensler, Oleksandr Mykhalevych, Anton Karazeev, Takahiko Satoh
Goals: Quantum Cryptocurrency
Achievements: Implemented two leader election algorithms: Coin Flipping & W State.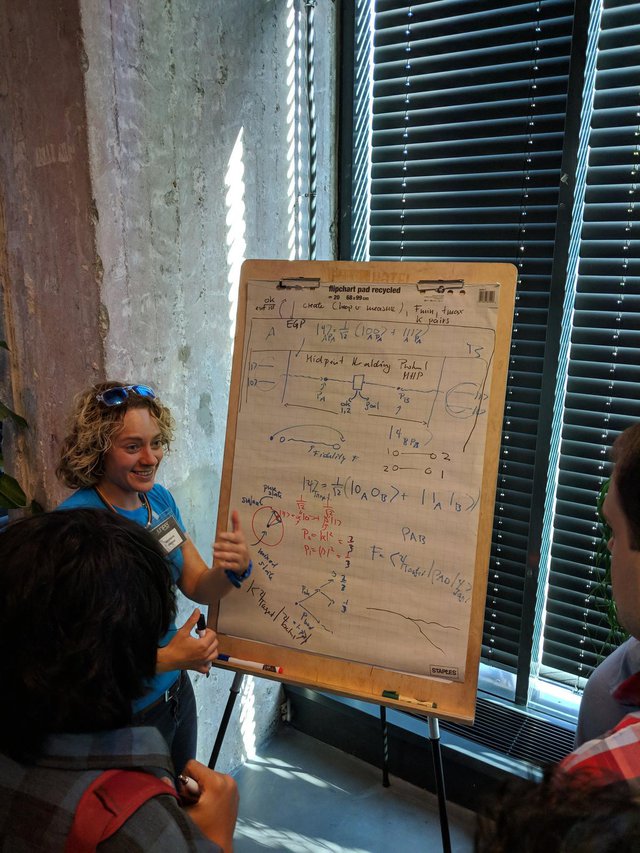 PROJECT 2: IRTF draft
Team: Kireeti Kompella, Melchior Aelmans, Stephanie Wehner, Cristian Sirbu
Goals: Write a standard for transport protocols for the creation and manipulation of  multi-hop entangled pairs.
Achievements: The draft was (almost) completed, and in the meantime it was presented at the IRTF meeting in Bangkok, at  QI Research Group: "Advertising Entanglement Capabilities in Quantum Networks".  
PROJECT 3: QuViz
Team: Markus C Braun, Pedro da Silva Vaz and Sergio Freitas
Goals: Test suite to visualise the stability of a Quantum Network
Achievements: The visualisation was completed and presented in a colourful demo (quality of the edges is displayed with a colour: green, yellow or red).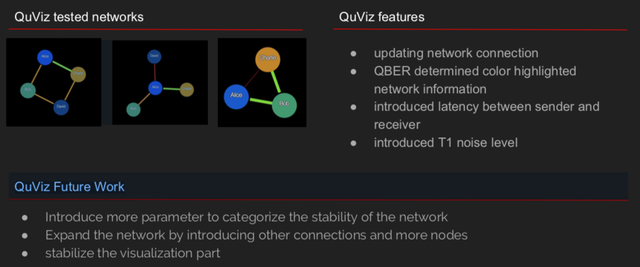 PROJECT 4: Sim-NG 
Team: Amjd Yousef Majid, Daniel Quinn, Petros Gigs, Asbjørn Sloth Tønnesen, Przwmyslaw Pawelczak, Michael "MC" Cardell Widerkrantz
Goals: Improvements to SimulaQron
Achievements: 13 pull requests on GitHub!
Including: Docker image, IPV6 support, big endian in messages, updating configs, clib update and many small fixes.
PROJECT 5: Qhamster
Team: Tudor Tabacel, Syed Affan, Matt Skrzypczyk
Goals: Improve Qchat (decouple client/server functionality and provide a language-independent client interface ) 
Achievements: Improved the service organisation,  backend in terms of CPU utilisation and network communication speed. Created a Python XML-RPC server, as well as  web and CLI XML-RPC clients
PROJECT 6: Quantum Digital Signature: "Hanko" 
Team: Shota Nagayama, Hirotaka Nakajima, Shinnosuke Ozawa 
Goals: Design quantum digital signature "protocol" rather than "algorithm" 
Achievements: Implemented variable key length, variable message length, simple stabiliser states quantum one-way function and a draft for the two-party protocol
PROJECT 7: Steane on SimulaQron (S.O.S.)
Team: Tim Coopmans and Leon Wubben
Goals: Quantum Error Correction 
Achievements: Implemented Steane's quantum error correction code in SimulaQron. 
PROJECT 8: aMBiQuiCy
Team:  Andrey, Anne, Cristopher, Georg, Marc, Shraddha and Yao
Goals: MBQC subroutine for SimulaQron
Achievements: Implemented one version of Blind Quantum Computation and showed us a successful demo.
So, What's Next?
We ended the weekend at an Australian Beer Bar and celebrated our achievements. We gave out prizes for team-work, completes and creativity and participants walked away with an assortment of sweets, T-shirts and clogs!
Right after the hackathon, we hosted the RIPE 77 Meeting, where Vesna Manojlovic presented the results. You can watch the video on our archives page. Also, Melchior Aelmans offered a review of the hackathon on LinkedIn, and Cristian Sibru wrote a blog post about it. 
If you want more information about Quantum Internet, make sure you watch Stephanie Wehner's Ted X Vienna talk on YouTube.
We're excited about what the development of the Quantum Internet will bring to our community and, ultimately, the world. Key initiatives like The Quantum Flagship, which was launched in Vienna, confirms Europe as a key player in the future of the Quantum Internet.
If you would like to take part in one of our next hackathons, keep an eye on RIPE Labs: 
http://labs.ripe.net/hackathons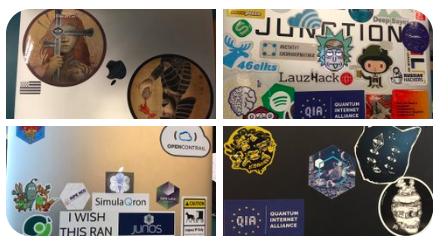 "If quantum mechanics hasn't profoundly shocked you, you haven't understood it yet."                                          Niels Bohr (Danish Physicist 07/10/1885 – 18/11/1962)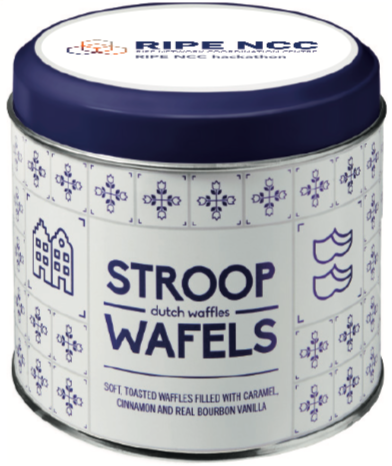 Follow-up: in 2019, we worked on the idea born during the first Quantum Internet hackathon
and organised another event: this time, in multiple locations at the same time!
5-6 November 2019, in Delft, Dublin, Geneva, Padua, Paris & Sarajevo: