RightsCon is one of the most established forums for human rights in the digital age. In this article, we give you a taste of some of the issues discussed and hopefully involve you in the debate. We definitely need more voices from the technical community!
---
Similar to previous RightCons, this year's summit had an incredible variety and number of sessions (500+) and a record breaking number of registered participants (almost 10,000). Live translation was available in 14 different languages - a testament to the truly global reach of the RightsCon community.
Over the course of five days, we heard experts talk about censorship, digital transformation and identity, Internet regulation, workers' rights, Internet shutdowns, data protection, coalition building, and much more. Check out the summit's selection of outcomes and highlights for a more detailed overview.
Over at the RIPE NCC, we followed RightsCon closely in 2021, 2020, and 2017. By participating in and reporting on these events, we've aimed to help bridge the gap between technical communities and civil society, to provide useful input on the most pressing issues in the digital rights sphere, and to highlight ways to engage meaningfully.
This year we had the opportunity to take our participation a step further by organising a workshop on RIPE NCC Internet measurement tools. Our goal there was to meet people who are interested in tracking and documenting Internet shutdowns and to explore the ways our tools could be used to help researchers, journalists and civil society organisations fight against these measures.
---
Just decentralisation: Fighting for a future of many Internets
The topic of the decentralised Internet has gained new traction in recent months with emerging discussions on the future of "Web3". The term was coined by Ethereum co-founder Gavin Wood, and the idea gained interest in 2021 from cryptocurrency enthusiasts, large technology companies, and venture capital firms. The goal is to build "a decentralised and fair Internet where users control their own data, identity and destiny".
This is however not a new idea. The session organiser Lia Holland (Fight for the Future) invited several experts working on several projects that are also aimed at imagining a newer, better web; one that's completely user-oriented and value-based.
We heard from Mai Ishikawa Sutton, who's been working on the Internet Archive's Dweb project. The way that they frame decentralisation is quite broad and includes any kind of technological project that is decentralised across the technical stack — from community networks, federated social media platforms, peer-to-peer protocols, to even older, tried-and-tested protocols such as email and torrent files. They came up with a list of principles to define the values of the decentralised web that they divided into the following 5 categories:
Technology for human agency
Distributed benefits
Mutual respect
Humanity
Ecological awareness
Check out Mai's article on the critical differences between Web3 and DWeb.
Chris Eaton from Greenpeace raised the issue of a "just" web and systems in general. Chris examined the high environmental costs of systems relying on the proof-of-work mechanism (such as Bitcoin) and noted the clear injustice of rich countries getting richer while offloading the negative externalities (such as climate disasters) onto poorer countries. Mining cryptocurrencies is exacerbating these injustices is by turning — by design — into a more and more centralised system where barrier to entry is extremely high and only big players get to influence the game and collect the profits. These players avoid country level regulation and simply move to a new one with slightly better conditions. To tackle this issue, we need a holistic and global approach. Banning Bitcoin is not really a solution. We should build consensus and move people along with the change.
One of the biggest challenges for web 2.0 that a decentralised web will also have to deal with is misinformation. Mai gave the example of Mastodon, an open source decentralised social network, where moderators of smaller, decentralised instances are chosen by the community, are closer to it and share its values. Michael Kleinman (Amnesty International) argued that this would make content moderation without a central authority even more difficult. Advocacy work would also be affected: how do you do advocacy when there is no target?
Despite many arguments against basing the decentralised web on cryptocurrencies, there are still possibilities to use them for the benefit of marginalised communities, particularly in financial sector of the web.
- Jelena
---
A question of fairness
A recent proposal by ETNO generated a lot of discussion in many fora. In a nutshell, about 55% of all data on the Internet come from only six content providers. Big telcos in Europe don't think it is fair that these content providers use the Internet infrastructure without paying for it, so they (the telcos) want to make the content providers pay them to deliver content. The argument goes that this will help infrastructure investment in Europe and achieving the 2030 connectivity goals, which understandably has a sympathetic ear in Brussels.
During the Cooperation Working Group at RIPE 84 in Berlin, ETNO representative Maarit Palovirta quite bravely explained and defended this proposal. "Quite bravely" - as she did not receive any support from the rest of the panelists or the audience.
South Korea is often given as an example of the only country in the world with a sender-pays model. This is why I was happy to attend a session at RightsCon organised by professor Kyung Sin from Korea University putting the Korean example on a central stage. He explained that since 2016, when South Korea instituted the sender-pays rule, competition among connectivity providers has reduced, leading to skyrocketing connectivity fees for domestic content providers - 12 times more than in Frankfurt and six times more than in Singapore. As a result domestic content providers disabled high-traffic features such as 4K video and metaverse, ultimately harming the experience for Korean Internet users.
Currently the Korean government is considering expanding the regulation to external content providers and make them pay a "fair network usage fee" based on how much data they send and receive from the network. This will effectively put tolls on overseas content providers. Professor Sin described this as "a huge mistake that would have far reaching consequences for the global Internet, and Korea's digital economy".
Both the Korean regulation and ETNO's proposal talk of fairness. Professor Sin described the use of the word "fair" as "misguided". Since the birth of the Internet, the problem of paying for delivery has been solved on a global scale. Telcos deliver Internet connectivity as a global product, not as content from different countries. They are not involved with the content, but are only responsible for maintaining the connection. Similarly users do not pay for data delivery, but for maintaining connectivity. This is why such a legislation would constitute a significant shift to the Internet market dynamics with potentially huge and unpredictable effects. Interestingly, civil society in Indonesia successfully blocked a similar proposal last year.
Panelists shared their own takes and concerns. They spoke of the symbiotic relationship that already exists between content providers and telcos - content providers need telcos to spread their content, while telcos need content providers in order to have something to deliver to connectivity users. Without content, connectivity is like a bridge to nowhere.
Another aspect of this symbiosis is that both content providers and telcos have an interest in improving the end-user experience. While telcos work on building more connectivity infrastructure, content providers (especially the big ones) have been working on building local servers so that their data can reach users faster. While now both telcos and content providers are looking at improving efficiency, if similar proposals are accepted, they will both be looking at issues of payment instead. This will create a different set of incentives, which will not necessarily be in the interest of the end user.
Should similar proposals be accepted on a global scale, telcos and content providers around the world will have to negotiate bilateral agreements. Large telcos will become gatekeepers. They will naturally favour whoever can bring them the most profit, which logically will be the large content providers, creating barriers of entry for small ones.
On the other hand, if similar proposals are only accepted in certain regions or countries, this will create perverse incentives, pushing content away from these countries. This is already observed within Korea where data is taking longer, less efficient routes as a direct result of the government policy.
Focusing in particular on the current European proposal, Christoph Mertens from the German network regulator and a member of BEREC (the Body of European Regulators for Electronic Communications) pointed to a 2017 study that showed that interconnection in Europe is very competitive. Disruptions and disputes are solved in the market without the need for regulatory intervention. Even thought the conclusions of the 2012 BEREC report were similar, BEREC is going to investigate the issue again to see if there have been significant changes in the last 10 years.
On a rather concerning note, he pointed to the way that telephony providers have exploited the calling-party-pays system, creating termination monopoly and increasing prices beyond what is optimal for the market. That monopoly in itself has created the need to regulate. So paradoxically, accepting such a proposal would introduce a system that requires further regulation.
- Gergana
---
Building a community network: Financing mechanisms for community-owned internet infrastructure
Community networks are playing a vital role in "connecting the unconnected" - i.e., the more than a billion people without Internet access. What these projects often struggle with is a way to secure a sustainable and long term funding. During this panel organised by Jane Coffin (Connect Humanity), we heard from community network experts and experienced impact investors who are working on a new report called "Financing mechanisms for locally owned internet infrastructure" that aims to increase digital equity and inclusion through sustainable community network deployment and creative financing models. (You can sign sign up to receive a notification once it's published via the previous link).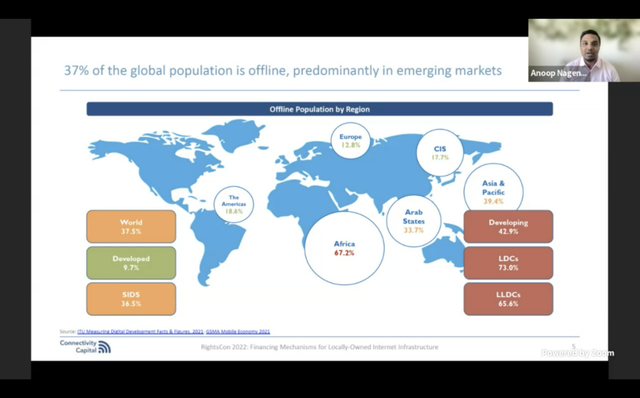 The report will explore:
The life-cycle and stages of growth of non-traditional operators (NTOs) such as community networks, municipal networks, and social enterprises
The economics and the unique challenges of operating these networks
Ownership structures and operating models
Financing mechanisms and de-risking strategies to fund these networks
Case studies of the owner-operator models and financing mechanisms used by
various operators
- Jelena
---
Measuring network disruption with RIPE Atlas
Data is power. RIPE NCC staff organised a session with the purpose to share our tools and data with activists and civil society organisations. We wanted to see if RIPE Atlas, a network of 11,000+ globally distributed probes that perform active Internet measurements, can provide insights into Internet shutdowns. It can be used to see how traffic is flowing in and out of a country or region, or to run custom measurements towards key elements of Internet infrastructure (like root DNS servers). See our articles on the outages in Kazakhstan at the beginning of 2022, as well as this piece on how the structure of the Internet in Ukraine is helping the country stay connected.
Another useful source of information is RIS (Routing Information Service), which collects and stores Internet routing data, thereby improving our understanding of the global Internet routing system, exposing malicious actors and allowing operators to identify and address security risks.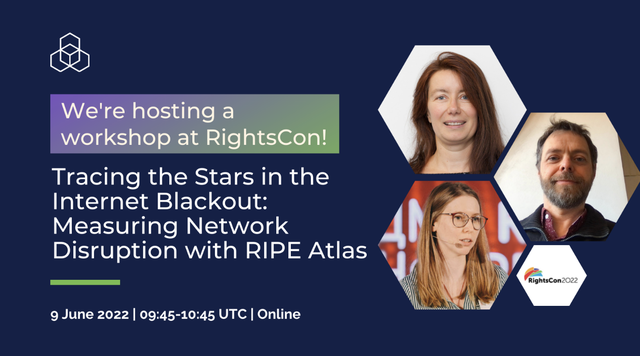 In addition to presenting the different functionalities to participants, we also wanted to hear from them - what they are working on, what difficulties they are facing and what recommendations they might have for us to improve our tools and platforms. The session attracted a small but very engaged audience, all of whom had experience in some sort of partial or complete shutdown and most of which had some knowledge of the RIPE NCC or our tools. The session was not recorded on purpose, as we wanted to stimulate a free dialogue and exchange of ideas. This is why we can only describe parts of what was discussed.
The most notable phenomenon was the shift of government action. A few years ago governments did not shy away from cutting connectivity off for an entire country. However, reports of the economic and social damage, combined with the national and international outcry, has made them more careful. Now there is a preference for throttling or blocking certain websites, or cutting off connectivity on a smaller scale - a city or small region. This also makes using RIPE Atlas to detect such government action more difficult, as we have scarcer distribution of RIPE Atlas probes in developing countries, meaning there are often not many probes in every individual city. This makes it harder to determine if a probe going offline is a shutdown, or something accidental or affecting just one network.
In addition, participants reported that nowadays governments try to hide their actions and instead blame any connectivity failures on technical issues. This means that pointing to a network disruption is not enough - activists need to be able to show evidence of deliberate actions and intent.
An interesting point is that the more people become tech-savvy, the more difficult it becomes for governments to enact any restrictions on the Internet. Finally, the more distributed the Internet is in a country, the more resilient it is to both government and outside interference.
The biggest take-away for RIPE NCC is that we need to make our data and tools more accessible for the non-technical users. Activists might not have in-depth knowledge of networking, but can still draw valuable conclusions, based on the data we gather.
- Gergana