Once again, we have lots of developments to tell you about, including new features, an enhanced website, a new probe, new sponsors and more. Keep reading to find out about all the latest developments and upcoming plans.
---
While developing RIPE Atlas, we are maintaining and publishing a roadmap to keep the RIPE community involved and informed of the features we are working on. A lot has taken place since our last update in January, and we look forward to hearing your feedback!
Latest Stats
RIPE Atlas continues to expand its network. As of March 2013, there were:
2,800 active probes (~300 activated since the January update)
1,050 IPv6-enabled probes
6,350 users (~1,000 more since January)

2,350 of these users are RIPE NCC members
700 user-defined measurements performed since the last update in January
New Features
RIPE Atlas in RIPEstat
For a few months now, RIPEstat users have been able to see whether any RIPE Atlas probes are connected within a queried ASN or IP prefix/range, in a dedicated widget found under RIPEstat's "Activity" tab.
Now, RIPEstat users can also find out whether any targets for RIPE Atlas user-defined measurements are located within those ASNs or IP prefixes/ranges in a separate widget called RIPE Atlas Measurement Targets, also found under the "Activity" tab.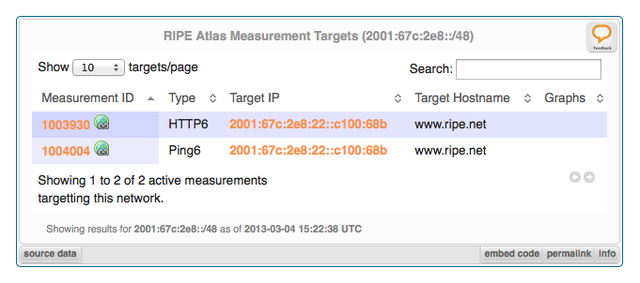 Probe management
RIPE NCC members who host a probe and want to transfer it to a colleague will now see a suggested list of contacts in their LIR when transferring a probe.
It is also now possible to change the email address associated with your RIPE Atlas account via your RIPE NCC Access account.
Stricter credits accounting
As we've previously announced, we plan to relax some of the restrictions on the number of probes you can use when performing user-defined measurements, as well as the number of measurements you can perform. In order to facilitate this, we needed to make the accounting around the credit system more strict.
From now on, if you are approaching zero credits, you will get a warning email; if you go on spending credits at the same rate, we will stop some of your measurements. This is necessary in order to protect the system from being overloaded as we plan to increase the number of measurements and probes that can be used.
Find out more about the RIPE Atlas credit system .
RIPE Atlas GitHub
Maybe you've come up with a great way to visualise measurements, or analyse data, or something we haven't even thought of - either way, let us know about it!
We have created a dedicated RIPE Atlas community GitHub repository. This is a place for you, the users, to share code you've developed with us and with each other. The RIPE Atlas team will also include their own contributions here, such as "probes2kml.py", which Iñigo Ortiz de Urbina helped develop to show probes on Google Earth.
We hope this repository will help you create, share and maintain more code, and make it more useful for the rest of the world.
Photos on the Community page
Check out the RIPE Atlas Community page for photos of probes that have travelled the world - and upload your own photo!
New Probes
We've almost run out of the current version of RIPE Atlas probes and are transitioning to a new version. The small black rectangles are being replaced with a new device: a reconfigured TP-Link (model TL-MR 3020). Although these probes look different, their functionality remains the same as previous probe versions. These new probes allowed us to reconfigure off-the-shelf devices rather than custom ordering devices, which is what we've done in the past.
Please note that these new probes cannot be used as a TP-Link router, and that the accompanying USB stick must remain inserted in the probe in order for it to function.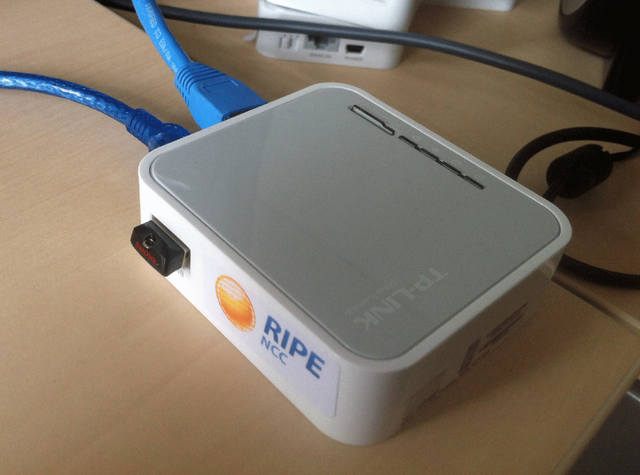 Enhanced Website
As interest in RIPE Atlas has continued to grow, the RIPE Atlas website has become more of a priority. We've added a lot of new content and reorganised the website to make it easier to find the information you're looking for and better explain RIPE Atlas' goals and benefits to a wider audience.
You can find all of the existing pages, plus many more, using the new navigation along the top of the website. Our current sponsors, along with the latest RIPE Labs articles about RIPE Atlas, are featured on the left-hand side of subpages, and the FAQs are now easier to navigate. Use cases, reports, statistics, graphs and analyses can now be found under the "Results" section.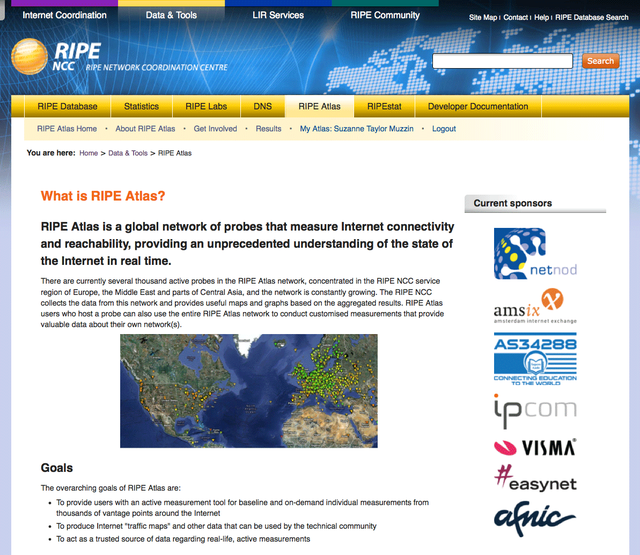 Next month, we'll also have a redesigned homepage with some new features - be sure to check it out!
New Sponsors
We welcomed two new sponsors: Cable & Wireless and Comcast .

We're very excited that Comcast announced that it will sponsor RIPE Atlas as part of its Comcast Technology Research & Development Fund.
Thank you to all our sponsors for your support!
RIPE Atlas Anchors Pilot
Together with the pilot hosts, we continue to develop the RIPE Atlas anchors pilot , which will use enhanced RIPE Atlas probes as regional measurement targets. The current planning for the second phase of the pilot includes:
Roll-out of the second group of RIPE Atlas anchors beginning this month
Further in-house testing of time stability on virtualised systems, as well as on 'metal'
Roll-out of virtualised anchors on RIPE Atlas anchors systems in April 2013
You can read more about the latest developments in this RIPE Labs article .
A RIPE NCC intern, Luigi Corsello, also completed a study on virtualisation technologies to expand RIPE Atlas anchors to provide additional services. You can find more information about the project and its findings in this RIPE Labs article .
Ongoing Activities and Short-term Plans
In April, we'll go live with phase 2 of our revamped website, which will include a new homepage
We continue to migrate the DNSMON service into RIPE Atlas and RIPE Atlas anchors.
Group access management is an often requested feature. Our first priority is to enable it for RIPE NCC members (LIRs). We will continue working on the generic solution for group access later this year.
We've starting testing two new features: one-off measurements and the measurement specification API to start and stop user-defined measurements . Beta testers are now helping us adjust these features before we go live with them. If you are interested in becoming a RIPE Atlas tester, please send an email to atlas [at] ripe [dot] net and let us know.
Outreach
If you attend a RIPE NCC training course , you can pick up a RIPE Atlas probe there, or learn about RIPE Atlas from our trainers. The RIPE NCC provides training courses in all parts of our service region, so there's a good chance we'll be near you sometime soon!
In the coming months, you will also be able to meet RIPE Atlas ambassadors and get a RIPE Atlas probe at:
We want to thank Sven Reissmann, who gave a presentation about RIPE Atlas and distributed RIPE Atlas probes at the OpenNMS User Conference . Thank you to all our RIPE Atlas ambassadors!
If you would like to distribute RIPE Atlas probes at your event, or if you want to give a presentation about RIPE Atlas, we can support you with slides and printed materials (brochures, stickers, printed instructions). Please get in touch with us (see below).
Join Us at RIPE 66!
We hope to see you at the RIPE 66 Meeting in Dublin in May, where you'll have a chance to meet some of the RIPE Atlas developers face to face and ask questions, request new features, and give us your feedback.
We also plan to organise a RIPE Atlas BoF session - stay tuned. In the meantime, find out more about RIPE 66 .
Feedback
We look forward to hearing from you!
If you would like to give us your input or ask questions:
Ask questions about RIPE Atlas using the RIPE NCC's Live Chat service
Reach us on our dedicated RIPE Atlas Twitter account @RIPE_Atlas!
Please subscribe to the RIPE Atlas mailing list for active users, which is also followed and answered by developers: ripe-atlas [at] ripe [dot] net
If you want to report a bug or problem: atlas [at] ripe [dot] net
For direct feedback: Contact Vesna

Manojlovic, Senior Community Builder, at

becha [at] ripe [dot] net or @Ms_Measurements (#RIPEAtlas)