We flipped the RIPE NCC Annual Report on its head this year.
---
Did you know that in 2017, 87% of the IPv4 /22s allocated by the RIPE NCC went to new LIRs? Or that the vast majority of IPv4 transfers flow within a country, rather than from country-to-country? And how about this: within the RIPE NCC, our staff is comprised of 38 nationalities that speak more than 30 languages!
This year, we took our annual report in a new direction. We know that annual reports aren't typically the most exciting reading material in the world. Summarising all that we achieved in one document in an engaging way is a challenge - especially for a 25-year-old Regional Internet Registry with a wide-range of activities and diverse stakeholders from around the world.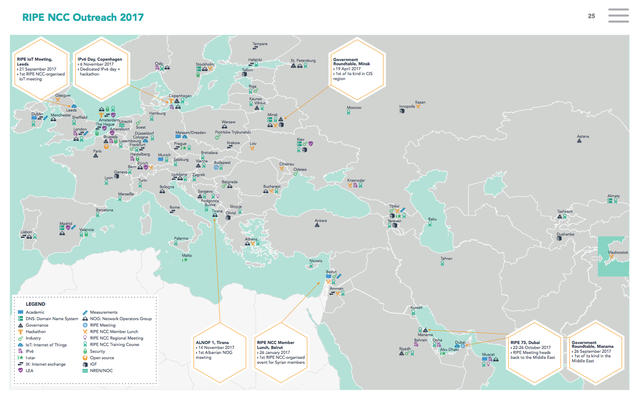 We thought about a lot of the feedback we receive from our community. We looked at our own staff. What kind of organisation are we? How can we better explain what we did in the past year for non-English natives? For non-techies? For newcomers into the RIPE community? 
In this year's annual report, you'll notice: 
More visual storytelling
More interactivity (links on almost every page) 
More people 
More fun (we have a Nyan Cat!)
A more collaborative, inclusive process
We spoke with each department and explained that we were going with a drastically different concept this year. We wanted everyone to feel involved. An annual report is an opportunity to share what we achieved over the year. What are we most proud of? Who are the people behind-the-scenes that helped us reach our goals?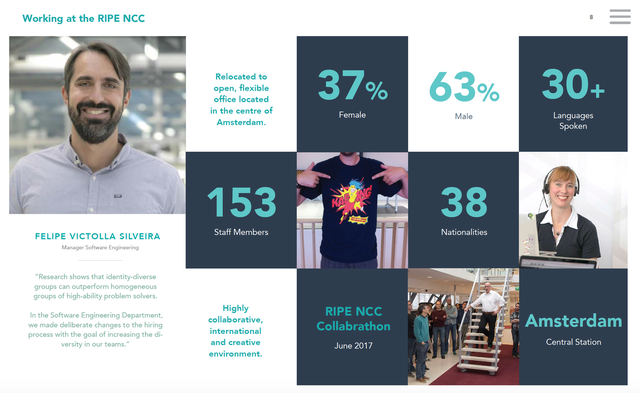 Changing the concept so drastically meant we needed to pull a lot more resources into the process. We leveraged our own internal talent. One of our Internet Resource Analysts, Kjell Leknes, is a very talented photographer. We had many requests for him and he was always happy to help us in our mission to make the annual report more visually appealing. 
Our graphic designer, Miguel Bastos, worked tirelessly to evolve a concept into a finished product. He provided not only his talented design skills, but also the strategy behind how the content was structured. When you have a roomful of non-designers pitching design ideas, it's handy to have someone like Miguel bringing logic to the chaos. Shameless plug alert! --> Miguel received his masters from the Parsons School of Design last year - a massive achievement!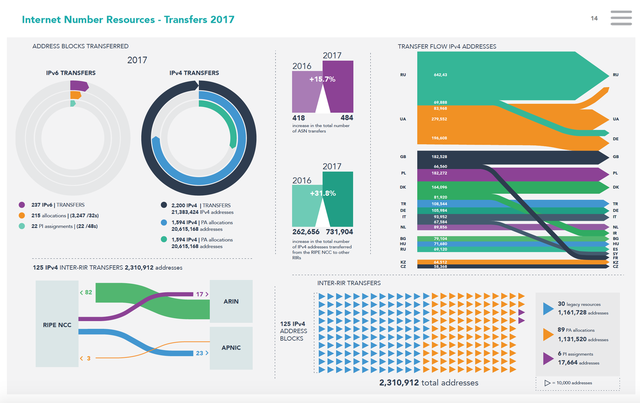 The annual report passed through a lot of hands during the content creation and review process. Many, many people (from Comms to Legal to Finance to External Relations to Software Engineering and Registration Services, to name a few) provided valuable input into the final product. 
An annual report to be proud of
Rethinking the annual report and what we wanted it to say about us was a hugely rewarding experience. We wanted to tell you more about the incredible staff that we have at the RIPE NCC who all work hard to deliver services, software, knowledge, guidance and engagement with you. Their creativity, tenacity and collaborative spirit is something we're proud to share with you. We wanted to find a more engaging way to explain what we do visually, being an English native shouldn't be a barrier to understanding the annual report. Finally - we wanted to share with you some of the ways that we're working to make the RIPE community more inclusive and diverse. This is the first time we've had community members featured - our RIPE Fellows at RIPE 75: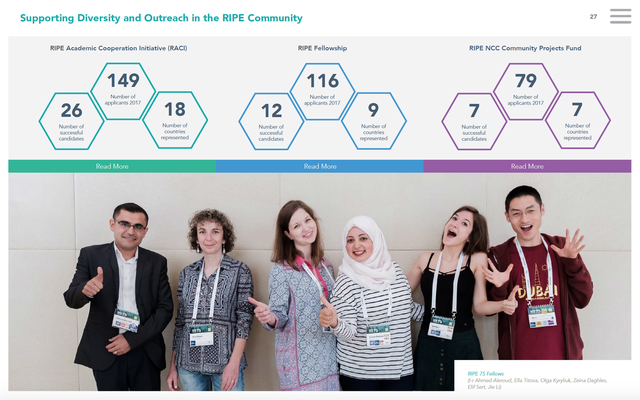 The RIPE NCC Annual Report 2017 and RIPE NCC Financial Report 2017 went online yesterday. Happy reading!