8 March is International Women's Day - an annual milestone celebrated for more than 100 years to raise awareness on women's rights. This year, the theme is "Balance for Better" - a call-to-action to drive gender balance across all areas of life.
---
Every day this week, the RIPE NCC has been putting the spotlight on a few of the many women that make the organisation a great place to work, by sharing profiles on our Facebook, LinkedIn and Twitter feeds. Our strength is our staff and there is no shortage of talented, creative, innovative and influential women who not only contribute to the RIPE NCC but also have had a big impact in the wider Internet community. 
A big part of my role in the organisation is engaging with staff to understand how different teams work so that we can better communicate and collaborate. For nine years, I have had the privilege of working with phenomenal women who are a constant source of inspiration for me and others.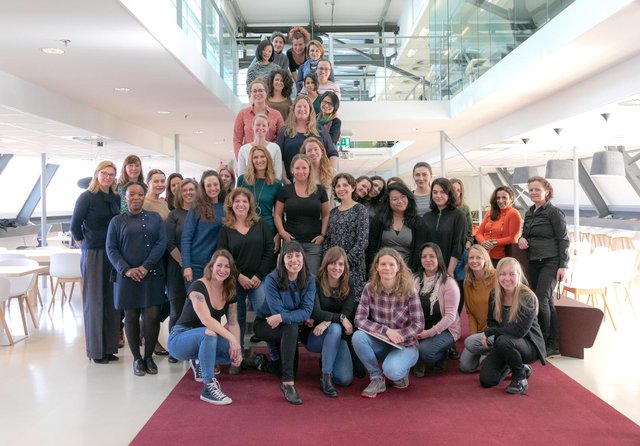 Not all, but most, of the RIPE NCC's incredible female staff members. Photo by Kjell Leknes. 
Some of these women you probably recognise from a RIPE Meeting or other tech conferences. Our Community Builders, Mirjam Kühne (of RIPE Labs fame) and Vesna Manojlovic (or Hackathon organiser extraordinaire) have spent a large part of their career engaging with different parts of the community to ensure that we have balanced and inclusive participation and representation. Our Training Services Manager, Rumy Kanis-Spratley, has led a fierce and well-travelled team of training experts for the past 18 years. Her tenure in the TS team is surpassed by our Training Coordinator though, Olivia Mijnals-Ruimwijk, who has been coordinating our team of trainers around  the RIPE NCC service region for the past 20 (!) years. Our Facilities, Administration and Reception Manager, Saskia van Gorp did what seemed like the impossible when she successfully managed our relocation two years ago. Oh, and have you seen our whip-smart team of the almost-all female legal team in action? They are seriously impressive. These are just a few examples of the many fantastic women that work to make the RIPE NCC what it is. (There are too many for just one article.)
We've made progress in our leadership composition too: the RIPE NCC Executive Board has seats filled by two women (Salam Yamout and Maria Häll). We also have two women on our senior management team (our Human Resources Director Ingrid Veling and Chief Financial Officer Gwen van Berne).
And our tech women! 
35% of our software engineer team are women - that's 21% above the EU average for female representation in the tech sector. Our (then) Software Engineering manager (and now Chief Operations Officer) Felipe Victolla Silveira made a concerted effort to make our hiring practice for tech roles more inclusive and attractive for female candidates. Our Global Information Infrastructure team, responsible for core Internet infrastructure like K-root, DNS, rDNS has 40% women. Many of you know Nathalie Trenaman, an inspiring leader not only at the RIPE NCC but also the RIPE community and an expert on everything from IPv6 to RPKI.
From Customer Services to Registration Services to our Management Assistants to Finance and HR and our Communications and External Relations teams - we have incredible women across the organisation who are passionate about their work and contribute to the RIPE NCC's mission: "Together, let's shape the future of the Internet."
We know that we still have work to do - the job is not done. But in this insane job market, where the demand far exceeds the supply (especially in tech), we want to raise awareness about the work that we do to make the RIPE NCC a great place to work as a woman in tech, including:
A generous training and development budget
26-weeks of paid parental leave (in addition to the statutory leave of 12 weeks)
Top-tier health insurance for the entire family
30 days of vacation leave
A flexible work environment 
We think it's important for women to share their experiences, especially women further in their career, to foster a work environment where all women feel empowered to flex their technical prowess. We aim to continue to attract talented, ambitious and kick-ass women to the RIPE NCC and also to the RIPE community. We work with the RIPE Diversity Task Force to support initiatives aimed at increasing diversity and inclusion at RIPE Meetings (like on-site childcare). We want more diversity not only in seats but also on the stage presenting, leading RIPE Working Groups and holding seats on the RIPE Programme Committee. Diversity benefits not just those from underrepresented groups but the entire community as a whole. 
Over the course of the past week, we featured just a few of the amazing women in our organisation and will continue to work to ensure that women across our organisation are recognised for their work, regardless of what day of the year it is.