The RIPE Diversity Task Force has been working to make RIPE Meetings more inclusive and diverse. Part of our efforts here involves figuring out how we can make the interactivity in sessions more inclusive for our neurodiverse attendees.
---
At RIPE 78, we piloted the use of Slido during one of the plenary sessions instead of the usual queuing up to the microphone to relay questions to presenters.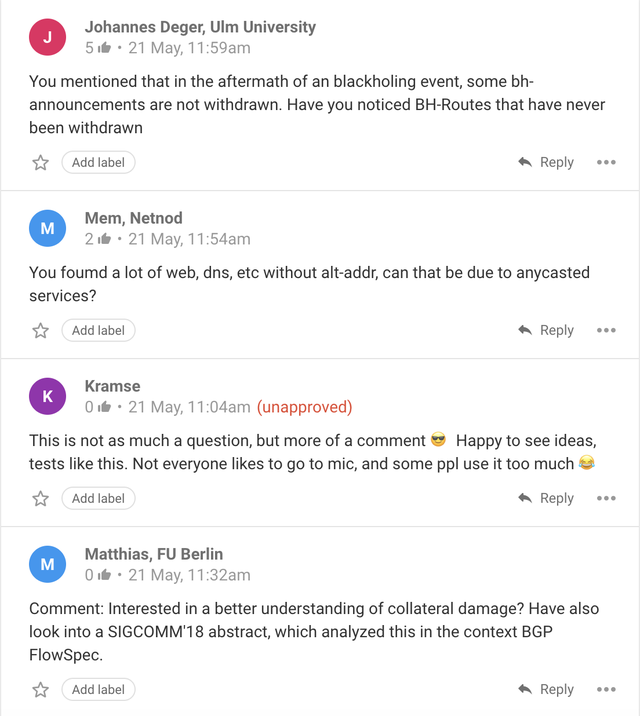 Slido is a third-party online platform (supported on IPv6) that facilitates live interaction for events (polls, Q&As, etc). We've used this internally in the RIPE NCC during our staff town halls and have had success with it. 
The suggestion was brought to the RIPE Diversity Task Force to trial the use of such a tool to provide another way for meeting attendees to engage with the presenter. Recognising that people in the RIPE community have different ways of thinking and engaging is an important factor in creating a meeting space where all feel welcome to contribute.  
What is Neurodiversity?
Neurodiversity is the concept that humans don't come in a one-size-fits-all neurologically "normal" package. Instead, this it recognizes that all variations of human neurological function need to be respected as just another way of being, and that neurological differences like autism and ADHD are the result of normal / natural variations in the human genome. 
At SHA2017, there was a fantastic presentation called Nerd Wrangling 101 - if you want to learn more about the vast spectrum of cognitive expression, I highly recommend you watch it when you've got some spare time:
Accepting that people think differently and embracing all ways of thought is an important part of the task force's goal. In logistical terms, this means providing support and facilitating ways for neurodiverse attendees to participate in discussions.  
We now have nearly 800 people attending RIPE Meetings, and yet we tend to see the same familiar faces bounding to the mics as soon as the presenter calls for questions. As these tend to be well-known community members, it is natural that they feel confident and comfortable voicing their opinions in front of so many people. However, we cannot assume the same is to be said for all attendees. For many, public speaking is uncomfortable. For some, it can be downright terrifying and cause severe anxiety. Does this mean the community won't benefit from their perspective? No! 
I am not suggesting that we replace the "old" way of mic queuing but that we recognise that with 800 people at a meeting, we need to make space for all voices to be heard and accepting that others may not think the same as we do.
Using a tool like Slido can: 
Give priority to the questions the majority want to hear answered (via upvoting) rather than whoever is quickest to get to the mic 
Allow presenters to poll the audience instantly 
Enable better time-keeping and allow for more questions (there is something to be said for more concise questions in written form over verbal) 
So - why not just use the chat facility? Well...a remote participant also has to rely on the chat monitor to glean their question from the room banter, confirm name/affiliation and then line up at the mic too. With the time delay over the webstream, there's a risk that the queue is cut off. With Slido, a remote participant's question is given just as much clout as anyone else physically in the room. If it's a good question, it will be upvoted and bumped to the top of the queue. 
Presenters can also use Slido to quickly gain input from the audience using polls, like Jessi Sowell and Bijal Sanghani did during their IXPDB presentation in the Connect WG: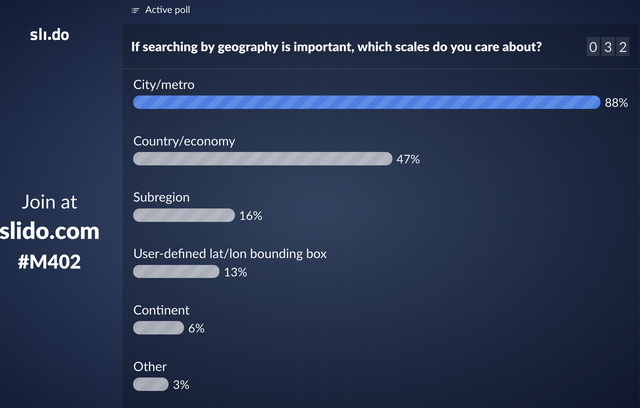 We also used Slido at the end of the Newcomers' Introduction session to reinforce knowledge about the RIPE Meeting, the RIPE community and the RIPE NCC: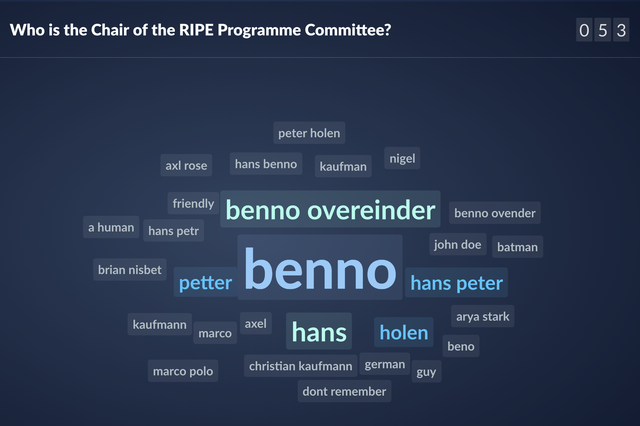 And for our attendees not confident speaking in English in front of a big crowd, they can simply translate their question before posting it to Slido. 
As meeting attendance continues to grow, it becomes even more important to recognise those different from us and accept (and celebrate) that their needs may be different than our own. Our community is 30 years old and one of its strengths is that we have many passionate community members who are keen to engage in what can sometimes be heated dialogue on the mics. But as the meetings grow, we have to make space for new voices too. Diverse communities are stronger than homogenous ones, and I hope that the RIPE Meetings can continue to be 'best in the industry' by supporting diversity and inclusion in all forms.
In the end, how our attendees engage with speakers is down to the RIPE Programme Committee and WG Chair Collective. I hope that this pilot is a launching point for taking into consideration the growth and evolution of the community. I also hope that if you are a long-standing RIPE Meeting attendee and a frequent commenter at the mics, you take some time to better understand our neurodiverse attendees and be empathetic to their needs.
I believe that there is a happy medium in maintaining the spirit of open dialogue while recognising that the community is evolving and that we need to adapt accordingly. 
And if you are a presenter and you would like to add some interaction to your presentation with Slido, we would love to help you with that.