The RIPE Meeting Mentor programme makes it easy for seasoned community members to share their knowledge and expertise with the next generation of the RIPE community.
---
We are proud to announce a new mentoring programme that pairs seasoned RIPE community members with newcomers at RIPE Meetings. 
This initiative is part of a wider effort to create a more inclusive RIPE Meeting experience. Our last meeting, RIPE 76, was the largest yet with just over 700 attendees. The community is continuing to grow and we see more and more new faces each year. It's important that these newcomers feel welcome and encouraged to participate, regardless of technical expertise. 
We've already had a small mentoring initiative for our RIPE Fellows. After doing this a few times and hearing positive feedback, we figured it was time to roll this out for the rest of the community to take part in.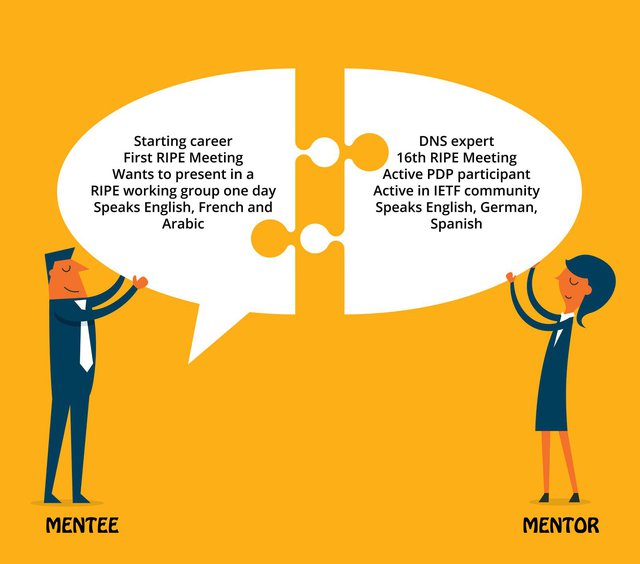 Signing Up is Simple
Getting involved is easy. All you need to do is fill out a form with some basic contact details, the languages you speak, and your areas of expertise. If we find someone who is looking for a mentor that matches your interests, we'll get in touch to see if you are interested. 
If we get enough mentors/mentees, we hope to roll this out at RIPE 77 in Amsterdam (15-19 October 2018).
Just a Few Hours of Time
The time needed for mentoring is minimal. A mentor will establish contact with their mentee by email two-to-three weeks before the meeting. They'll ask what they want to get out of the meeting and how the mentor can help. Early in the week, the mentor and mentee will catch up for a coffee or at lunch to go over the meeting agenda. And then maybe they'll touch base a couple of times throughout the week - depending on what they decide on together. 
Pay it Forward
The RIPE Meeting Mentoring programme is a great way for experienced RIPE Meeting attendees to pay it forward and contribute to the next generation of RIPE community members. We know that a RIPE Meeting can be intimidating for newcomers sometimes and we want to make it as easy as possible for them to feel comfortable. 
On the flip side, mentors benefit from some fresh perspective in their areas of interest and get the satisfaction of helping someone early in their career.
It's important to note that matching is done on a best-effort basis. We can't guarantee a mentor for every mentee, it depends on how many mentors we get and what their areas of expertise are. We hope that over time we can build up a pool of available mentors to match from.