It's been a couple of weeks since we walked away from RIPE 77; another record breaking RIPE Meeting that welcomed 800 attendees from 64 countries at the Hotel Okura in Amsterdam. This was the third meeting at which we organised a Women in Tech Lunch, the second meeting we offered on-site childcare, the first meeting we had a mentoring programme and the first meeting where a presentation about RIPE Meeting diversity made it into the plenary programme.
---
Women in Tech Lunch
The WiT Lunch is an open event that's open for anyone to participate. The aim is to recognise the work women are doing in the community, discuss best practices and share experiences.
The agenda for the third edition of the WiT Lunch was a departure from previous meetings because we had a panel of diversity experts instead of a series of short presentations. We wanted to facilitate more discussion with the audience and we certainly achieved that with two topics that sparked engagement: "Gender Quotas: Helpful or Harmful?" and "Male Allies: Why We Need Them, How to Find Them". Each table had some talking points for each topic, which kicked off a 15-minute table discussion, followed by a 15-minute Q&A session with the expert panel. With just one mic to go around the room, I certainly burned some calories running around with all the questions! It was a rewarding, enlightening discussion and it was clear that the discussions we were having need to expand to a bigger space for RIPE 78.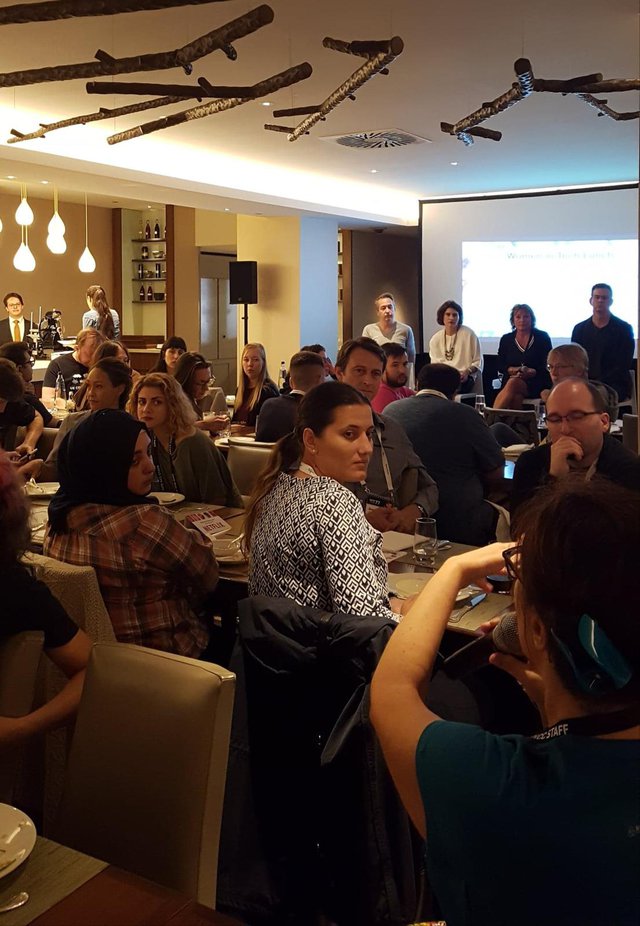 A group discussion with a panel of diversity experts at the Women in Tech Lunch at RIPE 77
Special thanks to Netflix – a major diversity sponsor for RIPE 77 (and the sponsor of the WiT Lunch). What's next? Figuring out the best way to make the WiT session a more prominent part of the RIPE Meeting agenda.
On-Site Childcare
This was the second time we offered on-site childcare for RIPE Meeting attendees to make it easier for community members with children to participate fully in the meeting week. We worked with a local childcare provider, Holiday Sitters, to transform a room in the Okura into a fun, playful daycare. Their babysitters spoke a total of 5+ languages and we heard nothing but glowing feedback from parents! We had four children in total registered, a modest number but one we expect will grow going forward. And other communities are taking note: our childcare was mentioned during the Public Forum at ICANN 63 last week  (around 1.19 mark on the video) and we just got word that AFRINIC will offer childcare at their upcoming meeting!
Arts and crafts with a wee RIPE Meeting attendee and Holiday Sitters!
On-site childcare is an easy way to make meetings more inclusive. It may not have a massive uptake the first, second or third time you offer it. But it sends a strong signal to the community and future community members that you think and care about removing barriers that may prevent some people from participating.
On-site childcare is an action from the RIPE Diversity Task Force. You can join the discussion at diversity@ripe.net.
RIPE Meeting Mentoring
We launched the mentoring programme a couple months before RIPE 77. The concept is simple: we ask experienced RIPE Meeting attendees to volunteer to make themselves available for a new(er) attendee to learn from during the meeting week. We match mentors and mentees based on similar interests and, if applicable, language spoken. For RIPE 78,  mentors and mentees can sign-up as part of the normal registration process for the meeting.

Mentoring is a resource-light way to make RIPE Meetings more inclusive: the time needed for a successful mentorship is sending an email prior to the meeting, having a coffee together early in the meeting week and meeting up as agreed throughout the week. 
The Most Relevant, Least Technical RIPE Meeting Presentation Ever?
After the discussions at the Women in Tech Lunch, there were several comments that what we were talking about needed to be brought to the main plenary room. A few people pushed me to do a lightning talk for the closing plenary. I was, frankly, slightly intimidated to do this. Not because I'm uncomfortable speaking in front of crowds, but because I have received some criticism and push back about our diversity efforts over the past couple of years and was worried about being lambasted at the mic. What pushed me to do it was a comment from a long-time RIPE Meeting attendee (and a woman) that I was "brave" to be talking about this on the main stage. I have helped organise 17 RIPE Meetings since I joined the RIPE NCC in 2010, and I've heard so many stories from female attendees over the years about why they either don't present, don't go to socials or curb their behaviour or appearance to avoid unwanted attention. It became clear to me that unless we start talking about these issues in front of the critical mass of attendees, awareness will remain low and solutions only discussed in a small circle of people who already understand it's an issue.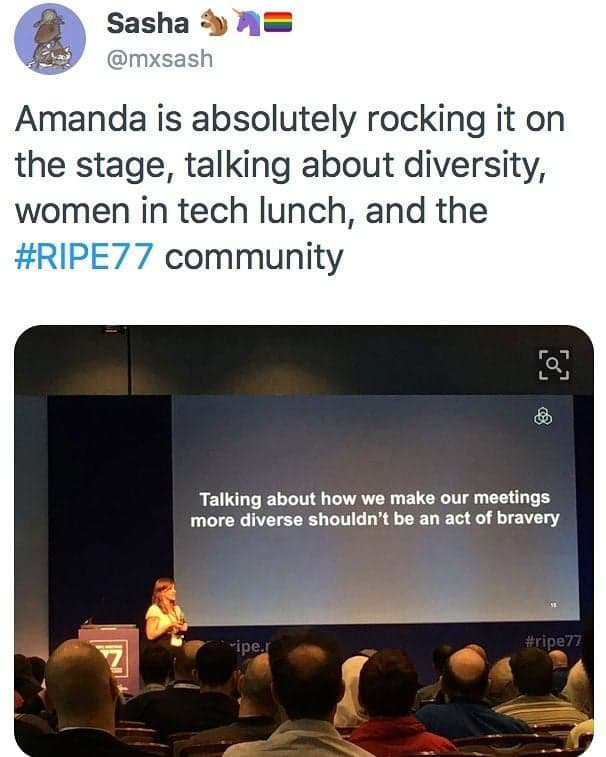 Talking about diversity at RIPE 77 - a first for a plenary presentation (and a first for me after helping organise 17 RIPE Meetings) 
In the end, the vast majority of comments and questions at the mic were positive and supportive. Having a presentation like this archived is an important step forward for making our meetings more inclusive and I hope we see more like it in the future. It's also worth noting that two of the three of the most downloaded presentations were from women: number one was Sara Dickinson's "It's DNS Jim, But Not As We Know It" and number three was mine, "The Most Relevant, Least Technical RIPE Meeting Presentation Ever" (number two was the General Meeting: beat me by four downloads!).
What We'll Change for RIPE 78 After Attendee Feedback
After every RIPE Meeting, the organisation team gets together to talk about the feedback we heard over the course of the week and how we'll make the next meeting even better than the one before. Here are some diversity-related changes for RIPE 78:
More prominence for the Women in Tech Lunch (and reminder - it's open for anyone to attend!)
Attendees can sign-up to be a mentor/mentee during the RIPE 78 registration process
Badge stickers for RIPE Meeting Mentors
Special lanyards for attendees that don't want to be photographed
Inclusive labelling for meeting t-shirts: fitted/loose instead of male/female
More attention to establishing dietary requirements for those attending the RIPE Dinner