We share some first-hand experiences from our RIPE Fellows at RIPE 76 in Marseille
---
We welcomed our third batch of RIPE Fellows to RIPE 76 in Marseille and they did not disappoint! We selected eight Fellows from over 80 applications. The RIPE Fellowship Selection Committee aims to have a broad representation of selected applicants from across the RIPE NCC service region. We welcomed the following awesome new(ish) RIPE community members to the meeting: Elif Sert (returning fellow), Austin Ruckstuhl, Cristian Sirbu, Maximilian Wilhelm, Fotjon Kosta, Ayden Federline, Alex Banusheva and Maxime Mouchet.
The RIPE Fellowship is yet another way that the RIPE NCC is supporting diversity and inclusion efforts in the RIPE community. We know that coming to a RIPE Meeting isn't cheap, especially for those who are self-employed, starting their career or those coming from less affluent parts of our region. The fellowship aims to remove that financial barrier.
Bringing new voices into the RIPE community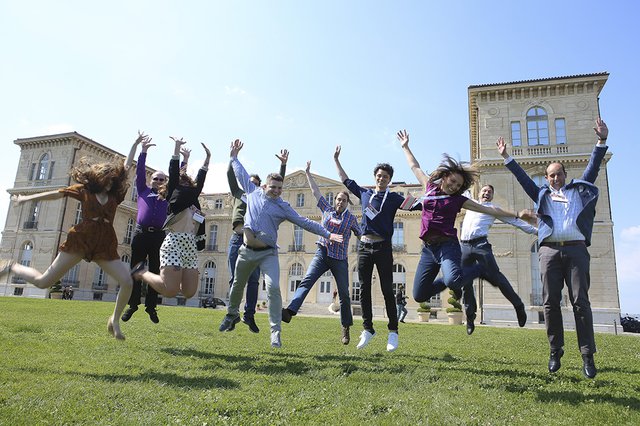 In exchange for funding, we expect fellows to make the most out of their meeting by being fully engaged. This means doing a bit of research before the meeting to figure out which parts of the agenda are the most appealing, and ideally taking part in our "RIPE Meeting Intro" webinar before the meeting. Fellows also have the opportunity to be paired with an experienced RIPE community member. At the end of the week, we ask the Fellows to write a brief report about their experience – including how they plan to take the experience and share it with their local community and how we can improve the fellowship programme. Fellows also need to submit their report in order to be considered as a repeat fellow for a future meeting. 
First-hand experiences from RIPE 76 Fellows 
"I think the programme is special in that it is so multidisciplinary. Some participants are technologists with backgrounds in computer science or security; some are lawyers or in public affairs or communications, others still come from law enforcement. Being surrounded by people who are the top experts in their field and seeing how they are effective in making a change, has inspired me to set my own goals, to realise my own vision for change, and to plan how I can have a meaningful impact." – Ayden Federline
"I was expecting a very formal and very dry technical conference, but to my surprise people were so motivating and passionate about their topics that it was very easy to become contagious. There were so many knowledgeable experts on the topics concerned (some of whom have been in the field for decades) who were very open for discussions or debates, as I noticed from some of the comments and questions after the sessions. It was also a very nice surprise to see that most of the people knew each other, which created a very nice community environment, at which I could see that everybody was feeling quite at ease." – Alex Banusheva
"The Address Policy Working Group was challenging as known from the last two years pushing 2016-04 through the PDP. I guess there are discussions to come which might affect the future of the IPv6 policy and maybe more, depending on which turn the discussion about PI/PA is going to take. Another highly interesting event was the IPv6 WG with the ITU addressing plan debacle. While reading up about it and discussing the issue in Marseille as well as following the discussion online, I learned some more context of all these fine Internet organisations (RIRs, IETF, IAB, ITU, ISOC, et all)." – Maximilian Wilhelm
"As an early stage PhD student researching Internet Governance, I really enjoyed being a RIPE  Fellow at RIPE 76. I repeatedly came across RIPE in my research and began to understand that it is a key player in Internet Governance. When I learned about the fellowship program, I was excited to experience firsthand how the community discussed policies, shared knowledge and strengthened social networks. I also wanted to get a deeper understanding into how the Internet technical community works and who the key players are. Fortunately, the RIPE Fellowship programme not only provided ample opportunity for me to discover the answers to my questions, but also matched me with an incredibly knowledgeable mentor (Nurani Nimpuno). She took the time to answer every question I had and pointed me in the direction of other interesting topics. Moreover, my mentor frequently introduced me to others who would be valuable for my research. Her guidance was an immensely valuable aspect that helped me leverage the fellowship opportunity." – Austin Ruckstuhl
"I came to the RIPE Meeting expecting to spend some time with friends from all over Europe which I don't see that often, to finally meet in person some of the NCC staff which I'd been only talking via email for a long time now, to spread the word about iNOG and learn more about what others do in their own countries, to get a healthy dose of tech talks and try to make some new acquaintances...I'd say the week delivered on all counts!" – Cristian Sirbu
"This RIPE Meeting was a valuable experience... after the meeting I am very much motivated to get engage and contribute to RIPE and my very first steps are: I have subscribed to the working groups on:  Routing, Anti-Abuse, MAT, IPv6, Address Policy and I started to promote the RIPE NCC online training courses to the Albanian Government and Albania IGF community." – Fotjon Kosta
Applications for the RIPE Fellowship for RIPE 77 (15-19 October in Amsterdam) will be accepted from 18 July until 29 August.