A review of on-site childcare at RIPE 76, an initiative of the RIPE Diversity Task Force.
---
We just wrapped up the biggest ever RIPE Meeting at RIPE 76 in Marseille. Besides the massive turnout (737 attendees), one notable addition to the meeting was an on-site childcare service, generously sponsored by the Internet Society.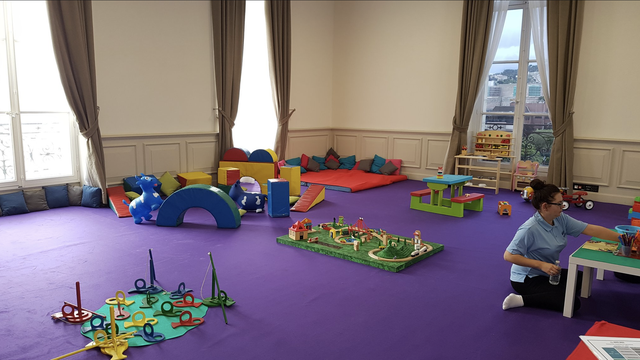 Our on-site childcare ready and waiting for little RIPE Meeting attendees
The on-site childcare was an initiative of the RIPE Diversity Task Force. In efforts to widen inclusion and increase diversity of RIPE Meeting attendees, we wanted to make it easier for people with children to fully participate. Personally speaking, I remember when I was a new mother and working long hours at a RIPE Meeting, balancing taking care of an infant and staying focused on work was extremely challenging (and exhausting). 
At RIPE 75, we shared our intention for the pilot during the closing plenary and included a question on the feedback survey to get an idea of how attendees felt about this. In general, we received a lot of support from survey participants and many offered to provide specific input if needed.
We partnered and worked with WorldWide Kids UK, an organisation that provides on-site childcare for various resorts and events globally. The room they set up was impressive: clean, with lots of activities for different age groups and even a daily activity programme.
Nothing but positive feedback from participants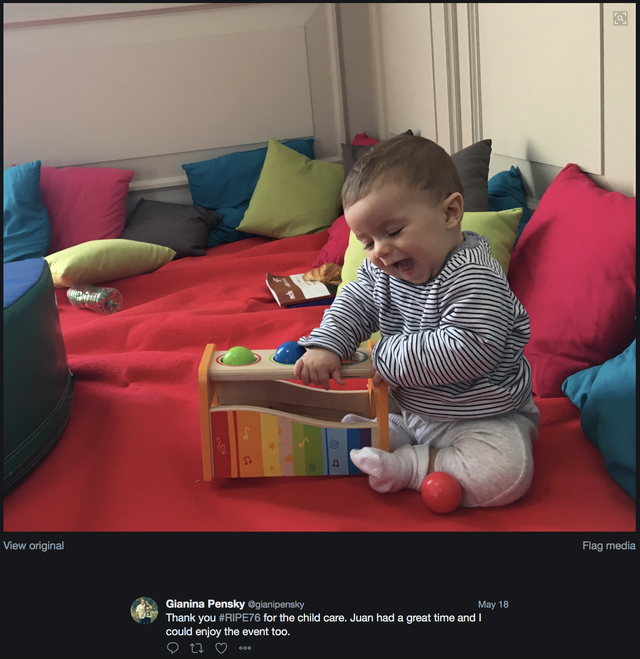 We asked parents who used the service to give us some feedback. Here are a couple of excerpts:
"It was really useful for me to know that Juan was having a nice time and I could enjoy the event and to be able to travel with my son for work. Thank you RIPE for this great service!"
– Gianina, mother of Juan (8 months)
"George was very well looked after and immediately seemed relaxed with the ladies in the room. All very nice and seemed totally comfortable with the surroundings."
– James, father of George (20 months)
Points of improvement for the next time will be to include an option to register for childcare on the RIPE Meeting registration form and also to promote the service well in advance of the meeting. We also heard that some people thought that it would be RIPE NCC staff providing the service... Rest assured, we are only using certified childcare providers (we're generally pretty busy running the meetings ;-). We greatly appreciate all of the RIPE community members who gave us feedback before, during and after the meeting! 
Help Us Bring On-Site Childcare to RIPE 77
We had five families make use of the on-site childcare and we expect this to double for RIPE 77 in Amsterdam (15-19 October 2018). We are actively seeking sponsors for this initiative. If your organisation is interested in making RIPE Meetings more inclusive, please get in touch with us!