After 11 years of keeping the community up to date on all things RIPE, RIPE Labs is about to go through some big changes!
---
The RIPE Labs concept was first presented to the community over a broken laptop in Moscow in 2009.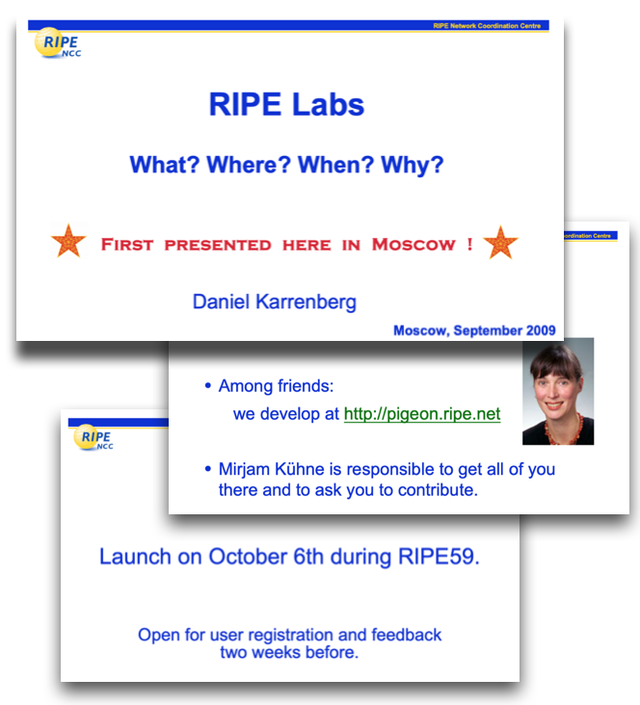 The idea, first outlined by Robert Kisteleki, was to have a place where anyone in the community, the RIPE NCC included, could share prototypes or ideas they were looking to try out, and the rest of the community would be able to say what they thought of them in a relatively informal way. This would help build a more active community and a more dynamic back and forth between RIPE and the RIPE NCC.
People liked the idea, the team set to work on choosing a platform, and RIPE Labs launched on schedule in time for RIPE 59. Mirjam Kühne took the helm in the new role of Community Builder, tasked with making RIPE Labs a success.
Eleven Years On
Eleven years and 1,200+ articles later, RIPE Labs has grown into a trusted source of information that helps people from all across the community keep informed on all things RIPE. Under Mirjam's guiding hand, the platform has attracted a substantial readership with an active interest in the state of the Internet.

Now, with Mirjam having taken on her new role as RIPE Chair, and a project to redesign RIPE Labs in the works, the end of 2020 has some big changes in store for RIPE Labs.
RIPE Labs Redesign
Over the past year, we've been working with MangoLab to come up with a whole new look for RIPE Labs.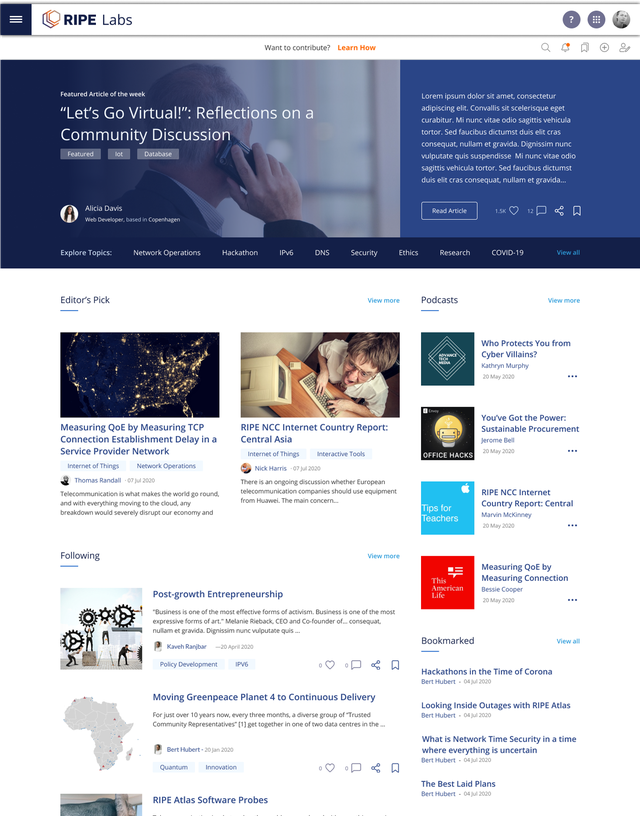 As you can see from the sneak preview here, the redesigned RIPE Labs will have an updated, modern look. Stylistically, the idea is to make the platform more recognisable and visually appealing, while the cleaner layout will make content easier to navigate and absorb.
As much as possible, we've made sure things are presented in a clear and logical way, with views split up into handy sections, articles sorted into relevant categories you can browse by, and search functionality improved to help readers find the articles, authors and topics they're interested in without fuss.
We're also working to recapture part of the original vision behind RIPE Labs. While Labs has become a useful source of information to many, it hasn't always worked so well as a feedback mechanism. The redesign will help remedy this, partly by drawing readers to those elements of the platform that invite engagement - e.g. comments fields, like/share buttons, discussion groups, contact sharing. And authors will also have much greater visibility on the updated site. This means that people who contribute their knowledge and expertise will get recognised while readers will be able to engage directly with the authors they're reading. In this way, we hope to make RIPE Labs feel like a real-life hub of activity where members of the community can engage with each other directly. 
What else? Podcasts, videos, a prominent tools section where you can interact with the latest tools and prototypes from the RIPE NCC... Rather than me going on, you can see the rest for yourself soon, as we hope to have the new RIPE Labs launched in the coming months. (Note that all existing content on RIPE Labs will be available on the updated site once the changes kick in!)
New RIPE Labs Editor
As RIPE Labs has grown, so has the work being done toward community building at the RIPE NCC. This includes RIPE Meetings, regional meetings, training courses, hackathons, initiatives like RACI and the RIPE NCC Community Projects Fund, support for NOGs, and plenty more. In the midst of all this, RIPE Labs has continued to play an important role in helping build an active and informed community. And while Mirjam has been involved in lots of the activities listed above, one of her main responsibilities has always been to make sure RIPE Labs keeps delivering the very best content.
Now, with Mirjam moving on to new challenges as the new RIPE Chair, it's time for someone else to take the lead on RIPE Labs.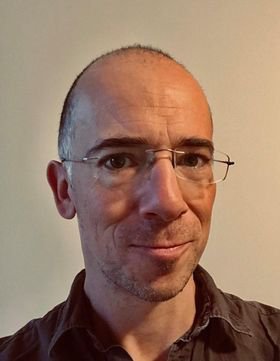 So, without further ado --- hello! My name's Alun, and I'll be taking on the role of RIPE Labs Editor full time from 1 November.
As I'm nowhere near as familiar a face to the community as Mirjam is (as if anyone could be!), a short introduction is probably in order. In a nutshell, I come from an academic background that took me from an undergraduate degree in philosophy, to postgrad work in logic and linguistics, then on to computer science where I got interested in machine learning and data science. After lecturing in the UK for a number of years, I made the move over to the Netherlands with my family, and started working at the RIPE NCC around four years ago.
Since then, after being involved in a good number of RIPE Meetings and other extremely cool events, I've come to really value and enjoy the work I get to do with this community. That said, as I start my new job, I look forward to getting to know you all better and helping many of you get involved with RIPE Labs.
Contribute to RIPE Labs 
Now is a very good time to start thinking about how you want to contribute to RIPE Labs. Whether you've been part of the community right from the start, or you're just getting involved right now, we want to hear from you.
Indeed, as the RIPE community continues to grow, with more and more people from all kinds of different backgrounds getting involved, one thing I very much want RIPE Labs to do is help make sure those of you out there who are new to all this, but have something important to say about the Internet, can do so. In this way, we can all get on with discussing the ideas that are going to shape the future of the Internet together!
So, if you're reading this and you think you have something you want to share with the community, don't hesitate to reach out to us at labs@ripe.net. My colleagues and I are here to help you get your perspective across. In the mean time, if you have any other thoughts about this article, please leave a comment below.