In August 2017, just short of seven years after RIPE Atlas was launched, the number of connected RIPE Atlas probes hit 10,000. That's a lot of probes and it marks a big moment for the RIPE Atlas project.
---

Back in November 2010, at RIPE 61 in Rome, Daniel Karrenberg and Robert Kisteleki gave talks introducing a new massive active measurement platform from the RIPE NCC. That meeting marked the official launch of the RIPE Atlas project, and in those very talks, the goal was set to connect 10,000 RIPE Atlas probes.  
The RIPE NCC is very happy to announce we hit that goal this August, and whilst the actual number of connected probes continues to fluctuate, it's been sitting more or less consistently above the 10K mark for around a month now. Getting there has taken a whole lot of work of the whole RIPE Atlas community: not only the RIPE Atlas team here at the RIPE NCC, but also ambassadors, probe hosts and sponsors. Thank you all for your effort!
So here's where we're at: 10,000 RIPE Atlas probes distributed all across the world, performing thousands of measurements every day and providing an unprecedented understanding of the state of the Internet in real time.
Growth
The number of probes connected to the RIPE Atlas network has seen tremendous growth since the project's inception:
Whilst there have been dips in the network's growth - most notably during 2016 and early 2017 (more on this below) - the network has returned to its more typical pattern of steady growth for several months now. A little over 10,100 probes and 283 anchors are connected to the RIPE Atlas network at the time of writing.
We've also seen a continual rise in the number of users logging in to RIPE Atlas: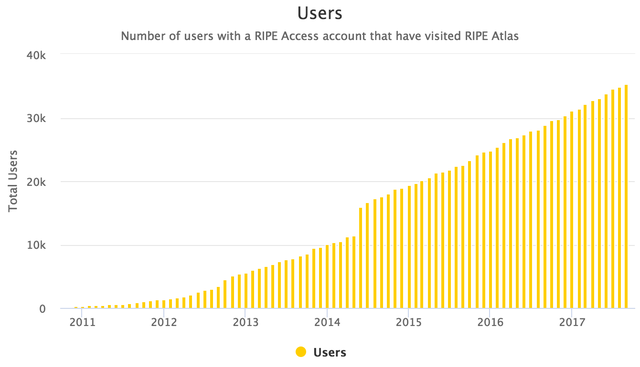 The number of measurements performed using RIPE Atlas has risen to well over 8 million, with around 2 million having been performed so far in 2017. Just over 90% of measurements scheduled via RIPE Atlas are one-off (as opposed to regular) measurements. As this is being written, over 17,000 user-defined measurements are running on RIPE Atlas: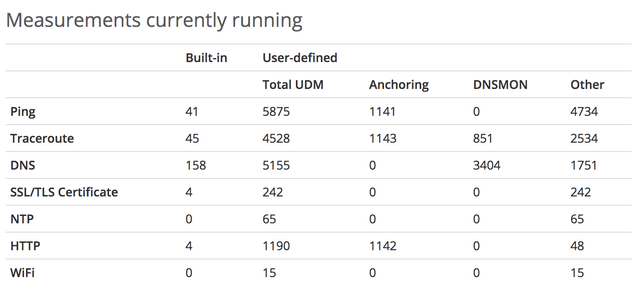 Recent Developments
The past year or so has brought with it a whole host of developments in RIPE Atlas, not only in terms of new tools and opportunities, but also in terms of new challenges. Since much of this has been covered in recent RIPE Labs articles, here are some highlights.
Tools and features
TraceMON: In April 2017, the RIPE NCC officially introduced TraceMON, a client-side tool that uses traceroutes obtained via RIPE Atlas and other sources to generate visualisations of network topology. The tool allows RIPE Atlas users to get a clear overview of reachability and performance on their networks, and is a perfect example of how data from RIPE Atlas can be utilised to help aid the everyday operations required for maintaining and monitoring networks.
WiFi measurements: The RIPE NCC announced plans to introduce WiFi measurements in RIPE Atlas way back in 2015. WiFi measurements are now available to a small number of RIPE Atlas users in our production environment as a Beta feature.
Daily RIPE Atlas data archives: As of June 2017, users trying to retrieve results from the RIPE Atlas measurements dataset no longer have to fetch those results individually. Instead, they can now get all the results for a specified day all at once.
Challenges
RIPE Atlas probe hardware issues: As noted above, 2016 saw a dip in the number of RIPE Atlas probes connected to the network. After careful investigation, it was determined that one of the factors behind this was a hardware issue involving the USB sticks used with the probes. In February 2017, we released a firmware update to counter this issue and the number of connected probes has been on the rise since.
Russian requests: Around mid-May 2017, there was a huge spike in the number of applications for RIPE Atlas probes coming from Russia. This was after misleading information about RIPE Atlas probe hardware had been posted on a certain website. As a result, we're taking extra precautions when evaluating applications from Russia, so as to verify that probes are being requested for the right reasons.
Anchors
RIPE Atlas v3 anchors: The next generation of RIPE Atlas anchors has arrived!
Sponsored RIPE Atlas anchors: To further expand the RIPE Atlas anchor network, the RIPE NCC continues its campaign to sponsor 15 RIPE Atlas anchors, having already selected ten candidate hosts. Applications for the remaining five anchors are still being accepted. Interested? Apply now! 
Ambassadors
RIPE Atlas ambassador status reports: As of July 2017, the RIPE NCC has increased its efforts to support RIPE Atlas ambassadors by sending them a monthly status report. The reports contain a variety of useful statistics, including information on probe connection rates and connection issues and a reminder of the amount of credits accumulated by the ambassador over the past few months.
And the rest...
As well as all listed here, with the ongoing aim of improving the overall usability and efficiency of RIPE Atlas, the RIPE Atlas team have been busy with a whole host of tasks: changing API Keys; enabling Root Zone DNS measurements; adding a variety of new measurement options; making various improvements to the website and user interface; balancing anchoring measurements; and much else.
Future Plans
Looking forward, there is still much we hope to achieve with RIPE Atlas. First, the RIPE NCC is working on a proposal for bringing VM to RIPE Atlas. We still receive questions about this from the community, and we are committed to presenting our plans for VM in 2017. Second, whilst we seem to have overcome issues with the RIPE Atlas v3 probe hardware, the problems we encountered over the past year have made it clear that we need a new hardware solution with better internal storage. Look out for more on this over the coming months.
And then, of course, there's the question of where we go now we've hit our initial goal, which brings us to the matter of...
Expansion
Looking at RIPE Atlas coverage in geographical terms, the RIPE Atlas network now spans 177 different countries. Given that a key goal behind the RIPE Atlas project has been to ensure that probes get distributed as widely as possible, it's encouraging to see that the network now spans just over 90% of all countries in the world: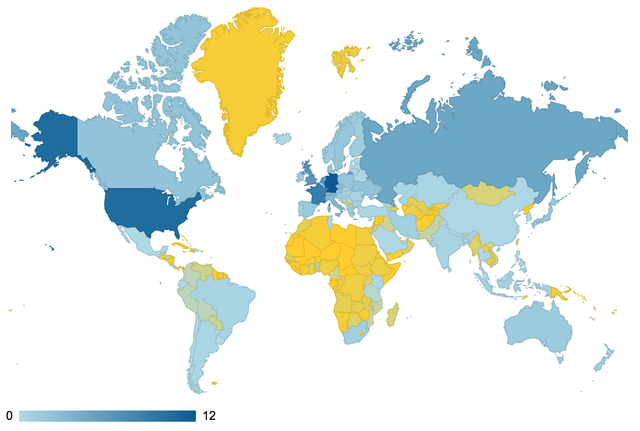 Percentage of currently connected RIPE Atlas probes per country
Turning to ASNs, RIPE Atlas currently covers 3,577 (6.1%) of IPv4 ASNs and 1,369 (9.8%) of IPv6 ASNs. That said, back at the start of 2016, RIPE Atlas covered 6.3% of IPv4 ASNs and 11.2% of IPv6 ASNs. What does this mean? Well, it means that the Internet is growing at a faster rate than the RIPE Atlas network - quite significantly so in the case of IPv6. This in turn means that, in order for RIPE Atlas to keep thriving, we can't stop at 10,000 probes.
In fact, in his recent technical update on RIPE Atlas, Kaveh Ranjbar (Chief Information Officer for the RIPE NCC) made it clear that the current goal for RIPE Atlas is as follows: RIPE Atlas needs to represent 10% of active ASes over the Internet.
Of course, attaining that target will take a lot of work and a whole lot more probes, but with ongoing improvements in the efficiency with which probes get distributed, as well as a growing understanding of where best to focus our efforts (e.g. see in particular our Eyeballs Network Coverage tool), there's every reason for optimism.
The RIPE Atlas community 
As we look ahead to new challenges, it's important that we extend a thank you to all those whose hard work has allowed us to get RIPE Atlas where it is today. As well as the support of the RIPE Atlas community, the project relies very much on the efforts of RIPE Atlas ambassadors, who play an essential role in making sure probes get distributed all over the globe, RIPE Atlas sponsors, who have provided much needed financial support over the years. And of course, thank you to each and every one of you out there who went to the effort to actually host a RIPE Atlas probe.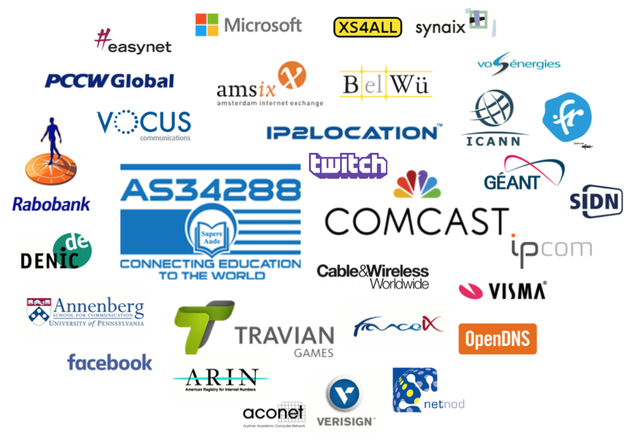 RIPE Atlas (and RIPE Atlas hackathon) sponsors past and present
As we push onwards with further expansion of the RIPE Atlas network, we'll be relying on further support. That said, if you think you'd be interested in hosting a RIPE Atlas probe, becoming a RIPE Atlas ambassador or perhaps even sponsoring RIPE Atlas, please follow the links and get involved. 
Use cases on RIPE Labs
RIPE Atlas lends itself to all kinds of practical applications with users continuing to send articles to RIPE Labs detailing how they used RIPE Atlas throughout the year. Other use cases come from analysts here at the RIPE NCC and researchers seeking to share their findings after using RIPE Atlas. Again, here are some of the highlights.
Research Articles
Using RIPE Atlas Measurements Results in Prometheus
Detecting Network Outages with RIPE Atlas
Using RIPE Atlas to Measure Latency to Reunion Island
RIPE Atlas Users
Processing RIPE Atlas Results with jq
RIPE NCC Analyses
RIPE Atlas Coverage in Eyeball Networks
Reviewing the 2016 Leap Second 
As you can see, RIPE Labs is the number one source of news and information about RIPE Atlas. If you have an article you'd like to share with us, let us know!
RIPE Atlas will continue to grow. Today we have a new goal, and no doubt tomorrow we'll have new challenges. But with ongoing support from the RIPE Atlas community and everyone here at the RIPE NCC, the future of the RIPE Atlas project is looking bright!