On 3 January, the number of connected RIPE Atlas anchors hit 400. Here's a look at some of the recent developments that helped get us there.
---
Since RIPE Atlas anchors went into production in October 2010, the number of physical anchors deployed has risen at a steady rate of around 75 per year, with 370 or so devices having been set up across the globe as of early last November.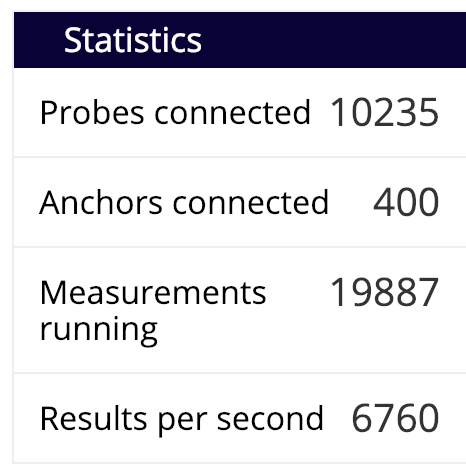 That's a solid rate of expansion given the availability of people out there willing and able to act as hosts, the time it takes to procure and install the necessary hardware, and the work involved in making sure existing anchors stay up to date and operational. 
Since last November, however, we've seen the rate of deployment quadruple, with over fifty new anchors having appeared in the space of just two months. As a result, the total number of RIPE Atlas anchors actually connected hit the 400 mark just a couple of weeks ago!  
The Rise of the VMs
This recent surge in the number of RIPE Atlas anchors is due to our November 2018 launch of VM anchors. As of the time of writing, 57 VM anchors have already been set up by about 30 different host organisations.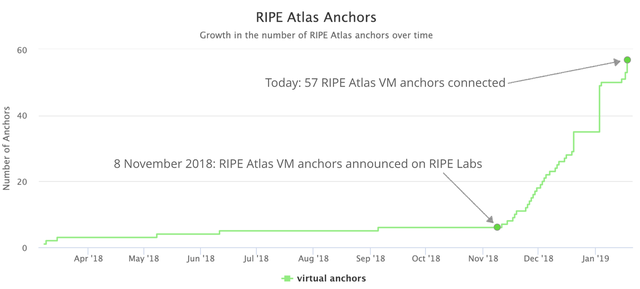 High deployment at this early stage might have been a result of prior interest in virtual anchors and news about the success of the pilot project. But even if uptake slows down to some extent once the initial enthusiasm wears off, we have little reason to doubt that having the VM option in place is going to make it possible for a whole new contingent of potential anchor hosts to get involved. For many, hosting a VM anchor will simply be the more practical (quicker, hassle-free, less-expensive) option.
And just as having a VM option has its perks for hosts, having VM hosts on board has its perks for RIPE Atlas. Not only does the deployment of VM anchors help extend the reach of RIPE Atlas (at a lively pace, no less), it also helps RIPE Atlas reach new kinds of places. For example, work with Amazon Web Services has resulted in them hosting 16 anchors on VMs located all around the world; e.g. here. This enables RIPE Atlas users to measure and monitor infrastructure in the AWS cloud. (Note: due to technical issues, we are not currently able to provide connection and traffic data for Amazon anchors, but we will be looking into a solution for this.)
In sum, based on what we've seen so far, VM anchors are a hit, and we would like to thank all our new hosts for making the decision to participate. To anyone else reading this, you can apply to become a VM anchor host right now, although it's worth noting that due to the high number of requests we are receiving, we are installing them at a slightly slower pace than usual.
Hardware Anchors
Of course, while we're glad to see VM anchors getting off to a strong start, we're still working as hard as ever to support hardware anchors. In 2018, over 90 hardware anchors were deployed, more than in any previous year. That said, it may well be that we see a dip in applications for hardware probes as more people become aware of the VM option. But that's not an issue. Since there's no real difference in the performance of virtual and metal anchors, we're really only interested in ensuring overall growth in anchor coverage.
Sponsored Anchors
For the past two years, we have been running campaigns to sponsor organisations that want to host their own RIPE Atlas anchors, but who require financial support to do so. Our goal in this has been to encourage deployment in locations where we otherwise see little or no coverage.
Last year's campaign saw the addition of 10 new anchors in total, at a diverse range of locations. We are happy to announce that the following list of organisations were successful in applying for sponsored anchors:
Locations of RIPE Atlas anchors sponsored by the RIPE NCC in 2018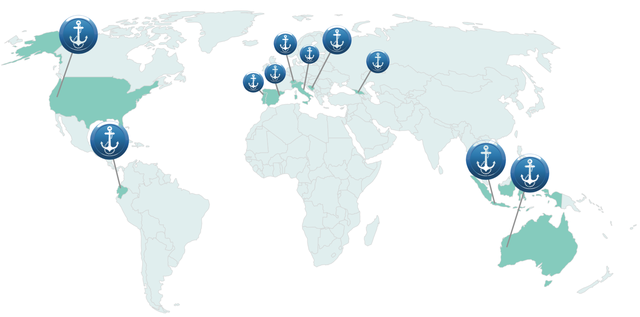 Dream Fusion - Porto, Portugal
Institut Teknologi Bandung - Bandung, Indonesia
Magticom - Tbilisi, Georgia
SBTAP - San Benedetto del Tronto, Italy
Stanford University - Palo Alto, USA
TaylorMade IT - Perth Australia
ICFO - Castelldefels, Spain
Red CEDIA - Quito, Ecuador
oriented.net - Basel, Switzerland
University of Zenica - Sarajevo, Bosnia and Herzegovina
Looking ahead, we have decided we won't be sponsoring new anchors in 2019. Although previous campaigns did what they were meant to, we saw a drop in the number of applications we were receiving. This is most likely due to the cheaper hardware option we introduced last year, as well as the availability of VMs. 
Conclusion
Once again, we'd like to thank all those whose continuing efforts help ensure the ongoing stability and increasingly wide coverage of the RIPE Atlas anchor network, particularly our hosts (both physical and virtual). 2019 has gotten off to a promising start, and you can find out more about the RIPE Atlas activities we have prepared for the rest of the year in our Activity Plan and Budget.
As always, if you have any comments or feedback on the topics we've discussed here, leave a comment below, or contact us at atlas@ripe.net.