This is the first in a series of blog posts on efforts to increase diversity and inclusivity in the RIPE community. The focus of this article is to report on activities before and during the RIPE 74 Meeting in Budapest in May 2017. We also invite you to join the mailing list, and help shape the newly formed RIPE Diversity Task Force.
---
Late last year, Shane Kerr gave a presentation at RIPE 73 in Madrid that addressed gender diversity and specifically, measuring gender metrics at RIPE Meetings. His presentation (and the follow-up article) reflected an ongoing discussion from members of the RIPE community, the RIPE Programme Committee (PC), the RIPE Working Group Chairs collective and the RIPE NCC about the lack of diversity at RIPE Meetings. The RIPE PC took action last year and formed a small group to figure out how to push the discussion forward and put words into action. 
Is diversity necessary?
This was a comment we received on the latest RIPE Meeting Feedback Survey when we asked about diversity: 
"It should stay technical meeting. I'm looking for ideas, not for diversity by color/gender/age/whatever..."
The assumption that making RIPE Meetings more diverse and inclusive would make the meetings less "technical" is exactly why we need to talk about diversity. Diverse groups, communities and organisations produce more fair and better results. Here's some compelling reading material about that HERE, HERE and HERE.  If RIPE Meetings are diverse and inclusive, we engage with a wider spectrum of the Internet community (and beyond) and affect positive changes related to RIPE Meeting attendees and presenters, plenary content, remote participation, mailing list contributions and policy development.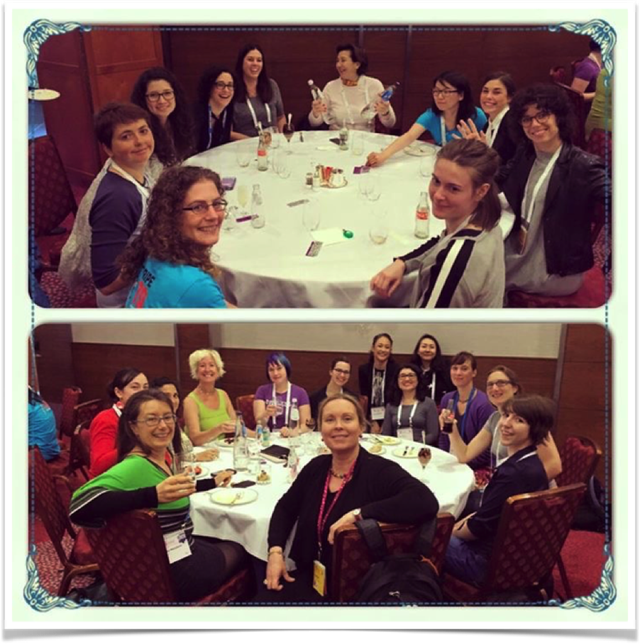 Every RIPE Meeting has a reserved Net-grrls table
In this post, we talk about the past, present and future of RIPE Meeting diversity and inclusivity.
Building on the RIPE community's foundation of being open, transparent and bottom-up
The RIPE community began in 1989 "to ensure the necessary administrative and technical coordination to the operation and expansion of a pan-European IP network" (see RIPE Terms of Reference). Our current tools for collaboration are mailing lists, working groups, and face-to-face meetings. In the early days of the technical Internet community, RIPE Meetings attracted 30 or so people and today, it welcomes upwards of 600 attendees from more than 70 countries. Despite the growth in attendance, the diversity has remained largely unchanged though.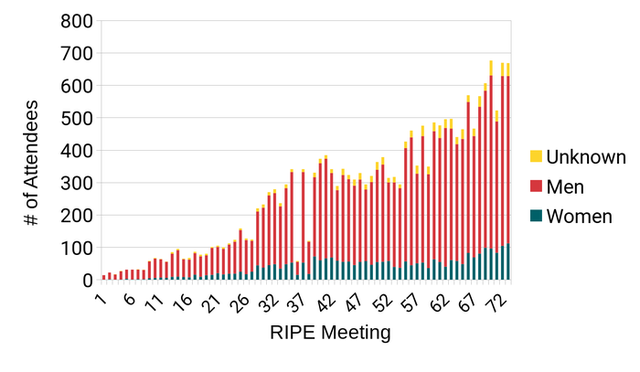 The RIPE community has its roots in open, bottom-up consensus building. The community relies on healthy participation on the mailing lists to make decisions about policies that govern how the Internet is run. Here's the current state of affairs:
Major decisions are made through mailing lists to remove the barriers to participation for those who cannot travel to attend face-to-face meetings
The location of the twice-yearly RIPE Meetings changes to make it possible for local communities in many countries to participate.
Remote participation at RIPE Meetings facilitates participation from anywhere. All plenary and working group sessions are live streamed with stenography and all working group sessions have a monitored chat room so people can ask the presenters questions if they aren't in the room. Presenters don't even have to be physically at the meeting; remote and/or pre-recorded presentations are options.  This makes it easier for those that cannot travel for whatever reason to participate in the meetings.
An onboarding programme is available for first-time attendees: a dedicated "Meet and Greet" team; a "RIPE Meeting 101" presentation from the RIPE Chair and the RIPE NCC Managing Director; an identifying sticker on their badge; a special social event and reserved lunch tables for newcomers and the Meet and Greet team.  This lowers the barrier for those who are shy, inexperienced or just new.
The RIPE Academic Cooperation Initiative (RACI) provides funding for students and researchers to present their research to the community. RACI has been in place since RIPE 66 in May 2013 and has helped engagement with academia. Many RACI attendees have turned into return attendees and make an active contribution to the meeting discussions and, in turn, spread the word about RIPE to their home universities, research organisations and local communities.
We have RIPE Meeting Trusted Contacts who are specially trained to help with conflict resolution and handling abuse reports in response to behaviour incompatible with the RIPE Meeting Code of Conduct. 
The RIPE Fellowship programme was launched recently at RIPE 74 in Budapest to provide funding for those who cannot effort to travel to the meetings.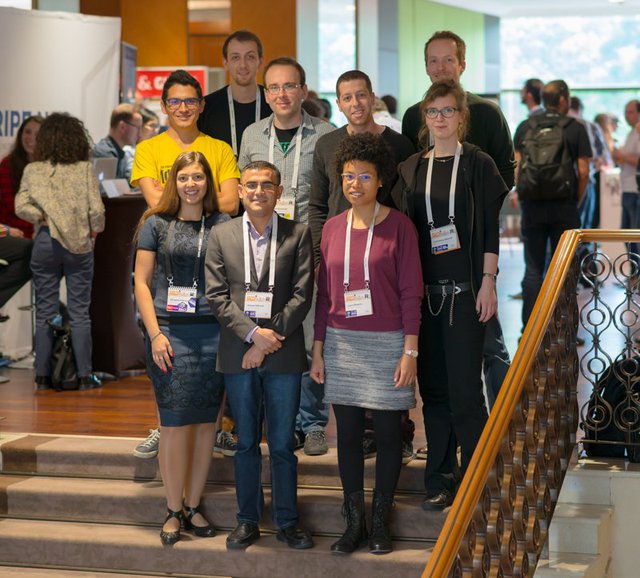 RACI participants at RIPE 74 in Budapest, Hungary
Explicit activities for fostering gender diversity
So, after the discussions at RIPE 73 and on the RIPE mailing list, the RIPE PC realised it needed help to find a way forward. They wanted to have a better grasp on what the issues are before openly discussing it with the community. A small group was formed from volunteers within the PC and the working group chair collective, together with a couple RIPE NCC staff members. The discussion focused first on gender diversity because: 
a) It was an obvious starting point for the technical community
b) It is relatively easy to measure the progress and success
c) There are good examples on how to make improvements, from other similar communities
Changing the conditions to improve one aspect of diversity (gender) helps improve other aspects of diversity, too, because reasons for inequality within communities are similar for racial, age, class or gender representations. This is called "intersectionality". 

Experts on diversity in tech were invited to help us get started. We asked Fiona Krakenbürger (Open Knowledge Foundation and Tu Berlin) and Katharine Jarmul (data consultant and Pythonista) to lead a workshop for us on the Sunday before RIPE 74 in Budapest. The workshop was organised and funded by RIPE NCC realising that this will have long-lasting benefits for the RIPE community. We brainstormed ways to evoke change and came up with a list of actions we could put in place short-term and long-term.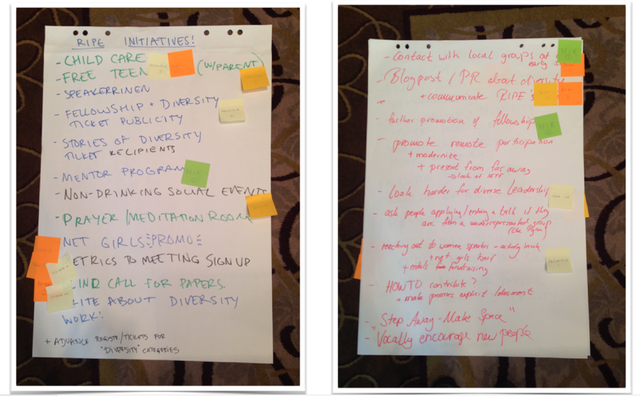 Results of the brainstorming session at the workshop at RIPE 74
We identified a few key initiatives to focus on in the coming period, including:
Collecting diversity metrics 
Family-friendly (free onsite childcare)
Early engagement with local tech community in upcoming host countries 
Improve remote participation
And a lot more, including advertising net-grrls more, expand and raise awareness for the RIPE Fellowship, introduce a mentor programme, make the PC presentation submission system more inviting, include a prayer/meditation room, actively find more diverse speakers, diversity tickets, etc.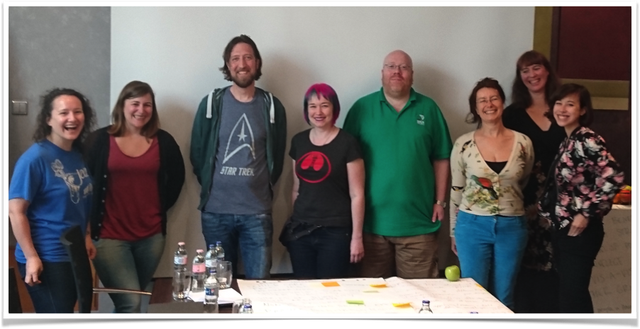 Workshop participants
The group presented the outcome of the workshop on Friday morning during a plenary session at RIPE 74 in Budapest and asked for input from attendees. If you've ever been to a RIPE Meeting, you know how challenging it is to get bums on seats for that first Friday morning plenary session. We were thrilled that so many attendees showed up to listen to our panel and got up to the microphone to voice their support and share their ideas: 
Conducting pre-meeting webinar about topics, logistic, benefits etc.
Offering a mentorship programme, not only for RIPE Fellows, but all newcomers
Increasing regional presence 
Learning from the experiences made at other Regional Internet Registries, and work together on increasing diversity
Be even more open, transparent, inviting and welcoming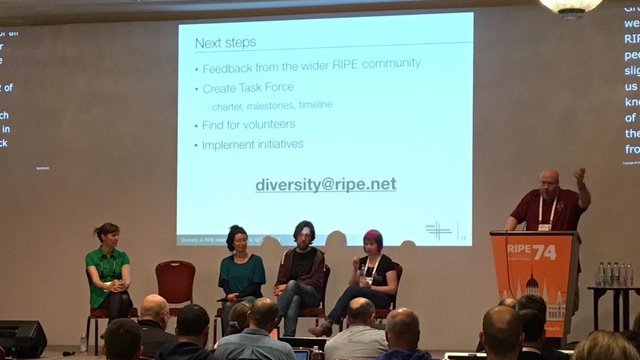 RIPE 74 plenary session on increasing diversity at RIPE
The RIPE NCC asked RIPE 74 participants for additional input on the RIPE Meeting Feedback Survey. Here is what some of you said:
"I really appreciate this issue being put forward, and hope to be able to contribute to this."
"Adopt an aggressive strategy to reach out to the less represented groups."
"As a first time attendee it would have been very beneficial to have a mentor for a period of time. Additional badge tags that identify groups would be increasingly helpful for networking i.e.- transfers, IPV6, Middle East, US, Central Asia etc would help identify networking opportunities"
It's Official: RIPE Diversity Task Force
One of the follow-up actions from RIPE 74 was to formalise an official RIPE Diversity Task Force. We all agree this needs a formal process and so now we need to write a charter that includes a scope, timeline, milestones and benchmarks to measure success. We have a lot of talented, passionate members of the RIPE community and the RIPE NCC that can bring their unique perspectives, experience and talent to the group.
All of this should be decided by the people who are willing to volunteer their time and effort. If you are interested, please subscribe to the mailing list, and let's take it from there.
The commitments that the pre-task force group already made are:
July-September 2017: Design dataset for tracking diversity metrics, create proposal for on-site childcare 
October 2017 (RIPE 75, Dubai, UAE): Report from the task force on the progress since RIPE 74
January-February 2018: Modify meeting registration software to include an opt-in question about belonging to underrepresented group
May 2018 (RIPE 76, Marseille, France): Report on the metrics and on the progress 
Be the change you want to see 
We will continue to share the process of change with you and hope that you will be part of it. There's a lot of work to be done. We'll use RIPE Labs to share progress reports with you and hope that you'll join the RIPE Diversity Task Force.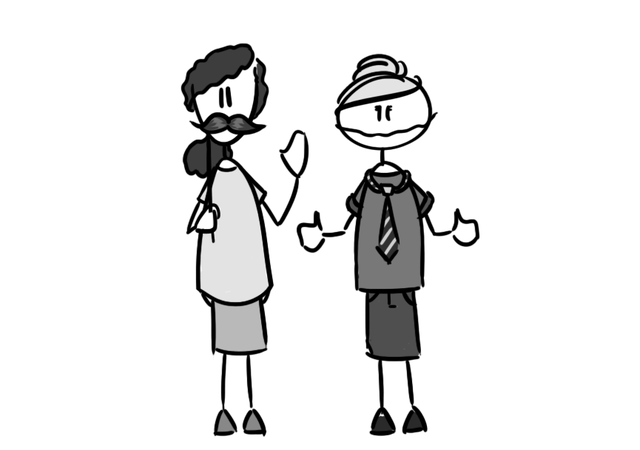 Diversity by Constanze Dietrich