It's been a couple weeks since we concluded another successful RIPE Meeting. Nearly 500 people gathered from 54 countries for five days of technical discussions, best practice sharing and networking.
---
On a personal note, RIPE 75 was very fulfilling. The work that we've been doing to get diversity on the agenda has had tangible results. Talking has now turned to action and the momentum is encouraging. 
RIPE Diversity Task Force 
What initially started out as a focus group at RIPE 73 in Madrid, where the RIPE Programme Committee and some RIPE NCC staff met to discuss ways to get more diversity in the plenary programme, has developed into the RIPE Diversity Task Force. The charter was presented and approved during the closing plenary at RIPE 75. The task force has had a couple of web conferences prior to RIPE 75 and met again in Dubai to discuss ongoing action items and what will be tackled next. 
The short-term goals include investigating on-site childcare for RIPE Meetings, collecting and measuring attendee gender metrics for benchmarking and progress tracking, actively engaging with local tech communities well before a RIPE Meeting takes place and establishing a mentoring programme. 
For more information, see Diversity Discussions at RIPE 74
RIPE Fellowship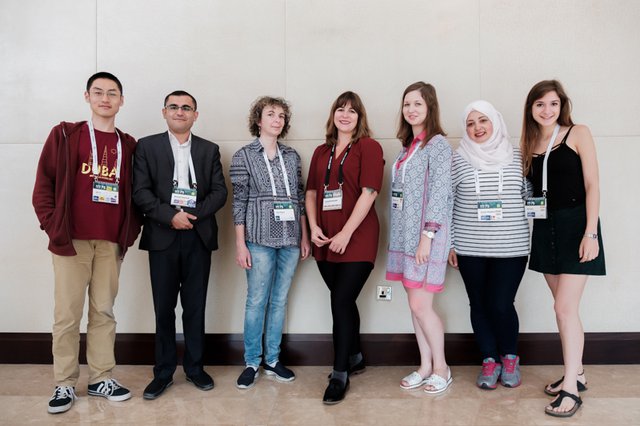 RIPE Fellows at RIPE 75: (l-r) Jie Li, Ahmed Aleroud, Ella Titova, Amanda Gowland (RIPE NCC), Olga Kyryliuk, Zeina Doughlas, Elif Sert. Not pictured: Leen Hanoun.
The RIPE Fellowship aims to remove the financial barrier to active participation at a RIPE Meeting. The programme was launched at RIPE 74 and five fellows joined us in Budapest. The quality of applications for RIPE 75 was so impressive that we couldn't choose just five, so we invited seven fellows from Palestine, Armenia, London, Jordan and Ukraine. The RIPE NCC has doubled the budget for the RIPE Fellowship in 2018 and we will invite up to 15 fellows to join us in Marseille for RIPE 76. 
Women in Tech Lunch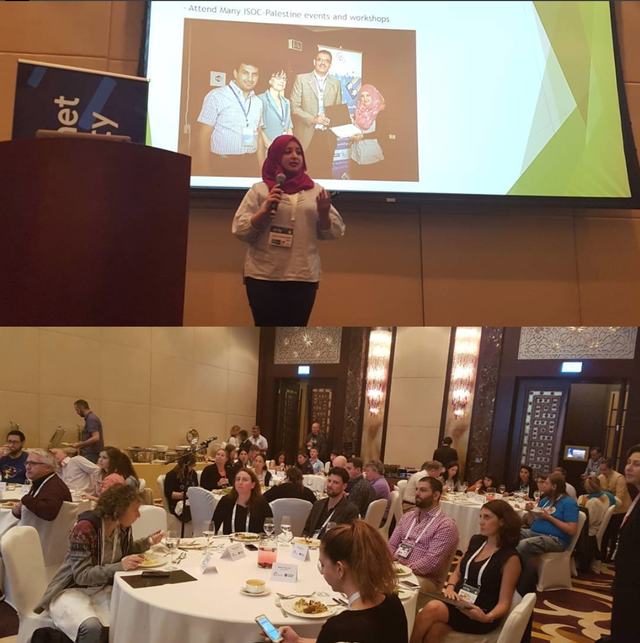 Zeina Doughlas presents at the Women in Tech Lunch at RIPE 75 in Dubai
The RIPE NCC organised a Women in Tech Lunch at RIPE 75, an open event for all RIPE attendees. The lunch was the brainchild of RIPE NCC Executive Board Member Salam Yamout and was sponsored by ISOC and Akamai. We invited women working in tech in the Middle East to share their work and experiences with the group. We weren't sure how many people to expect, so you can imagine how gratifying and encouraging it was to see every seat filled with as many men in the room as women. Zeina Doughlas (also a RIPE Fellow) presented her experience as a young community builder from Palestine. Maya Kodeih from Ogero (Lebanon) shared an inspiring and heartfelt speech about the balancing act she and many women must play as mother with a demanding career in tech. The presentations were followed by an open mic session with attendees. We are already planning for the next Women in Tech lunch at RIPE 76 in Marseille. 
Diversity BoF 
A small group of 25 or so people interested in discussing diversity and inclusion at RIPE Meetings (and the community at large) met on the first evening of RIPE 75. The hour passed quickly with many people participating in the dialogue. We discussed various topics that can act as a barrier to full inclusion at meetings, including regional and financial factors and what we could do to make meetings more inclusive. 
How can you get involved?
Join us - It's important that we keep the momentum going. We need more people to take part in the RIPE Diversity Task Force. Our membership is always open. Please follow the conversation on our mailing list.